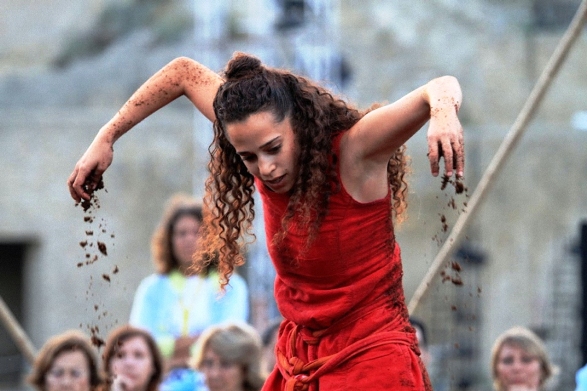 Even in the 21st century, this digital, virtual age, people can still gather together and experience wonder. Vertigo Dance Company's Birth of the Phoenix is a work of enduring power and beauty, dazzling in its sensual, spiritual force.
The dance takes place outdoors, like the Phoenix, appearing and disappearing in different places. Choreographed by Noa Wertheim, Birth of the Phoenix is performed inside a geodesic bamboo dome. Last night at Suzanne Dellal, people gathered at twilight in the courtyard. Flames dancing in the approaching darkness, torches marked the perimeter as one entered the dome to sit on benches and wooden chairs. At the center, a circle of dark brown earth. Waiting, people talk and look at one another, becoming a temporary community.
The dancers enter with ceremonial solemnity. Wrapped in red blankets resembling ceremonial robes, they take their places, kneeling beside the circle. One man slowly removes his covering and enters the circle to lie on the ground, his naked torso touching the earth, an image of death. And so it begins…
What takes place inside that circle is a mesmerizing dance at once intensely physical and at the same time evoking the sense of ritual. Sensual slow curving motions metamorphose into strong, fast, leaps and twirls. The dancers are at the center, with people all around, as they perform these rites, they take us, the viewers, with them, and we all experience a transformation. All that we see is not calm, there are confrontations, challenges, forces between the dancers pulling in different directions, shifts in the balance of power. There is a sense of destiny and ritual, a dancer touches another on the forehead with two fingers, and the other falls slowly back, marked, perhaps doomed. There are moments of tender ambiguity – a man kneels behind a woman, holding her ankles, as she walks forward he is pulled along, dragged on the earth. Moments of powerful passion in a fierce duet between another couple, he towers over her petite frame, lifts and bends her down – yet she meets his gaze with a burning spark in her eyes, and she lifts and throws him too.
Ultimately, there is a sense of renewal, energy and exultation. The dancers are all strong and sensitive performers, drawing us into their sacred circle, and the music by Ran Bagno is transcendental. It's a dance that leaves the viewer mesmerized, breathless.
There will be two more performances tonight, May 14th, at Suzanne Dellal – times & tickets on the Dellal website.
Birth of the Phoenix
Choreography: Noa Wertheim; Concept and inspiration: Amos Stempel; Music: Ran Bagno, except for closing piece by Rene Aubry; Stage designer: Moshik Yasifov; Costumes: Design School for Performing – Rakefet Levy, first year students; Lighting design: Dani Fishof – Magenta; Sound designer: Sasho; Creative partner: Adi Sha'al; Company Manager: Sandra Baron; Rehearsal supervision: Sandra Baron/Eyal Vizner; Performers: Micha Amos, Eyal Vizner, Tomer Navot, Emmy Wielunski, Yael Tsibolsky, Sian Olles, Marija Slavec, Yuval Lev.