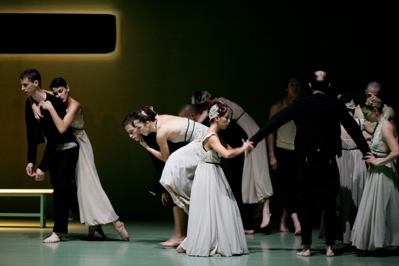 "Hydra" which premiered in the 2008 Israel Festival, will be performed by the Inbal Pinto Dance Company this weekend at the Suzanne Dellal Center.
In creating Hydra, Pinto and Pollak embarked on a different sort of collaboration. Inspired by the work of Japanese poet Kenji Miyazawa and his belief in the interdependence and connection of all life, they decided to include elements of Japanese culture in all aspects of the dance, inviting two Japanese dancers to join the company for the creation of the piece.
"We wanted to reach places that we had not dealt with before, to look at things less familiar… that perhaps we were even afraid of," Pinto explained in an interview, "in this connection with the Japanese we were thrown into a dialogue between us that eventually became something familiar… Sometimes even the lack of dialogue creates its own dynamic. If you are working with a dancer who is very introverted, then this privacy and introversion will find its way into the piece. All the colors that appear in the studio – most of them will find their way into the final work. "
Pinto and Pollak's works create a uniquely strange and alluring fantastical world onstage – one that is not always easy to transport. "Shaker" takes place amid the drifting snowflakes inside a snow globe – a tiny enchanted world magnified before our eyes to reveal its mysteries. The stage is covered with small white balls of soft synthetic material that they company dancers call "pokadines". "When we performed in Korea," Pinto said, "the material they found there, although it looked the same, apparently had different attributes –perhaps a different density — and the dancers kept slipping. They had two performances and there was nothing to do about it but tough it out." For a tour in Lyon, they began to look for local sources of the material and then decided at the last minute to "play it safe" and bring their own. As it turned out, the linoleum on the stage there interacts differently with the material and the dancers were slipping – so they replaced the linoleum.
Under the joint artistic direction of Inbal Pinto and Avshalom Pollak, the company has enjoyed continued success and recognition abroad. "Wrapped", an early work, won the prestigious "Bessie" New York Dance and Performance Award. Several of the company's works have been international co-productions. Oyster was commissioned by Maison del la Danse in Lyon, Boobies was co-produced with deSingel Theater in Antwerp, and Rushes Saudade (which will be performed at Suzanne Dellal at the end of April) is a collaboration with Robby Barnett of the Pilobolus Dance Company. The prolific activity of the company abroad benefits the Israeli audiences, as it assists the company in financing the creation of new works.
The company performs so extensively abroad that they could have chosen to create their home base abroad, yet Israel remains their home.  "I am here," says Pinto, "it is hard for me to leave. Once I am abroad, on tour, I am fine. But during the interim, the time before leaving, the "before" somehow oppresses me. It's not so much that I have struck my roots here as that even if I was to be uprooted, Israel would still be my environment, you would not be able to separate me from my surroundings." She gestures with her hands, cupping them, creating a small enclosure, "It's like fossils – a living creature gathers everything that surrounds its body and that is what remains with it after it dies – they become fused. It's not so much that our work is Israeli as that we are Israeli."
Pinto recalls travelling abroad with her early dance pieces, "I would hear things like – What? There is dance in Israel?" That attitude has changed, as has the dance scene in Israel itself. Pinto recalls walking in Tel Aviv during the years of her army service, when the Suzanne Dellal Center was under construction. "I remember walking among the scaffolding, never imagining that I would be on that stage myself one day. People will always create out of their own need to create, but there is a gap between creating and surviving over time as a creative artist. The existence of a physical space, a studio, a stage to perform, the financial support – all these are tremendously important for sustaining long term survival."
According to Pinto, dance in Israel is characterized most by its "difference". "It has no definition, each choreographer and company is different from the others. Perhaps what Israel has to offer is this energy that emerges from the dance – a hot country that generates movement."
Choreography, set and costume design and musical score for Hydra were created by Inbal Pinto and Avshalom Pollak.
Hydra will be performed by: Arthur Astman, Michal Almogi, Ido Batash, Lazaro Godoy, Noga Harmelin, Shay Haramati, Shir Medvetsky, Andras Mark, Zvika Fishzon, Shi Pratt, Dana Shoval, and Nir Tamir.
Performances:
Thursday, April 2 at 21:00
Friday, April 3 at 14:00 and 22:00
Tickets: 03-5105656
Information: www.inbalpinto.com
                    www.suzannedellal.org.il