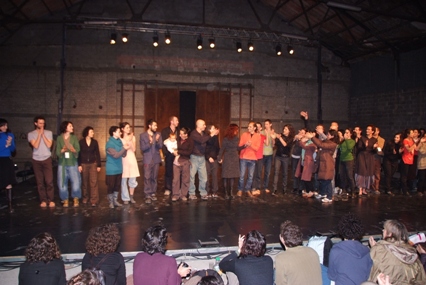 Home Port has brought light, life and energy to Jaffa port in nightly performances of music and dance. On April 6th, the inspiring marathon of solos by choreographers will return for a rousing finale – a benefit performance to raise funds for a permanent home for the Choreographer's Society.
This performance not only provides a second chance for all those who were not able to get tickets for the sold-out opening event on March 12th , but an excellent opportunity for everyone to show their support for independent dance artists in Israel. There is no doubt that the development of any performance art depends not only on creativity and willingness to work hard, but on the existing conditions for that work. Independent artists often spend nearly as much time searching for rehearsal space as they do rehearsing, and the existing performance venues simply do not have enough free evenings to accommodate the abundance of performing artists in Israel.
The initiative and cooperative spirit of the choreographers who have worked together on all aspects of the performances at Warehouse 2 has given audiences a chance to share in their vision of an alternative space for dance. Sigalit Gelfand, CEO of the Choreographer's Society will be requesting donations of 1,000 NIS to help turn the dream into a reality.
Performing on April 6th: Nimrod Freed, Renana Raz, Yossi Berg and Oded Graf, Aviv Eveguy, Idan Cohen, Yasmeen Godder, Tamar Borrer, Sahar Azimi, Gilat Amotz, Avigail Rubin, Noa Dar, Dina Telem, Amit Goldenberg and Yaara Dolev, Ilanit Tadmor, Neta Shezaf, Nadine Bommer, Niv Sheinfeld and Oren Laor, Silvia Doran, Sharona Florsheim, Arkadi Zaides, Talia Paz, Anat Shamgar, Smadar Imor, Ronit Ziv, Shlomit Fundaminsky, Sally Anne Friedland, Sigal Ziv, Ronen Izhaki and Tamar Kleinman, Alice Dor Cohen, Dafi Altebab, Tomer Sharabi, Dana Ruttenberg, Nadar Rosano, Ofra Idel and Robby Edelman, Michal Herman and Sharon Sagi.

Tickets and information: 03-9021563
www.choreographers.org.il