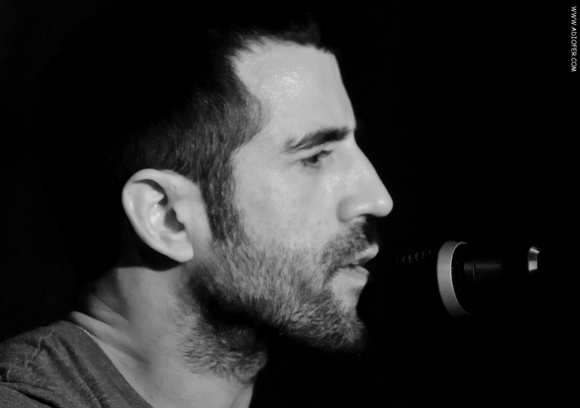 There's an ocean of song flowing through Roy Dahan, he writes from a very deep inner place, singing in a full, rich voice with just an edge of roughness, as it catches on a wave of emotion. The songs are introspective, intimate, and full of mystery. Emotional truths hulled from the uncertainty and searching of everyday life, and the imagery of dreams.
I'm still enjoying the feel of last night's concert at the Ozen Bar, it was the perfect place to be on a stormy night, spellbound by music. Live in concert, Dahan exudes a shy charm, performing without poses or pretensions, letting the music speak. Stepping out onto the small stage (and a full house, despite the weather), he opened the concert with two new songs on the piano. One of them is still echoing in my mind, its words haunting in their simplicity and emotional resonance – "I almost live here… a souvenir is all I have left of me."

The prolific singer-songwriter has released two wonderful albums: Some of This Life (2011) and The Man in My Head (2013), and the concert was a really good mix of songs from both albums. Dahan was then joined by Ilan Tenennbaum on drums and Dani Shnaiderman on bass guitar, taking the tempo up for a brighter sound with more of a rock rhythm. Songs like The Man in My Head even have a trace of the psychedelic in their imagery and electric sound.
Dahan commented that he usually does not have guest performers at his concerts, but perhaps he's begun a new tradition. Roy Dahan is a wonderful solo performer, with a resonant and moving stage presence. Yet the addition of other musicians and singers brings out Roy's talents as a musician and arranger, revealing different moods, colors and possibilities. On the lovely Bluebird he was joined by vocalist Netaly Reshef and harpist/vocalist Katrin Lasko – the harmonies were beautiful, the women's high voices floating in the air.
As it turns out, a whole lot of people can fit onto that small stage at the Ozen! Following Bluebird, Ilan and Dani took a break from playing, and Roy took up the guitar to perform The Shade, a song from the first album with Netaly and Katrin. Then he was on his own again, but not for long – guest singer-songwriter Tzvika Force, another piano man, joined Roy for some really good times onstage. The two men shared the piano to perform Tzvika's signature song Hold On – a very bouncy heartbreak song with pop overtones, a big favorite of mine. Roy and Tzivka make a terrific duo onstage – understated introvert and dramatic extrovert. Then, the two sang Roy's song Hold On – as different a song as one musician from the other, both beautiful. What fitting words for this night and these times: "The furious winter is on its way/and I'm waiting for someone to save my day."

Roy Dahan closed the night with an unusual choice of cover song, Bashana HaBa'ah – music by Nurit Hirsh and lyrics by Ehud Manor. It's a popular song for sing-alongs and folk dancing, with its upbeat tones and the idyllic future it describes: sitting on the porch counting the birds overhead, while children play and grapes ripen on the vine – "You'll see how good everything will be next year…"  Saying that he felt he had no one to vote for in the coming elections, Roy dedicated the song to all Knesset members, singing it in an almost dirge-like slow, quiet mode. Listening to him sing, I understood how sad this song really is, all the promises of a happy tomorrow underscoring all that is lacking today.
But it's not all sad, because bad times make good music, like the bouncy Crush: "this place is crazy and so am I." Song after song, each different, each beautiful in its own way, it's hard to choose favorites, but this refrain has stayed with me: "But the eye sees nothing but miracles so inconceivable you'll see/There's a beautiful place to be, and I wonder if you'll see it all." Listening to Roy Dahan is a beautiful place to be.
Links: Roy Dahan website, facebook page.
CONCERTS:
Jan 10th at 21:30 – Rosh Pina, The Mandela
Jan 14th at 22:00 – Beer Sheva, Via Bar
Jan 21st at 22:00 – Haifa, Syncopa
Feb 7th at 22:00 – Tel Aviv – Levontin 7