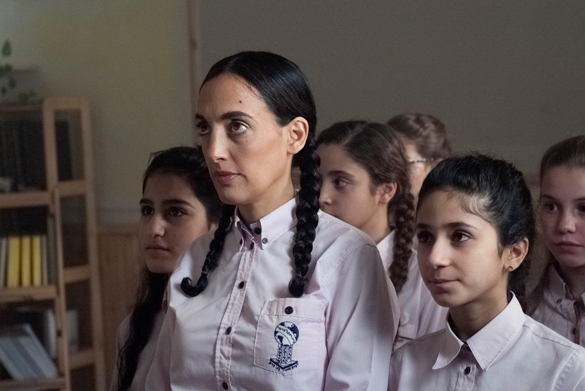 Victoria Hanna takes tradition for a spin and turns it into hip hop honey! You don't have to take my word for it – just watch the video.
Hanna connects to the Jewish tradition of learning and prayer, in her own revolutionary way. Boys were introduced to the study of the Hebrew letters and Torah at age three, given honey to symbolize the sweetness of learning Torah. Traditionally, there is significance to the physical manifestation of the letters, their shapes  and sounds. All this is reflected in the video for the song, which incorporates the Hebrew alphabet and prayer. Yet while traditionally, historically, the Cheder was a boys only domain, Hanna's happening classroom of girls and her experimental approach to music is exhilarating, strange, joyous, funny and moving. It may make you feel the Hebrew language as never before.

Victoria Hanna will be performing at Pasáž on Saturday, February 28, 2015 in a launch concert for the single Aleph Bet, with special guest Tamir Muskat and Laisser-Passer on the DJ stand for partying before and after. Doors open at 21:00, show starts at 22:00. Updates on the facebook event page here.
Future concerts: April 7th at 22:00, Givatayim Theatre. More details on the facebook event page here.
Victoria Hanna on facebook