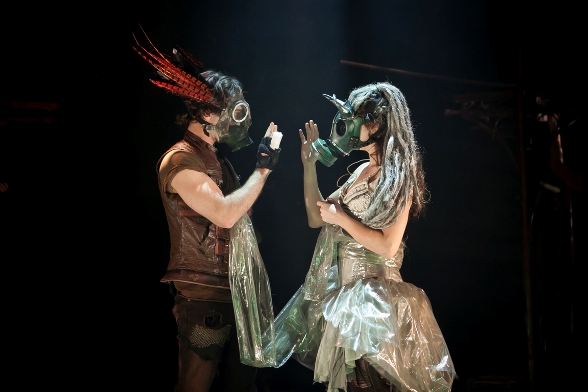 The sweet agony of post-apocalyptic love Renaissance-style will get your heart racing in The Beer Sheva Theatre production of William Shakespeare's Romeo and Juliet, translated by Eli Bijaoui and directed by Irad Rubinstain. It's a very visceral interpretation with all the vigor and emotional extravagance of youth. This Romeo and Juliet will remind you what it feels like to be young and in love!
Rubinstain's vision for the play is one that might appear at first glance to be very far from Shakespeare, with its dystopian setting in an unspecified future, when all has already been lost, and those who remain, live among the ruins of past civilization and technology. Yet this world is so well realized onstage, that the viewer is instantly plunged in an adventure so urgent and emotionally charged, that it allows even the very seasoned viewer to experience the play as if seeing it for the first time.
The visual world of the play is sheer delight, albeit dark delight. The tone is initially set by Svetlana Breger's stage design. One confronts a rupture: the ruins of a circular bridge, now torn asunder, as are the two warring houses of Montague and Capulet.  In this tragedy, we are well aware that something terrible has already happened, this world is already broken. Can this break ever be mended? The design also affords two levels of stage action, enhancing the dynamic and of course, a set well prepped for the balcony scene.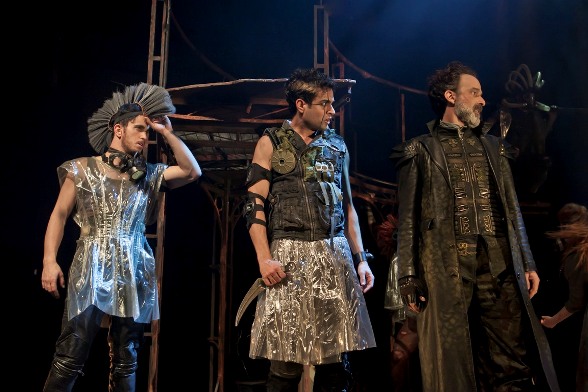 As for the costumes… the wild creative mind of Maor Zabar is behind this devastatingly seductive look, sumptuous variations on dystopian chic!  The brilliance of this designer is not only in the imaginative abundance that leaves the word 'excess' quietly groaning in the dirt, but the way in which he creates a coherent, consistent, visual world with dedication, precision, and meticulous attention to detail.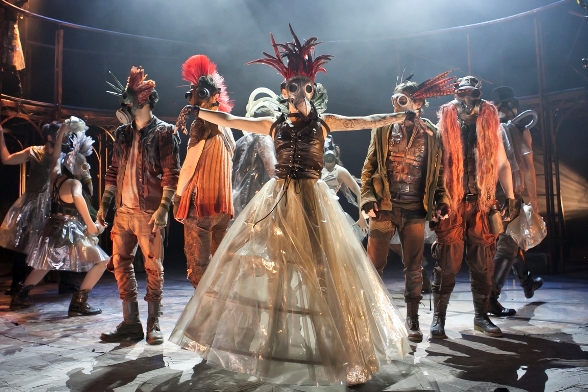 The Capulet's feast, where our star-crossed lovers first meet, features gas masks, clear plastic employed in creative ways, feathers, leather and other worthy gear. Delicious! Not only a feast for the eyes, the costumes are also a subtle rendering of character at a glance. First on stage is Friar Laurence, preaching fire and brimstone, clad in the requisite aging hippie gear: a torn tie-dye, faded camo pants, and a comfy terry cloth robe over it all. We can guess what grows in the good Friar's garden, and this visual characterization sets up certain expectations of his character – perhaps a touch of naive optimism, a dash of "make love not war" – that is indeed fulfilled as the plot develops.
Yet the rich visual environment of the play never interferes, it only enhances the deeply emotional human story at the heart of the play.
Surging desires, dreams and the vigor of youth find no creative outlet in this decayed culture, they spill out onto the streets where verbal sparring turns all too often into a violent struggle between the two houses. Physical theatre plays a central role in this production, not only in the combat scenes, but as an expressive tool. Movement creates motorcycles, cars and other effects, enhancing the high energies and the vitality of the production, as well as providing moments of humor and artistic pleasure.
The cast is excellent. Amir Krief (playing Capulet on the night I viewed) is Juliet's domineering dad par excellence; Michael Vineberg is the mom you love to hate, immersed in her own debauchery and indifferent to her daughter; Sarit Vino Elad is a pleasure as the bawdy, earthy, practical Nurse; and Tom Avni is a very sweet Romeo, any teenage girl's dream. Tom Hagy is well cast as the mercurial Mercutio, his silver-tongued speeches are an excellent match with Bijaoui's translation which leans towards the rhymed and the clever. Hagy's sense of pace and timing, as well as his loose-muscled physicality work very well for this role, there's even a split-second jazzy tribute to R & J's successor on the stage, Leonard Bernstein's West Side Story.
But my heart belongs to Juliet.
Avigail Harari is the very flower of youth, exuding a sexuality that blossoms in innocence. Juliet is first glimpsed dashing across the stage, a child at play. Shy, impetuous, vivacious, contemplating life and love with utter sincerity and serious conviction she looks and behaves like a fourteen year old girl, with all the fragility, courage and exhilaration of first love.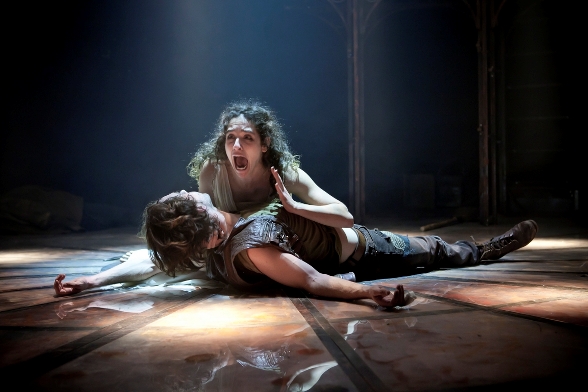 Joyful and heart-rending, one experiences love anew through Romeo and Juliet. Yet Shakespeare was writing as much about hate as he was writing about love, the "ancient grudge" between "Two households, both alike in dignity." It's a conflict without cause, that collects victims one after another, in a never-ending cycle of revenge. A hate that nourishes itself and flourishes, consuming and destroying every good thing in its path. Why then write about love? Because if we feel love, if we remember what it feels like to love, then we might realize all that we lose when we hate.
Romeo and Juliet by William Shakespeare
Translated by Eli Bijaoui; Directed by Irad Rubinstain; Set design: Svetlana Breger; Lighting: Ziv Voloshin; Costumes: Maor Zabar; Choreography: Amit Zamir; Fight Coordinator: Uri Bustan; Text training: Dan Inbar; Music: Ran Bagno; Cast: Prince of Verona – Ron Bitterman, Friar Lawrence – Muli Shulman, Lady Montague – Adva Edni, Romeo – Tom Avni, Benvolio – Yogev Yefet, Mercutio – Tom Hagy, Balthasar – Nitzan Rotschild/Ori Sabari, Capulet – Amir Krief/Ziv Zohar Meir, Lady Capulet – Michal Weinberg, Juliet – Avigail Harari, Tybalt – Oren Cohen, Count Paris – Amit Epstein, Nurse to Juliet – Sarit Vino Elad, Peter – Eliran Harush, Goodman Acting School of the Negev Students – Shir Inbar, Gita Amely, Yuval Levi.