What is the Elixir of Love? We have the answer right here, so don't be fooled – it's wine. Donizetti's L'elisir d'amore, an all-time favorite of operagoers and musicians alike, is now being performed at the Israeli Opera in a fun staging, directed by Omri Nitzan and conducted by Omer M. Wellber.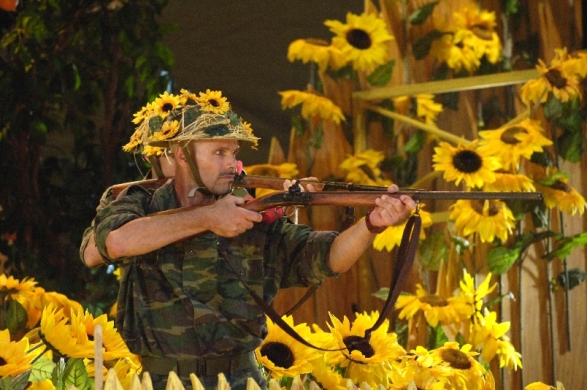 Although this production has been shown several times in festivals abroad, as well as in the Opera in the Community program, it has been absent from the Israel Opera stage for much too long. The original story is set in a small rustic village, but in this production it is transplanted to the picture of Israeli romanticism: a kibbutz in the 1930s. Belcore and his soldiers are IDF paratroopers. This new setting accentuates the Nemorino's mixture of passion and naiveté. The sunflower-strewn stage – the defining feature of the set – provides a lovely introduction to the simple, charming setting of the opera and a memorable characteristic of the stage.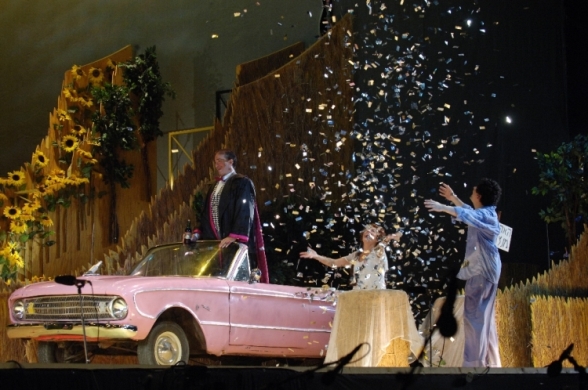 The characters and the story are simple, making this a perfect piece for opera first-timers: a boy, Nemorino, falls in love with Adina, the girl next door; she, somewhat of a shrew, puts him through his paces before realizing that she, too, has loved him all along.
In 1832 Donizetti is at the height of his considerable creative powers: Elisir is written just after the historical drama Anna Bolena and before Don Pasquale. L'elisir d'amore features one of his most famous arias, "Una furtiva lagrima" – a pensive romanza which adds a touch of lyricism to an otherwise upbeat comic opera.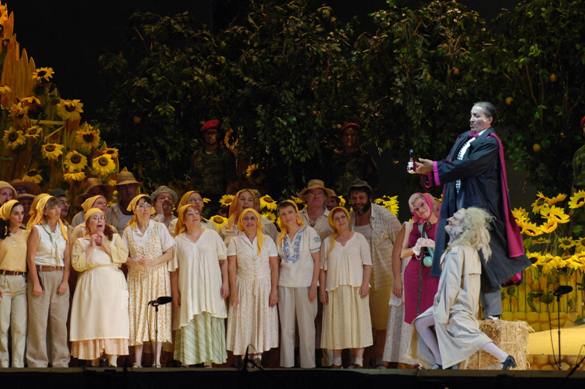 Alla Vasilevitsky, as Adina, shows off impressive bel canto ability, while her tenor counterpart Alexey Dolgov epitomizes Nemorino with a light, agile voice. Italian baritone Riccardo Novaro makes his Israel Opera debut as the macho, buffoonish sergeant Belcore, Nemorino's nemesis in his quest to win Adina's heart. However, it is Israeli Opera regular Vladimir Braun who shines most of all as Doctor Dulcamara, the peddler of the so-called Elixir of Love (in a stage-whisper, he breaks the fourth wall to tell the audience, "È bordò"). Dulcamara, a definitive basso buffo role, is the perfect role for Braun, providing him with an opportunity to go absolutely wild on the stage.
Among the many novelties Omri Nitzan's staging brings to the opera, one of the best-delivered is the made-up character of "Madame Dulcamara" – a hilarious non-speaking role given to soprano Yael Levita, whose incredible acting ability makes up for the fact that we don't get to hear her sing.
Performances of L'elisir d'amore continue at the Israeli Opera until next week. For tickets and more information, visit The Israeli Opera website.