Musrara Mix is back in its 15th edition, in the theme of "Art-sistence." The international multidisciplinary arts festival will take place from June 2 – 4, 2015, every evening between the hours of 19:00 – 23:00 in the Musrara neighborhood, home of the Naggar School of Art, Musrara. One of the unique aspects of this festival is the collaboration between the college and its environs, with events taking place throughout the neighborhood. Venues include: 9 Ha'Ayin Het Street, 22 Shivtei Israel Street (Canada House), the backyards and public spaces of the neighborhood. Admission to all events, except for the opening concert, is free and open to the public.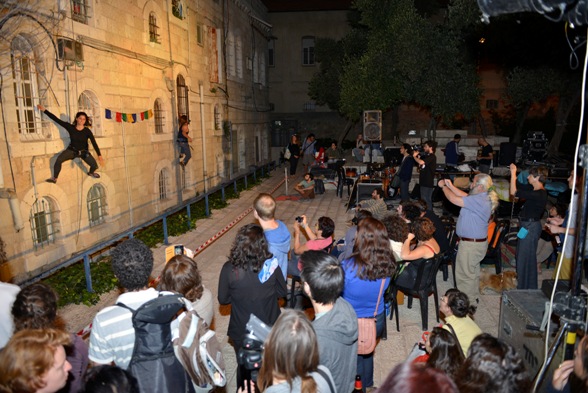 The theme of Art-sistence, originates in questions: "Have we really changed? Has our environment changed? What kind of world are we living in? Where are we going? How will things look in a hundred years from now?… Art-sistence suggests viewing our ongoing existential crisis as a kind of opportunity for growth and change, a place and time in which art can offer an alternative, in which fantasy can become reality and prevailing paradigms can shift."
In my experience from past festivals, it's fun to roam freely amidst the music, exhibitions and installations. The full program (in English) is available on the Musrara Mix website, so you can check it all out and be dazzled by the all the festival has to offer.
Some program highlights:
Opening concert "Loco Hot" – Gilad Kahana (Girafot) & Tamir Muskat (Balkan Beat Box). Special guests: Tomer Yosef (Balkan Beat Box), A-WA (Tair, Liron & Tagel Haim) and dancer/choreographer Sharon Eyal (LEV Dance Company), with Tom Darom – keyboards, and Itamar Ziegler – bass. Great musicians, superlative sexy dancer – this is exciting stuff! Tuesday, June 2nd, 21:30 – 23:00, Mishmarot Street, Gan Janet, behind Musrara Historical Building Music. Tickets are 60 NIS and may be purchased online or at the door.

Avi Belleli and Galia Hai will perform with Ronen Sharbani's video installation BLOCKS. Live music that incorporates Sephardic poetry from the Golden Age. Avi Belleli: bass, acoustic, poetry;
Galia Hai: viola, vocals. Tuesday, June 2nd, 20:30 – 21:30. Admission FREE.
Eran Zur solo performance – an intimate acoustic evening of songs from different periods of his career, and songs from his new album, soon to be released. Tuesday, June 2nd, 20:30 – 21:30, Gan HaKsamim, 5 Natan HaNavi Street. Admission FREE.
Singer/songwriter Luna Abu Nassar will perform original songs in Arabic and Hebrew from her debut album "I Will Tell You \ أحكيلك". Luna is a moving and talented performer, and a member of the hip hop band System Ali. Thursday, June 4th, 22:00 – 23:00, Gan HaKsamim, 5 Natan HaNavi Street. Admission FREE.