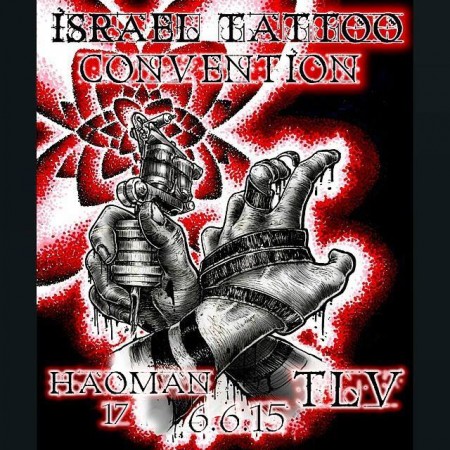 Body art lovers & interested others – the 3rd Israel Tattoo Convention will take place on Saturday, June 6, 2015 at Haoman 17, Abarbanel Street 88, Tel-Aviv-Yafo, doors open at 12:00. Admission is 50 NIS in advance, 70 NIS at the door, children under 12 enter free, however, anyone under 18 must be accompanied by an adult.
Tattoo studios from Israel and abroad will be at work all day long making art! All accompanied by great music: One Eyed Gypsy; On Shoulders Of Giants (OSOG); Zoo Harmonics; The Great Machine; Cain & Abel 90210.

There will be lots to see – body suspension – and do: artists market, activities for children, nail art, face art, alcohol bar, food, and a competition for "Best Tattoo made in the convention 2015."

If you would like to get a tattoo on the day, write to Israeltattoocon@gmail.com and/or contact the studio directly; reservations are required for tattoos.
Participating studios are:
Sioux Tattoo & Body Piercing; Vision Tattoo; Psycho Tattoo; Zvoov Tattoo; Inkdentity Tattoo by Anat Nimni; Kaakouizem; Liav Tattoo; Bari Tattoo; Art & Soul Tattoo; pentagram Tattoo; Yaad Kedem Tatttoo; Chen Tattoo; Moreno Tattoo; Fetish Tattoo; Ninyo Tattoo; Jaffa Tattoo; Hanan Tattoo; Guy Levin Tattoo; Dynamo Tattoo & Sonia Tattoo Lady; KC Tattoo; Sorry Mama Tattoo; Black Ink Tattoo; O.D Tattoo, Piercing & Art; Slon Tattoo; Nico Tattoo Studio; ; Club Ink Tattoo; Next Tattoo; Spring Tattoo; Koi Tattoo; Underground Tattoo; Eran Art Tattoo; Reaper Tattoo; Noam Tattoo; Yoni Tattoo; Talpu Tattoo; RL Tattoo & Yossi Krudo; Ofer Ben Lulu Tattoo; Michael Litovkin Tattoo; Mithra Tattoo; Rlkuba Tattoo; Art Megic Tattoo.
International guests: Swasi Dan- Germany; Philipp Petri- Switzerland; Dido Walstra-DI Do-Germany; Sivanski- Netherlands; Snir Zelman-Barcelona; Sesar Perez-England; Marcel Birkenhauer-Germany; Luis Aviles- Germany; Magneto -Germany; Maiko Woland-France; Bobby Aviles-Germany; G-spot- England; Philippe Fernandez-Germany; Mico Goldbin-Estonia.
Tickets may be ordered online: http://www.israeltattoocon.com/#!shop–cart/cyho; or bought at Sioux Tattoo, 45 Geula Street, Tel Aviv.
All questions and suggestions contact:
Israeltattoocon.com
Israeltattoocon@gmail.com
Shay-(00972) 050-8360818
Alva- (00972)0546302113
Links: Israel Tattoo Convention; Event page