It's a rare thing to witness musical history happening before your eyes and ears. This week, two brand-new original Israeli operas are being performed at the Tel Aviv Performing Arts Center. Commissioned by the New Israeli Opera and created by some of Israel's top artists, the new works demonstrate the abundance of talent in our small corner of the world.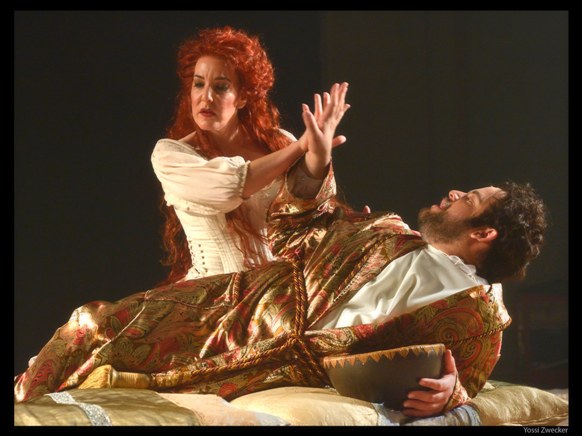 The Lady and the Peddler, composed by Haim Permont, is based on Shmuel Yosef Agnon's short story of the same name. This is Permont's second opera; his first, Dear Son of Mine, premiered in 2000. He has also written an opera for children, The Pied Piper of Hamelin. Librettist Tzruya Lahav, an award-winning Israeli lyricist, stayed true to the original text – a horrifying tale of Joseph and Heleni, a Jewish man and a Christian man-eater. The music is aptly eerie and features lyrical solo arias as well as leitmotifs that accompany the characters, such as a distantly-clanging bell that sounds as Heleni sings. At the end of the opera, this ominous sound snakes together with a klezmer-like melody, which plays Joseph off the stage.
After an imtermission, we move to a completely different genre and writer: Hanoch Levin's Schitz, set to music by Yoni Rechter and edited into a libretto by Muli Meltzer. For aficionados of Israeli music, Rechter needs no introduction; and though he is not necessarily associated with classical music, he has created here an highly enjoyable and fun score for Levin's words. Schitz portrays an Israeli family of three: a mother, father and daughter on the verge of being a little too ripe for marriage. This opera starts out as a comedy but, like many of Levin's plays, doesn't end as one: with a suddenness we know all too well, war brings disaster to the family.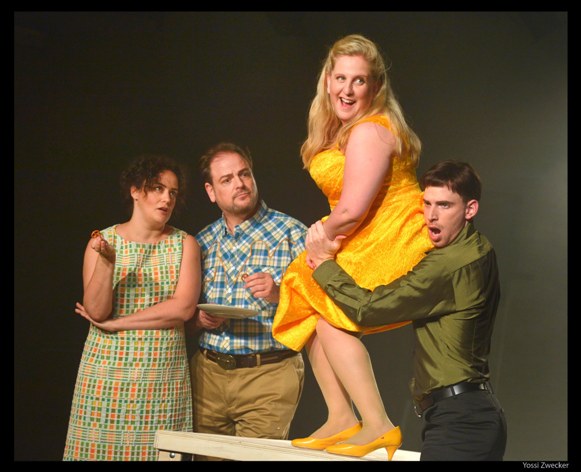 Of course, no opera premiere can be counted a success without great singing. Thankfully, we can count on the talents of our homegrown singers for that. In The Lady and the Peddler, Edit Zamir and Guy Mannheim portray the two characters wonderfully. In Schitz, a quartet of singers brings life to the Levin's oddly-named named characters: Noah Briger, Ira Bertman, Oded Reich and Yael Levita, all singers of great musicality and acting ability – especially Levita with her love song to "chips".
Rising star Eithan Schmeisser conducts both operas. Ido Ricklin, the director, is a graduate of the Central School of Speech and Drama in London and an experienced stage director in Israel. He is not an opera director but brings a theatricality to both these works. Yoram Karmi, the choreographer, adds another element to the stage: three dancers who portray the murdered and devoured husbands of Heleni. This idea returns at the end of Schitz, tying the two plots together. The sets of both operas, by Alexander Lisyansky, also share similar elements. Legendary lighting designer Avi Yona Bueno (Bambi) truly accentuates the story unfolding onstage with swiftly-changing moods and colors, and magnifies the characters with shadow play.
Agnon to Levin will be performed at the Israeli Opera through July 10th. Dates, times and ticket information are available on the Israeli Opera website.