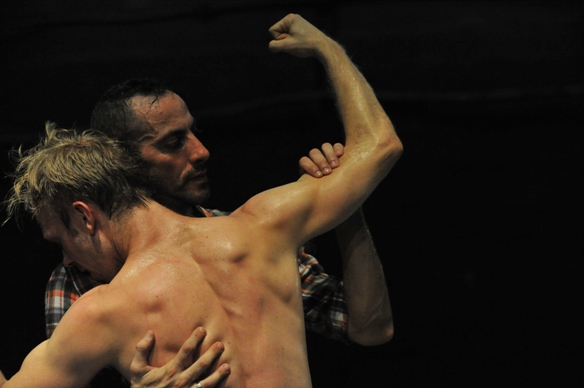 Cowboy is a sexy swagger and a cry of pain; Niv Sheinfeld and Oren Laor's new work is bold, outspoken and full of tenderness. Taking the cowboy, a potent image of gay iconography with intriguing political overtones (think Wild West and see where that leads you), as their point of origin, Niv and Oren blaze a trail that dances far out of the comfort zone. Not for the meek and faint-hearted, challenging themes and excellent performances make this an emotionally charged, and very entertaining evening.
As the audience walks in four cowboys slouch against the wall. Plaid shirts, thumbs hooked in the belt loops of their jeans, their pose is casual, knowing, alluring. In this work that revolves so intimately around image and music, these cowboys remind me of this variant on the song Streets of Laredo: "I see by my outfit that I am a cowboy/I see by your outfit that you're a cowboy too/We see by our outfits that we are both cowboys/If you get an outfit you can be a cowboy too." This is a work deeply concerned with issues of appearances and costume, the ways that we signify our belonging or difference from a group or ideal, and the ways in which others view and judge us. Do the clothes make the man? Or woman? And what are these categories anyway? It is and is not as simple as changing our costume.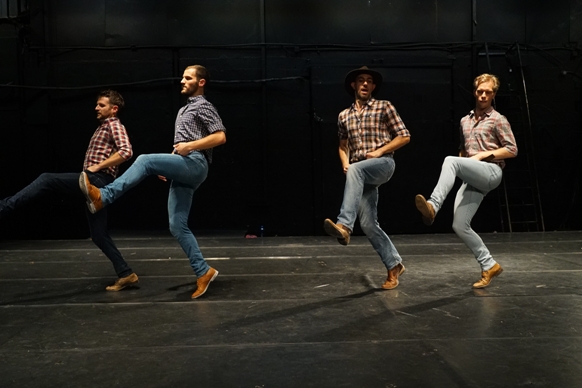 Then the music begins. Niv and Oren have a wonderful way with soundtracks, their choices are always so precise and enticing (let me know if you don't get a kick out of Smetana). In this dance of "I am and am not" Heidi Hauge's country twang, infused with an ever so slight, yet audible, Norwegian lilt, sings out "Turn it up, turn me on, turn me loose" as these hot, hunky cowboys kick out a line dance. Niv and Oren understand the power and seductive appeal of a pattern, the difficulties and implications of breaking it. The four men dancing to the upbeat rhythm can lull us into feeling that we are at one, with the music, the moment, the sexy energy. Generating a sense of togetherness at once pleasurable and deceptive, this kind of unison temporarily makes one forget the discord within our culture, the ways in which we do not acknowledge and accept difference. What happens when the song ends?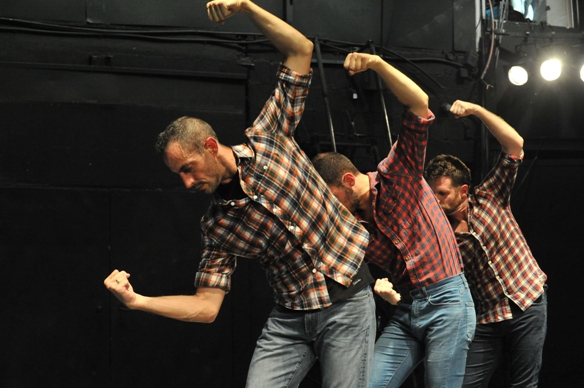 An awareness of difference is heightened by the uniformity of dance and costume, emphasizing the individuality of these men – Niv Sheinfeld, Gilad Jerushalmy, Oren Laor, and Joel Bray – each with a distinct presence in this work.  Each member of the audience is also a presence, a witness and participant in this work (and culture), and with their gaze, voice and gesture, the performers do not let you forget it.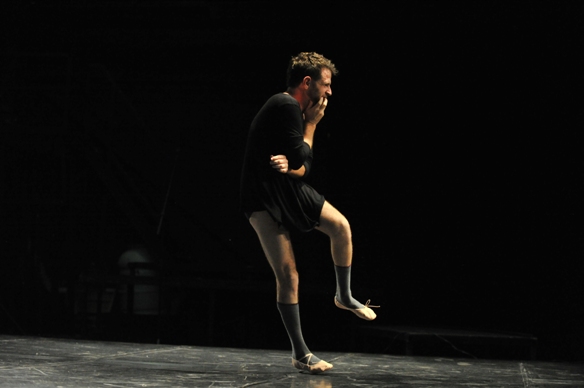 Provocative, theatrical, and wonderfully performed, Cowboy does not promote slogans, easy answers, or any answers at all. It explores the power of the gaze, the ambiguity of touch, and the elusive question of identity with beauty, intelligence and humor. In an extravagantly funny and sexy presentation, Gilad Jerushalmy informs the audience of all that this show is NOT about: masculinity, femininity, intimacy, cowboys and much, much, more. Flaunting the grace, force, agility and sensuality of the body, in some of this work's most poignant moments Joel Bray embodies its exquisite vulnerability. Embrace ambiguity, wrestle with it.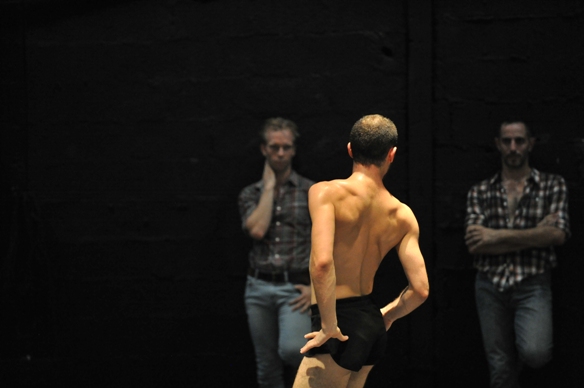 Performances:
August 29th Tmuna Theatre (sorry – sold out) & September 16th in the Diver Festival, Tmuna Theatre.
Cowboy
By Niv Sheinfeld and Oren Laor
Performers and co-creators: Joel Bray, Gilad Jerusalmy, Oren Laor, Niv Sheinfeld; Music: Heidi Hauge – Turn It Up/I Never Knew You; Patsy Cline – Crazy; Dana International – Saida Sultana; ABBA – Slipping Through My Fingers; Bedrich Smetana – Die Moldau; Chromatics – Cherry (instrumental); Kate Bush – Baooshka; Artistic consultation: Keren Levi, Ruth Gvili; Music editing: Didi Erez; Lighting design and technical management: Neta Koren