Giordano Dance Chicago will be performing in Israel for the first time! I've had the pleasure of seeing this company perform many times in Chicago, so it's exciting to have them perform here as part of their 50th anniversary celebrations. Giordance Dance Chicago will be presenting "Fifty Legendary Years" from November 18 – 21 at the Israeli Opera/Tel Aviv Performing Arts Centre.
Jazz dancer and choreographer Gus Giordano (1923 – 2008) founded Giordance Dance Chicago in 1963. Giordano was dedicated to the promotion of jazz as an art form, establishing the Jazz Dance World Congress in 1990, and just as important – founding a dance school that teaches the Giordano method. Nan Giordano, has been the company's Artistic Director since the 1980s, and in her direction of the Company continues her father's legacy of excellence in jazz dance. Giordano Dance Company is known for the vivacious and expressive physicality of the dancers, that special spark they give to every performance.

On the program:
EXit4
An impassioned journey of collective experiences coupled with an internal power that stretches the boundaries of emotional endurance for the dancers and perhaps the audience itself.
Choreography: Ronen Koresh; Music: DJ Nadar, Greg Smith, Jonathan Lee Bowels, Le Trio Joubran.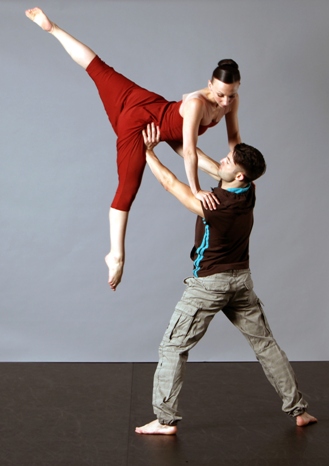 commonthread
This piece for five dancers, showcases the lyrical landscape created by composer Dan Myers. The score, a fusion of Appalachian folk and Middle Eastern influence, takes the dancers on a journey through sound. Electric violin is the centerpiece of each section, and the "common thread" that binds each movement together. The dancers, dressed in urban street wear, move elegantly in and out each woven pattern. commonthread is Eckman's first work for Giordano Dance Chicago.
Choreography: Autumn Eckman; Original Music: Dan Myers and John Ovnik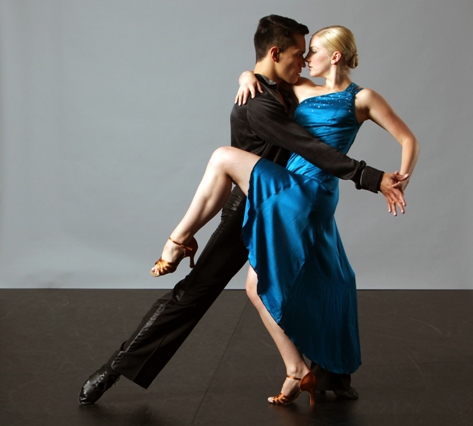 Sabroso
A delicious, flavorful Latin and rhythmic ballroom work for the entire Company, Sabroso is an incredible pastiche of five separate dance styles including Mambo, Rumba, Cha Cha, Latin Swing, and Bolero. Choreographed by the sensational professional ballroom competitor Del Dominguez and his partner Laura Flores, this exciting piece is rousing, joyous, and leaves the audience hungry for more.
Choreography: Del Dominguez and Laura Flores; Music: Monguito Santamaria, Tito Rodriguez, Tito Puente, Eddi Palmieri, Machito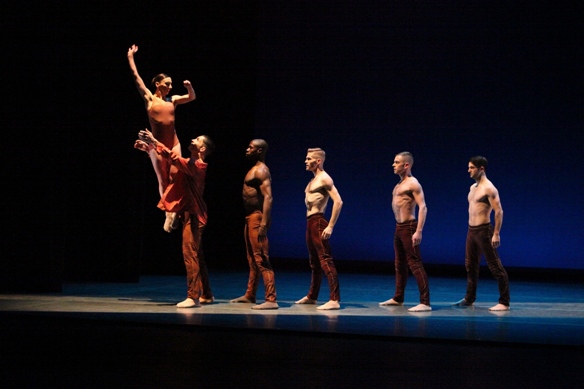 Shirt Off My Back
"Shirt Off My Back" begins with indistinct whispers, fluid lines, and undulating torsos.  Mercer manages to modulate the go-for-broke energy of this group with interludes of liquid partnering and solos.  A brief men's section underscores the strength of the company's men in precision unison moves.  The dancers make swift exchanges across space volleying shirts on and off from dancer to dancer, as the need arises.  A rousing wind-up culminates in an ecstatic group finale.
Choreography: Ray Mercer; Music: Max Richter, Olafur Arnolds, Bongi Duma, 1st – Organum (Max Richter), 2nd – Endalaus II (Olafur Arnolds),     3rd – (Bongi Duma)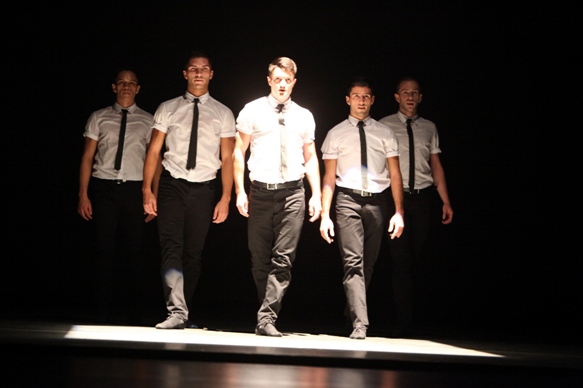 Like 100 Men
Like 100 Men has been a consistent audience favorite since its acclaimed debut in 2002.  With five handsome male dancers outfitted in clean white button up shirts, black slacks, a think black necktie, and with music from the legendary jazz musician Johnny Frigo, Like 100 Men is a playful hint to the 1960's are of competitive male swagger and mod aesthetic. This stylish and athletic work is highly entertaining and showcases the daring technical skill of the Company's finely-tuned male dancers.
Choreography: Jon Lehrer; Music: Johnny Frigo
Feelin' Good Sweet
A sizzling Broadway jazz inspired full company work by iconic choreographer of TV, film, and stage ("America's Got Talent" / "So You Can Think Can Dance").
Choreography: Ray Leeper; Assistant:    Ben Susak; Music: Anthony Newley/Leslie Berceuse, Ted White/Aretha Franklin, and Michael Brennan (original arrangement of "Get Happy" and incidental music)
Giordano Dance Company performances at the Israeli Opera/Tel Aviv Performing Arts Centre: Wednesday, November 18th at 20:00; Thursday, November 19th at 20:00; Friday, November 20th at 13:00; Saturday, November 21:00 at 21:00. Tickets may be ordered online from the Israeli Opera.
*All program information is from the Giordano Dance Company. Please note that the program is subject to change.