Let me begin with what I know: Yair Yona is one of the few musicians who can tempt me out of the house on a rainy night, still on the long drawn out swan song of a diva cold.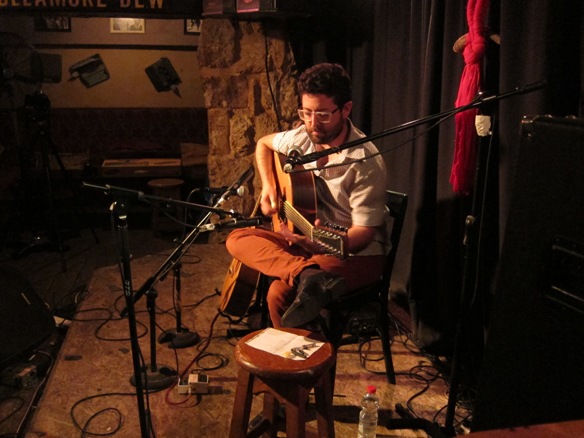 I enjoy Yair's music because it's not about what you know, it's about what you don't know, feeling as you go. So I joined the crowd down in the basement at Bar Giyora, to hear Yair, who was just back from a tour in France. Almost two weeks later, I'm still looking at my notes from the concert, and feeling very reluctant to turn them into a formal review. So, there you have it before you: my mind on Yair Yona's music. Verbatim. Almost.*
1. Which is lucid more lucid?
Incidental words become incendiary, ignite, red and orange against the azure sky.
Wellspring of notes cascading coming from within. Then a stranger walks in and everything slows, something opens up. The horizon is wide and you can take your  time to discover where you are. This strange place is home and you are the stranger or just at the sink by the window washing dishes, listening to the sound of water.
2. Yair: idea to have the audience wear an eye patch, born on tour in France – not to look at his hands  or guitar. ** "Struggle Solitude"
I can feel the music on my skin. Treacherous beauty moving faster than I want to go, entering a dream I have visited before.
3. "Brave Walls" Yair: written many years ago about the courage to do your own thing, a birkat haderech to follow your heart, dedicated to cousin turning 18.
Texture, tension, jumping between two points – then a thickness, lines going in different directions, tangled …then return to those two points but somehow reconciled.
4. "The Space Race" Yair: relatively new song, a journey to a distant planet.
Floating (would I have felt that ?? I think so), my body floating away from my body, an erotic haze. Drinks floating around me in a bar floating up in space.
That quiet after the end of the song.
5. "This One's For You Glenn" (Jones) Yair: I had the pleasure of meeting Glenn at a radio station. It's a song about meeting your heroes. It can be a very dangerous encounter. He came with a bag of lettuce, we had beer after and hamburgers, back when I could still enjoy hamburgers. Be careful what you ask for.
Music: wide open smile, something meditative. What you find – disappointment, danger, conversation going around til midnight… it's building up but not tense  – excited, almost a dance.
6. New song first time playing in front of an audience. "Cultivating Love in the Fear Body"
Spice garden – cloves, cinnamon, pepper.  Plants reaching out to touch me, feeling the leaves of plants.

7. Yair: I began writing songs in front of a mute TV. Russians dancing happiness without??? conditions.  unconditional happiness. Channel 8.
At this point I took off the blindfold. You can feel those rhythms Slavic of dance. Bartender tried the blindfold. Two people used it continuously.
Slowing almost to stillness.
8. New song first time. "Your Smile"
Something deep from beginning, not what you might expect – slower, deeper. Corridors dark, maybe the chambers of the heart. Walking without knowing yet feeling sure it's something. Not without pain. There's a kind of embracing.
9. Feeling that it's OK to close my eyes.
10. Flood the Apocalypse ?? "Floodgate" Different tunings for different songs. Yair: John Fahey – tall tales. on a ferry, dam opens to let through.
Cold, solemn, waves rolling.
11. Yair: something that hasn't played in a long time. "Bella" Love song – romantic, sour?
Space between notes.
12. "Mad About You"
Rushing gush, yet distinct. Intensity then this lyric song like a caress.
Listen to these and other songs on Yair Yona's website, YouTube channel, and facebook page.
*Please take note: due to my cold I was not drinking alcohol during the writing of these notes, just a refreshing glass of water brought to me by the friendly waitress who commiserated with my sickly state. The numbers indicate songs in the set, words in quotations are song titles. Light editing: spelling, punctuation, line breaks for clarity.
**Yes – they gave out black eye patches at the door. Yair bought 30 to hand out to the audience, obviously not enough for everyone, but asked us to try them out, listen, and share with others so that everyone could experience the music in this way. Some people wore theirs religiously, many did not. I put mine on at this point, then took it off later as noted.