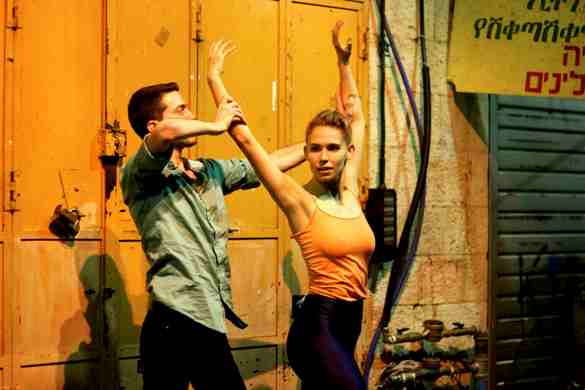 Bringing dance into the bars of the market, and therefore to a wider audience, From Jaffa to Agripas 2015 – dance in the Machane Yehuda Market, Jerusalem is an initiative of c.a.t.a.m.o.n. Dance Group, under the artistic direction of Elad Schechter, in cooperation with the Jerusalem Municipality.
Originally scheduled for the month of October, the event was postponed, and will now take place on Thursday, December 3, 2015, as part of Suzanne Dellal's International Exposure in Dance, and Hamshushalayim.
Visitors are invited to barhop through the market and feast their eyes from 19:30 – 23:00. Admission is FREE!
Participating artists: Dafi Altabeb with Idan Stern at "Hashchena" bar; Yaron Shamir at "HaTipa"; Sofia Krantz and Idan Hishzon at "Shem Tov"; Osnat Kelner in cooperation with the Vertigo Dance Company workshop at "Dawini"; Sharon Vazana with Tomer Sapir at "Tahrir"; Elad Schechter with Sheri Tito at "Tahrir"; and Maya Yogel with Nadav Gerber at "Tahrir."
The full schedule is available on the facebook event page. Artistic Direction: Elad Schechter; Co-Artistic Direction: Tom-Lev Dekel. All events are subject to change, please check the facebook page for updates.