L-E-V Dance Company will present their new work OCD Love from December 1 – 3, 2015 at Warehouse 2, Jaffa Port, and on December 5, 2015 at Suzanne Dellal.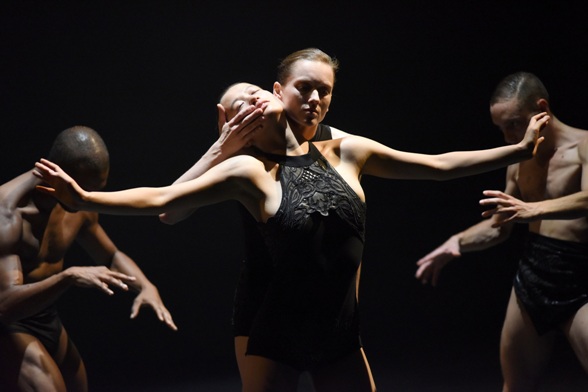 Watching Eyal's choreography I often feel that there is something very tribal and primal…The dancers are like an army of naked, sweaty soldiers, yet each is intensely individual, and the effect is mesmerizing. Eyal exudes a languid, long-limbed sensuality that is expressed in her choreography, and embodied in the dancers. (from my review of Killer Pig)
Choreographer Sharon Eyal stated that this new piece, about love that is out of sync, was inspired by Neil Hilborn's poem OCD. It's a powerful, honest and well-honed poem that is likely to inspire many, best experienced in Hilborn's live presentation:

OCD LOVE performances:
December 1, 2 & 3 at Warehouse 2, Jaffa Port, at 20:30. Tickets may be ordered via The Choreographer's Society at this link. http://www.choreographers.org.il/4585
December 5 in the context of International Exposure at Suzanne Dellal, at 17:00.
OCD LOVE
Creators: Sharon Eyal and Gai Behar; Music: Ori Lichtik; Lightning: Thierry Dreyfus; Costumes: Odelia Arnold in collaboration with Sharon Eyal, Gai Behar, Rebecca Hytting, Gon Biran; Dancers: Gon Biran, Rebecca Hytting, Mariko Kakizaki, Keren Lurie Perdes, Doug Letheren, Leo Lerus