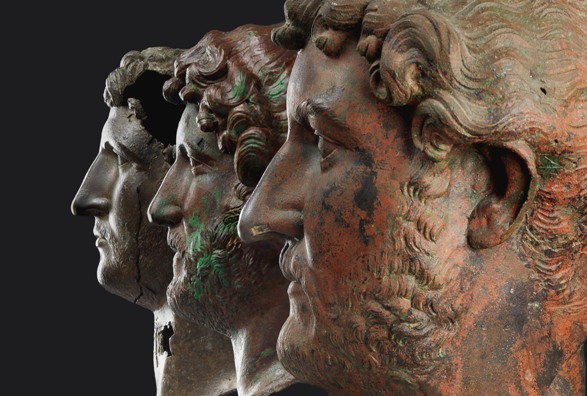 Hadrian: An Emperor Cast in Bronze opens today at the Israel Museum, Jerusalem with three bronze portraits of Publius Aelius Hadrianus – the controversial Emperor Hadrian (117 – 138 CE). These portraits are emblems of the bronze and marble statues of Emperors that were placed throughout Rome's provinces as a visual demonstration of Rome's power and the extent of its rule. Of the many portraits of Hadrian, only three statues survive today – one in the collection of the Israel Museum, and the other two from the British Museum and the Louvre, on loan to the Israel Museum for the closing exhibit of their 50th anniversary.
The Israel Museum's bronze, was found in a Roman legion camp near Beth Shean in the north of Israel, it is flanked by the two others: the British Museum bronze was found in 1834 in the river Thames, possibly created to commemorate Hadrian's visit to Britain in 122 CE; the other, from the collection of the Louvre, is considered to have originated in Egypt or Asia Minor.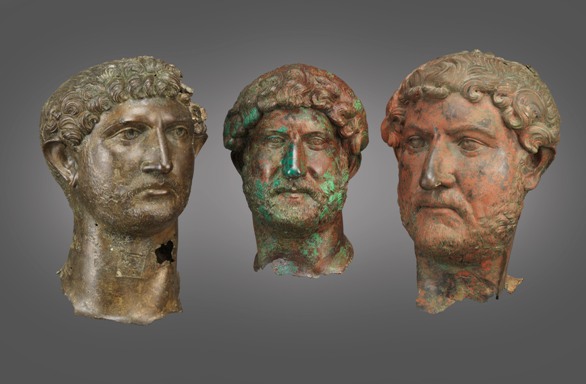 Hadrian's last visit to Judea was in 130 CE, and this will be visually represented in the presentation of a Latin dedicatory inscription erected by the 10th Roman Legion in Jerusalem during that year. One part of the inscription was found in 1903, and the other was recently discovered by the Israel Antiquities Authority during excavations in 2014. The two parts are on display together for the first time, on loan from the Israel Antiquities Authority and the Studium Biblicum Franciscanum Museum, Jerusalem.
The three bronze portraits offer an opportunity to reflect and perhaps reconcile the different perceptions of Hadrian and his rule: one of the better emperors, restorer of the Pantheon and builder of 'Hadrian's Wall,' as opposed to the cruel despot who oppressed the Jewish population in Judea, subjecting them to forced assimilation to Hellenic culture and gods (according to tradition, he intended to build a temple to the Roman god Jupiter on the ruins of the Temple Mount), which resulted in the Bar Kochba revolt.
Hadrian: An Emperor Cast in Bronze is on display in the Israel Museum's Archaeology Wing through June 30, 2016. The exhibition is curated by David Mevorach, Senior Curator of Hellenistic, Roman, and Byzantine Archaeology, and Rachel Caine-Kreinin, Associate Curator, together with Thorsten Opper, Senior Curator, Department of Greece and Rome, The British Museum.