The Brand New Testament is anything but restrained or subtle, taking on the Bible with no holds barred. Jaco Van Dormael offers the viewer with a provocative, alternative vision of God and life, presented in a wildly imaginative tale. Forget Eden, the world was created in Brussels, and God is anything but benevolent.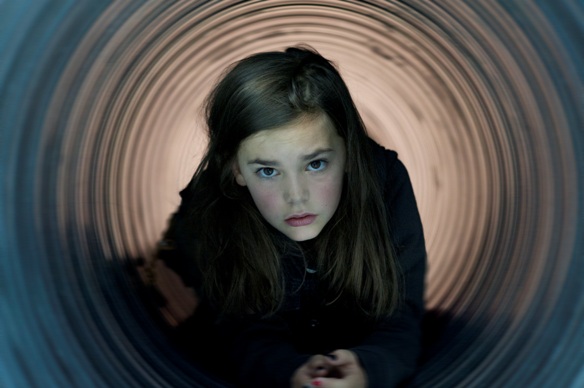 Played with panache by Benoit Poelvoorde, God is a shallow, selfish, brute, who invents horrors and plagues to relieve his boredom. How is this accomplished? Virtually, of course, via the all-powerful computer he keeps locked away in his study. Verbally and physically abusive, he terrorizes his meek wife (Yolande Moreau) and daughter Ea (Pili Groyne). Yet the star of this film in every way is Ea, who in her charming innocence is determined to save the world, with the help of some good advice from her older brother JC. Like any child of this era, Ea is far more adept at the computer than dear old Dad, she sneaks into the study, hacks in, and proceeds to make mayhem.
Beyond the irreverent, yet nonetheless thought-provoking answer to the eternal question "why is there evil in the world?" – The Brand New Testament probes the equally intriguing question of the balance between destiny and free will. Ea launches a program that sends everyone a text message informing them of the precise time, although not the mode, of their death. Cue mayhem. What would you do if you knew exactly how much longer you had left to live? The ensuing adventures are at times extremely bizarre, yet always inventive and visually compelling as Ea tunnels down to earth through a laundry chute (I always thought those contraptions were suspiciously mysterious) to seek out her own apostles and rewrite history as herstory.
Provocative, imaginative, sweet and wild – The Brand New Testament is not to be missed! Opening in Israeli theatres December 24, 2015, a most auspicious date!
The Brand New Testament (Belgium, 113 min, 2015, French with English and Hebrew subtitles)
Directed by Jaco Van Dormael; Screenplay: Van Dormael, Thomas Gunzig; Cinematography: Christophe Beaucarne; Editor: Herve De Luze; Music: An Pierle; Cast: Benoit Poelvoorde, Yolande Moreau, Pili Groyne, Laura Verlinden, Didier De Neck, Serge Lariviere, Francois Damiens, Catherine Deneuve, Romain Gelin, Marco Lorenzi. (French dialogue)