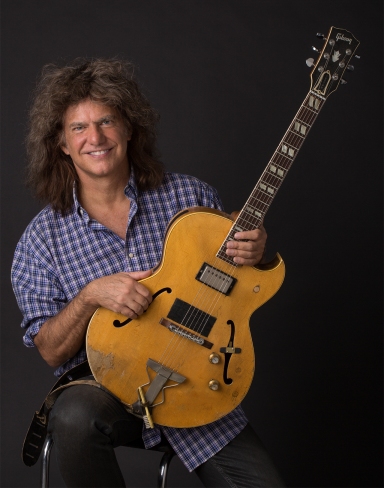 Jazz guitarist and composer Pat Metheny will be coming to Israel in June to perform two concerts: June 14th at Zappa Herzliya and June 15th at Live Park, Rishon LeZion. Performing with Metheny will be pianist Gwilym Simcock, drummer Antonio Sanchez and bassist Linda Oh.
The innovative and influential jazz musician has won 20 Grammy Awards for his work, and in 2013 was inducted into the Downbeat Hall of Fame. His versatility shows in the many different collaborations over the years, with musicians like Steve Reich, Ornette Coleman, Joni Mitchell, David Bowie, and even composed music for Les Ballet Jazz de Montréal's Adieux (choreography by Richard Levi, 1988). His creativity extends beyond playing and composing, to the instruments themselves. He has worked on the development of several guitars: the soprano acoustic guitar, the 42-string Pikasso guitar, and Ibanez's PM-100 jazz guitar.
Antonio Sánchez and Pat Metheny have been collaborating together for years, Sánchez  recorded two albums with the Pat Metheny Group, was later part of the Pat Metheny Trio and the drummer on the album Unity Band. Metheny, in turn, was featured on Sánchez's debut solo album, Migration (2007). Sánchez  has recorded four solo albums, and if you recall the film Birdman directed by Alejandro G. Innaritu (Best Picture, Director, Screenplay and Cinematography in 2014),  most of its soundtrack was a drum solo score, composed and performed by Antonio Sánchez. Were it not for the committee's interpretation of rules regarding how much of a soundtrack must be original music (Birdman included classical works in its soundtrack), Sánchez would have qualified for nomination for Best Score. He did however, win the Golden Globe Award for Best Original Score 2014.
British pianist Gwilym Simcock performs both classical and jazz piano, and sometimes blurring the distinction between them. He's received many commissions and awards, and recorded five albums as leader. Born in Malaysia and raised in Australia, Linda Oh is a double bassist, electric bassist and composer. She has released three albums: Entry (2009 & includes a cover of Red Hot Chili Peppers' Soul to Squeeze), Initial Here (2012), and Sun Pictures (2013).
Opening for Pat Metheny will be double bassist and multi-instrumentalist Adam Ben Ezra.
Ticket price start at 349 NIS, to order, call: *9080.
Performances:
Saturday, June 14, 2016, Zappa Herzliya. Doors open at 19:45.
Sunday, June 15, 2016, Live Park Rishon LeZion. Doors open at 20:00.