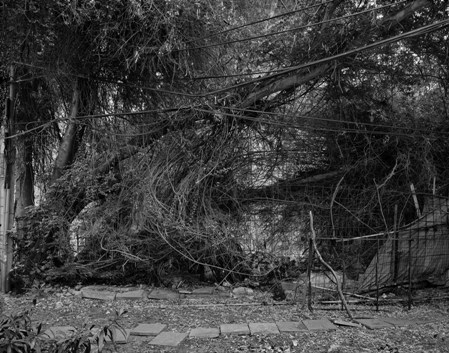 Out with the old, in with the new – this is a contemporary obsession. To make this point, the curators of the art show High Definition have included a sound piece by composer Yossi Mar-Haim among the works displayed. Entitled Outmoded, it comprises a magnetic tape and a phonograph grinding out a squeaky recording of Stockhausen's Song of the Youth, music which randomly combines the voice of a boy singing with filtered noises. This low fidelity piece dating from the 1950s was then at the forefront of musical creativity. Today it is considered archaic, having been long overtaken by high fidelity technology.
 
Advanced technology involving the highest quality of resolution and definition, is the inspiration for this curiously compelling exhibition. Sixteen established artists are participating, representing the world of film, video, fine and commercial arts. Illustrated are two distinct avenues of creativity: the drive to produce sharp, clearly defined images; and the desire to fabricate objects and scenes that are blurred, ambiguous, or on the edge of oblivion.
The marvels resulting from the use of high definition technology are superbly illustrated by Home (2006), a video film, narrated by Glenn Close, and directed by Yann Arthus-Bertrand, a renowned aerial photographer, who employed a gyro-stabilized  HD Cineflex camera to take the viewer on an amazing journey across planet Earth.
 
High definition in the medium of painting is illustrated by the crystal clear imagery of Diti Almog who works in small format,  employing acrylic paints on light aircraft plywood. The four paintings she displays were produced at intervals during a single day last October. Near transparent, edged by geometric shapes, they are views of water, with a distant horizon separated from the sky by the shimmering rays of the sun.
  
Every detail is clearly delineated in Sharon Yaari's ink jet print of a thicket of trees where broken branches hang over a path of loose paving stones.   Like many places that he chooses to photograph, this particular scene appears to have no real significance. But then, one looks again, and starts to wonder where this place is located, and what are the reasons for its neglected state.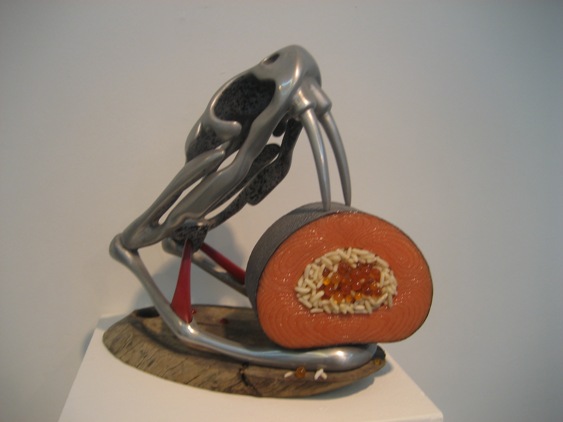 Food, possibly representing the hedonistic leanings of a capitalistic society, is the subject of many of Eli Gur Ari's super-realistic works.  Featured here, arranged in a display cabinet, are examples of artifacts – nuts, fruits, vegetables and candies – that he produces for commercial purposes. More succulent and appealing than they are in reality, these objects induce thoughts about the way that the public are manipulated through marketing ploys.
  
Gur Arie is also showing one of his sleek, larger than life sculptures of fish, images which repel and attract at one and the same time. In this instance, we are faced with an evil-looking crustacean whose claws are locked onto a slice of salmon stuffed with caviar and grains of rice (or is one looking at maggots?)
Quite different in style, are the cool stylish images of Michal Lenart, a professional photographer who works with many of Israel's leading chefs. Two examples of her food photos are precise and minimalist in character. The third is different; a captivating spectacle of a blue crab, its body made translucent by bubbles. 
  
Yaacov Kaufman, a professor of industrial design, illustrates that the urge to blur imagery in Israeli photography dates back to the 1970s.  In Street with Arrow his camera pans an urban environment until buildings and roads are transformed into hazy waves of color, like the path of a roller coaster. This work and two others he is showing are of historical interest, but it would have added another dimension to this show if we could have seen examples of his recent 'high definition' designs for lamps or furniture.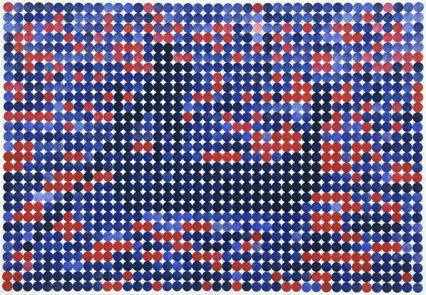 Illustrating the gradual disintegration of an image through a process of magnification are two lambda prints by Joshua Borkovsky, part of a series which originated with Tinteretto's painting of Leda and the Swan. At this point in this process, their figures can still be discerned as faint silhouettes. Similarly, if one stands back from Gondolier, a colored drawing by Deganit Berest, the shadowy image of a figure standing upright in a boat can be seen within a pattern of red and blue dots. These colors derive from the colorful uniform worn by these boatmen.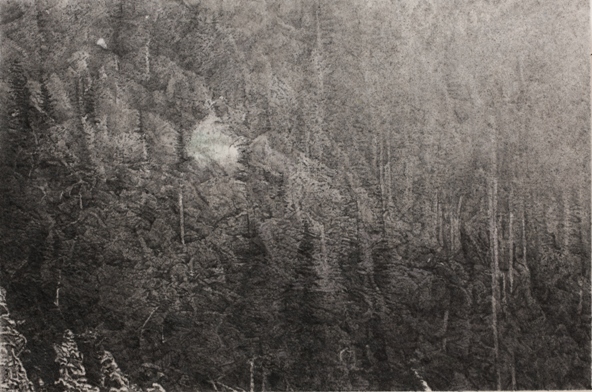 Ignition is a creditable two part work by Gal Weinstein, an artist whose interests lie in substitute surfaces and the concept of camouflage; and whose work usually carries a political or social message. Here, he appears to be displaying a meticulous grey/black drawing of a dense forest. But, coming in close, one finds that he has achieved this magnificent effect by working with a 'carpet' of steel wool attached a plywood sheet.
 
On a wall in another part of the gallery is a DVD photographed by Guy Raz. It shows Weinstein's landscape on fire, with flames spreading in a straight track across it. On route, lighted shapes burst out of the darkness, stay for a moment and then fade away. Finally, the fire dies out, and the terrain reverts to its dark, still state.   
  
This exhibition, curated by Ruti Direktor and Yitzhak Livne, is deserving of an illustrated catalog. A short text by one of the curators is insufficient. Without proper documentation, it will be difficult to keep one's memory of this show in high definition.
Open until March 6
Bezalel Gallery,
60 Salame
Tel Aviv (Tel. 03.6824082)
Opening hours: Tues-Thurs. 17.00-20.00; Fri-Sat. 10.00-16.00
ANGELA LEVINE