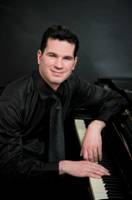 "Three Romantic Glances" the second concert in the series "Chopin – Reverberating Heritage" will take place on Saturday, February 20th at 20:30 at the Einav Cultural Center in Tel Aviv. Pianist Ron Regev will play:
Chopin: Piano Sonata No. 3 in B minor, Op. 58
Brahms: Piano Sonata No. 3 in F minor, Op. 5
Liszt: Piano Sonata in B minor
 The Chamber Music Center, in collaboration with The Polish Institute, presents this series of piano recitals in celebration of Chopin's 200th anniversary.
Einav Cultural Center, 71 Ibn Gvirol Street, Tel Aviv
Reservations: 03-5466228