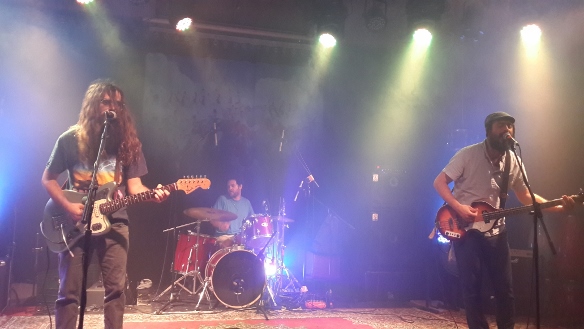 Every time I hear Uzi Ramirez the experience is new and different. He's a guitar sorcerer who can conjure infinite moods and riffs, a psychedelic cowboy with a deep voice and a playful way with words. With two solo albums (Lick My Heart and Cheese in My Pocket) under his belt, and another one in the works, Uzi launched his new EP Ice Skates at The Zone on Wednesday, June 22, 2016, under the smiling eyes of Sonja Henie.
Onstage with Uzi were Shaham Ohana on bass & vocals, and Tal Tamari on drums – when these three are together wonderful things happen, you really had to be there. The rapport between the three musicians is so close, the entire concert was a delirious dream jam. Shape-shifting songs with improvisation so precise it had to have been scripted; yet so wild, free, and in the moment that you could feel the music coming into being, written on the air.
Uzi has a rich repertoire of songs to draw upon, in addition to the five new songs on Ice Skates. It's tempting to try to define his style, the word that often comes to mind is Americana – yet he's at home in just about every genre, and can easily take a melody and send it to outer space, before bringing it all back home.
Opening full force in a haze of smoke and electric guitar, Uzi then launched into Talkin' A Bomb Blues. The fourth track on Ice Skates, it's a cheerful Dylanesque nihilistic sing along, until it's not – then it goes to that post-apocalyptic place.

Favorites from previous albums had their play, often with a twist – Call My Name, the eponymous Cheese In My Pocket, Sundown Blues.
Love in all its forms is central to Uzi's songs – requited, unrequited, lost, found, past, future, singular and plural. There's a hidden smile almost everywhere, this is a musician who likes to have fun with his music, and makes sure that the listeners have fun too.

Regret (Ice Skates) has a sweet rock sound that does "send shivers up my spine" when it goes into an intense instrumental interlude. Bodean (from Cheese in My Pocket) is one of the songs that (very justly) make Uzi's reputation for Americana, but listen to the lush strings and lonely heart lyrics. Along with the genre appropriate drama, there's a smile – rueful? Mocking? It's hard to tell, and that makes the song all the more intriguing.
Uzi also shared some new, yet to be recorded songs (I think one of them might be my new favorite), as well as songs from his debut album Lick My Heart – Lydia, Secrets of the Zodiac, Baby Please Come Home and She's So Young. On the latter he opened with a very playful intro that turned into a mellow trippy interpretation of this song, a world apart from the recorded version, and utterly mesmerizing.
Links: Uzi Ramirez bandcamp; facebook  http://uziramirez.bandcamp.com/
Performances: Monday, June 27th at Ashan Hazman, Beer Sheva; Wednesday, June 29th at Even Juk, Jerusalem