The 32nd Haifa International Film Festival will take place from October 15 – 24, 2016. 85 new Israeli films will participate in the festival, including features, documentaries, shorts, animated films and films by young filmmakers. In addition to the feature competition, the festival will host the premiere of Michal Bat Adam's new film The Road to Where, and Heroine, a project of Michal Vinik and Maya Dreyfus, a collection of five stories written and directed by women in which the title of each episode reflects the profession of the main character: The Officer, The Babysitter, The Nurse, The Stripper and The Director.
Israeli Feature Competition:
Antenna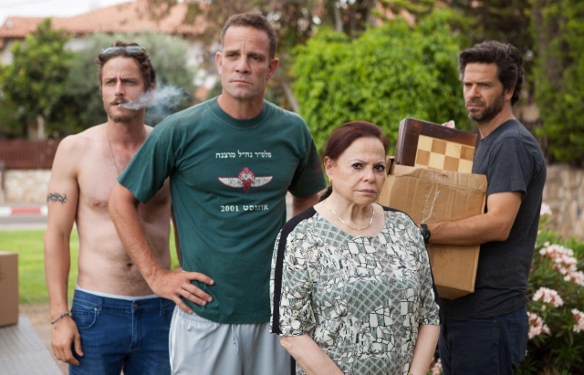 Written and directed by Arik Rothstein; Producers: Marek Rosenbaum, Michael Rosenbaum, Yonatan Rosenbaum; Cast: Gila Almagor, Alex Peleg, Yishai Golan, Miki Leon, Michael Aloni
Yehoshua, an 80-year-old Holocaust survivor, discovers a cellular antenna on the roof of his two-family home. It turns out that his neighbor has rented out his roof to the cell phone company. Yehoshua believes that his ailments were caused by the radiation from the antenna, and his feelings escalate into an obsession as he sets out to wage war with his evil neighbor. His wife and three grown sons are swept into this battle, revealing their personal problems and forcing them to contend with the large shadow of their father. Antenna is television film director Arik Rothstein's debut feature. World Premiere.
Between Worlds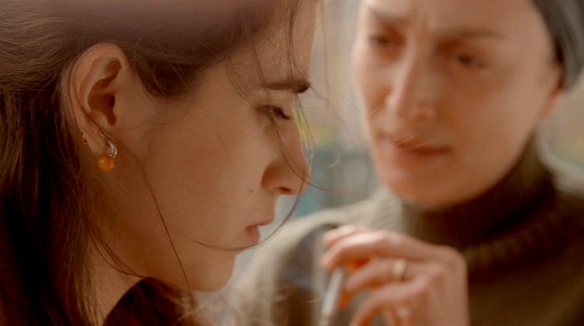 Written and directed by Maya Hatab; Producers: Elad Peleg, Hagi Arad; Cast: Maria Zerik, Maya Gessner, Yoram Toledano
Two women from different worlds meet in a hospital, just before a terror attack in Jerusalem. As they grow closer, one of the women makes a great effort to conceal her identity. She knows that their world is about to change. Between Worlds is Maya Hatab's debut feature. World premiere.
The Burglar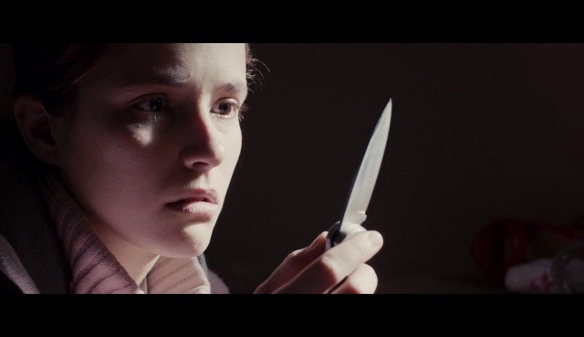 Written and directed by Hagar Ben Asher; Producers: Eitan Mantsuri, Benny Dreshel, Yael Fogel, Natalie Walt; Cast: Lihi Kornovsky, Ronald Zerfeld, Sandy Bar
A mother leaves without a word, abandoning her 17-year-old daughter to make her own way in the world, leaving behind debts, loneliness, and heartbreak. To make matters worse, their home is broken into and everything destroyed. The abyss opened up by the event sends her to seek her identity and life in forbidden places. The Burglar is Hagar Ben Asher's second feature film. The Slut, her debut feature, was screened at the 2011 Cannes Film Festival Semaine de Critiques, and won the prize for Best Director at the Jerusalem Film Festival 2011. World premiere.
In Between
Written and directed by Maysaloun Hamoud; Producer: Shlomi Elkabetz; Executive Producers: Galit Cahlon, Tony Copti, Sandrine Brauer, Aviv Giladi; Cast: Mouna Hawa, Sana Jammelieh, Shaden Kanboura, Mahmoud Shalaby
Laila, Salma and Nur, three young Palestinian women, share an apartment in Tel Aviv, far from the eyes of the Arab community, in the heart of the liberal Israeli society that will always view them as second class citizens. The Palestinian Avant-Garde scene offers them an arena for testing limits. In Between is Maysaloun Hamoud's debut feature. Festivals: TIFF 2016, San Sebastian 2016.
A Quiet Heart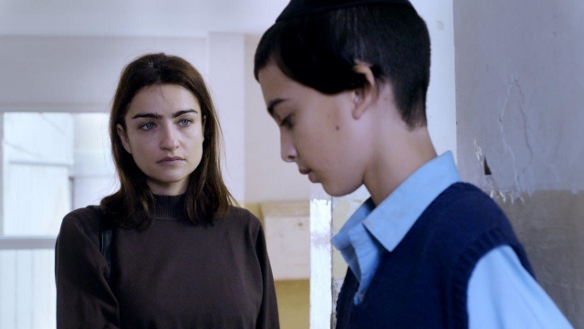 Written and directed by Eitan Aner; Producers: Gal Greenspan, Roy Corland, Moshe Edery, Leon Edery; Cast: Anya Bukstein, Giorgio Lopano, Lior Liphshitz, Uri Gottlieb, Rona Lee Shimon, Irit Kaplan, Ludi Bukan, Yoav Levy, Gilat Ankori
Naomi, a delicate pianist in Tel Aviv, moves to a religious Jerusalem neighborhood. Simha, a religious boy with a great musical talent, adopts Naomi as his piano teacher and thus dissipates the tension between Naomi and her new neighbors. A chance encounter with Fabricio, a charming monk who plays the organ at a nearby church, leads Naomi and Simha into troubles with a group of extremists. A Quiet Heart is Eitan Aner's third feature film, following Sipur Hazi Russi (2006) and Riki Riki (2004). World premiere.
Through the Wall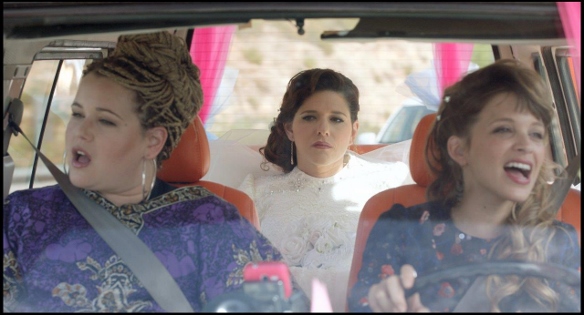 Written and directed by Rama Burstein; Producer: Asaf Amir; Cast: Noa Koler, Amos Tamam, Oz Zehavi, Dafi Elfron, Roni Merhavi, Irit Sheleg. Festivals: Venice 2016, Telluride 2016
Michal became religiously observant ( chozeret b'teshuvah) 12 years ago, and she is not yet married. After years of failed attempts, she finally finds a groom, but a month before the wedding, he calls off the engagement. Michal refuses to return to the familiar, exhausting world of shidduch dates, and against all odds, decides to leave all the wedding arrangements in place. "I have a venue, I have a dress, it's a small matter for God to find me a groom." Through the Wall is Rama Burstein's second feature, her first film, Into the Void, was awarded the prize for Best Actress at Venice 2012.
Land of the Little People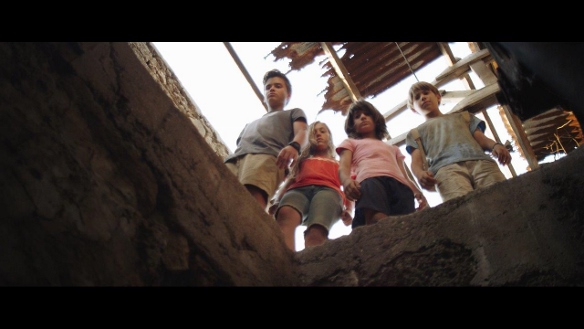 Written and directed by Yaniv Berman; Producer: Tony Copti; Cast: Lior Ruchman, Amit Hechter, Ido Kestler, Michel Prozansky, Ofer Hayoun, Maor Shvitzer
This is the story of four school-age children, who live in a military town. They have their own secret camp on an abandoned military base nearby, a falling down stone building with an ancient well inside its walls. The children believe that there is a monster in the well that must be fed. When war breaks out, their fathers are sent to the front, and their mothers listen to the news nonstop. The children are left unattended, and when they go to their secret camp, they find two deserters hiding there. The two factions battle over the secret territory. Land of the Little People is Yaniv Berman's debut feature. Festivals: Shanghai 2016
The 90 Minute War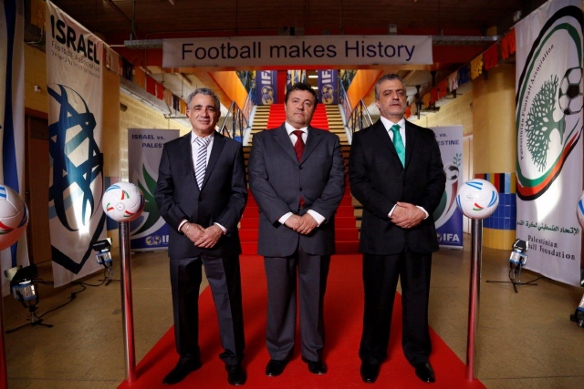 Written and directed by Eyal Halfon; Producers: Asaf Amir, Steve Hudson, Sonia Ivers; Cast: Moshe Ivgy, Norman Issa, Datlef Bak, Alexander Berta, Paula Pedergal, Pepe Repzota, Harald Redmer, Torsten Knipertz
The Israeli-Palestinian conflict has ended after decades of bloody battles. Just before another wave of violence is about to break out, the perfect solution is found: a football match. One game that will determine who stays and who has to find a new homeland. The 90 Minute War follows the preparations, crises, and drama leading up to the crucial match. From the offices of the International Football Association in Geneva to the kitchen of the manager of the host stadium in Portugal, the sauna where the chair of the Israeli Football Association sweats, and the locker room of the Palestinian team. The 90 Minute War is Yaniv Berman's 4th feature.
Home Port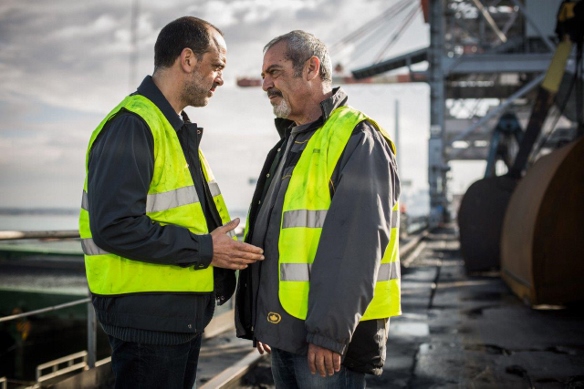 Directed by Erez Tadmor; Screenplay: Shlomo Efrati and Erez Tadmor; Producers: Talia Kleinhandler, Osnat Handelsman Keren, Moshe Edery, Leon Edery; Cast: Yoram Hattab, Shmil Ben Ari, Liron Ben Shlush, Ana Dobrovitzky, Sharon Alexander, Yaakov Daniel, Eyal Rozales, Eyla Salma, Udi Persi
Aharon, a ship engineer, returns to land after 30 years at sea, hoping to grow closer to his family. He finds an administrative position at the Ashdod Port, and soon enters a conflict with Rahamim Azulai, the hero of the workers. Azulai tries to defend the world he has established for himself and his co-workers from the changes taking place around them. Home Port is Erez Tadmor's 5th feature film. World premiere.
Personal Affairs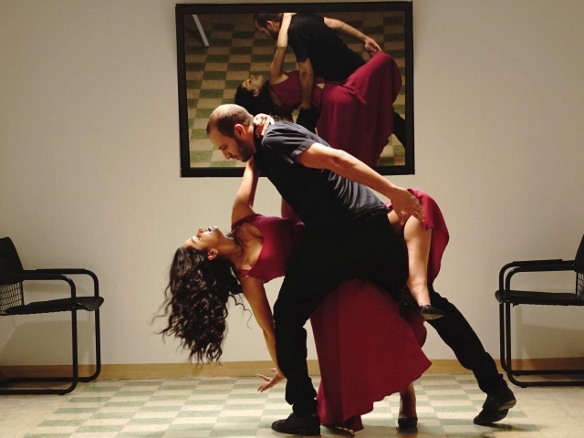 Written and directed by Maha Haj; Producer: Baher Agbariya; Co-producers: Ehab Assal, Munther Ha; Cast: Sanaa Shawahdeh, Mahmoud Shawahdeh, Doraid Liddawi, Hanan Hillo, Ziad Bakri, Amer Hlehel, Maisa Abd Elhadi, Jihan Dermelkonian
Set in present day Nazareth, an older couple lives in weariness, to the rhythm of daily routine. On the other side of the border, in Ramallah, their son Tark plans to remain an eternal bachelor, their daughter is about to give birth, while her husband is offered an acting role in a movie, and the grandmother is losing her mind. Between checkpoints and dreams, parties and politics, some want to leave, some want to stay, but they all have personal affairs to resolve. Personal Affairs is Maha Haj's debut feature. Festivals: Un Certain Regard at Cannes 2016, Beirut, Sao Paolo and Hong Kong film festivals 2016.
Haifa International Film Festival website 
Film descriptions are based on information provided by the festival. Names were provided in Hebrew, any corrections to English spelling should be sent to info@midnighteast.com