The Jerusalem International Oud Festival will take place from November 17 – 26, 2016. Now in its 17th edition, the festival is under the artistic direction of Effie Benaya, General and Artistic Director of the Confederation House. The festival celebrates a meeting of cultures, the presence and influence of Arabic music in Middle Eastern and Mediterranean cultures. Performances will take place in several Jerusalem venues: The Jerusalem theatre, Beit Shmuel, the Yellow Submarine, Beit Mazie, and the Confederation House.
The festival will open with Psalms, an evening of compositions by an impressive cohort of Israeli musicians – Daniel Zamir, Shem Tov Levi, Shlomi Shaban, and Shlomo Gronich – all inspired by the Book of Psalms. The evening will feature solo and group performances with: Daniel Zamir, saxophone, vocals, arrangement and musical production; Shlomo Gronich, piano, vocals; Shlomi Shaban, piano, vocals; Shem Tov Levi, flute, vocals, piano; Amos Hoffman, oud; Noam David, drums; Gilad Abro, bass; Nitzan Bar, guitar; Tomer Bar, keyboard; Ronny Iwryn, percussion.
Thursday, November 17th at 21:00, Henry Crown Hall, Jerusalem Theatre.
The full festival program:
Vocalist, composer, and paytanit Maureen Nehedar will launch her new album: "Wheat Flower." The album features new arrangements of Persian folk classics. Performers: Maureen Nehedar – musical direction, vocals, Persian setar; Orit Goral – musical production, piano; Gad Tidhar – oud, tar and kamancha; Yogev Levy – Persian nai; Yuval Gerstein – guitars; Alon Azizi -, bass; Oren Gilad- drums. Saturday, November 19th at 21:00, Beit Shmuel
Oud player and violinist Nassim Dakwar, one of the founders of the Bustan Avraham ensemble and  an original and inspired interpreter of Arab classical music, presents original works that reveal a new and intriguing side of his artistic activity. Performers: Nassim Dakwar – oud, violin; Zohar Fresco – percussion; Eyal Sela – clarinet; Hagai Shaham – bass. Sunday, November 20th at 19:30, Beit Mazia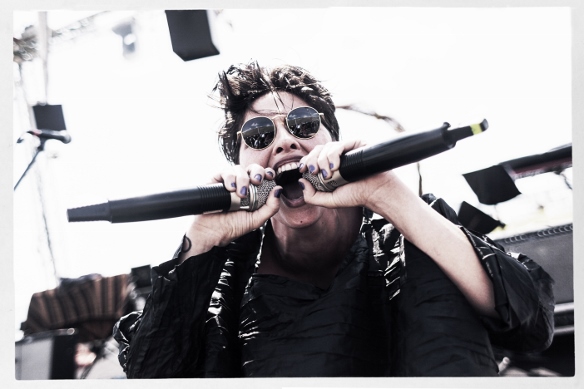 Azerbaijan-born Israeli musical artist Kamila Teregulov presents the fascinating story of her life in her album, "Mamaland," recorded in Azerbaijan with the Mansurov brothers and Kamran Karimov, noted Azeri virtuosos specializing in the traditional instruments: tar, kamancha and nagara, who will perform at the festival. Performers: Kamila, writing, composition, musical arrangement and vocals; Elshan Mansurov – kamancha; Malik Mansurov – tar;  Kamran Karimov – nagara; Jonathan Alter – drums; Danny Schneiderman – bass guitar; Zemfira Kolayev – piano. Sunday, November 20th at 22:00, the Yellow Submarine

French Jewish musician Jean-Pierre Smadja (Smadj) and Israeli percussionist Noa Vax join together in an innovative performance combining oud, electronic music and a variety of percussion instruments. The performance offers a fresh new interpretation of the works of the great masters of Arabic music. Performers: Jean-Pierre Smadja – oud and computer; Noa Vax – percussion. Monday, November 21st at 19:30, Confederation House
Neta Elkayam in a tribute to vocalist Zohara Al Fassia, the greatest diva to emerge from Moroccan Jewry. Al Fassia was the first woman in Morocco to record a musical album. Her songs are heard to this day by Moroccan communities around the globe. Performers: Neta Elkayam – vocals and artistic direction; Amit Hai Cohen – piano, musical direction; Elad Levy – violin; Netanel Ben Shitrit – darbuka; Moshe Becher – oud; Evyatar Hermesh – bass; Eyal Yahav – cello; Gilad Vaknin – plucked instruments; Hillel Amsalem – percussion. Monday, November 21st at 22:00, Yellow Submarine

A new performance by composer, vocalist and oud player Sameer Makhoul presenting his unique style and technique of left-handed oud playing without reversing the direction of the strings. Performers: Sameer Makhoul – oud, vocals, melodies; Eyal Sela – clarinet, saxophone, Erez Munk – percussion. Tuesday, November 22nd at 19:00, Confederation House
Sitar master Ustad Shujaat Husain Khan, one of the great Indian musicians, will present a selection of works from the Indian classical repertoire and qawwali vocals of the Indian Sufi sect. He will be accompanied by two of the most famous tabla players, Amit Choubey and Sapan Anjaria. Performers: Shujaat Husain Khan – sitar and vocals; Amit Choubey – tabla; Sapan Anjaria – tabla. Tuesday, November 22nd at 21:00, Rebecca Crown, Jerusalem Theater
Omar Faruk Tekbilek presents his new album with special guest Israeli vocalist Yasmin Levy in a song in Spanish that he composed specially for the album, and Turkish clarinet virtuoso Serkan Cağrı. Performers: Omar Faruk Tekbilek – nai, vocals, baglama, zurna, percussion; Bahadir Senar – qanun; Yannis Dimitriadis – key's, piano, accordion; Itamar Erez – guitar; River Guerguerian – drums, percussion; Murat Tekbilek – percussion; guest: Yasmin Levy – vocals. Wednesday, November 23rd at 21:00, Sherover Hall, Jerusalem Theater
Um Kalthoum remains the most famous and highly esteemed vocalist in the Arab World of the 20th century, and became a legend in her lifetime. Oud virtuoso Professor Taiseer Elias, together with the musical ensemble that he established, with the accompaniment of vocalist Violet Salameh, pay tribute to the great musician. Among those that will be performed: Inta omri, Ba`id `anak, Ana fi intitharak, Al-Atlal,and  Al ward gamil. Performers: Prof. Taiseer Elias – oud, musical direction and editing; Violet Salmeh – vocals; Firas Ismi – violin; Elias Elias – violin, Charlie Safi – violin; Isa Awwad – qanun; Jamil Bishtawi – nai, Hisham Khouri – bass; Ashraf Farah – darbuka; Nab`a Abu Niqula – riq; special guests: al-Karawan Choir, Nabih Awwad, musical director. Thursday, November 24th at 21:00, Sherover Hall, Jerusalem Theater
Greek composer and conductor Stavros Xarchakos will be performing in Israel for the first time, with the festival's closing performance Mana Mou Ellas (Mother Greece). Xarchakos composed the music for the film Rembetiko, as well as Werner Herzog's Signs of Life. Performing songs from Rembetiko and other works from Xarchakos' musical career will be the ensemble: Panos Mpousalis, Theodoros Boutsikakis – vocalists; Dimitrios Siampos – guitar; Neoklis Neofytidis—piano; Bassileiou Xristakis –percussion; Kelaris Xaris—bass; Filippos Tsemperoulis –horns; Iraklis Ziakas –bouzouki; Vasileios Drogkaris –accordion. Saturday, November 26th at 21:00, Sherover Hall, Jerusalem Theatre
The full program and ticket information may be found on the Confederation House website.  Tickets may be purchase via the website, or call: 02-6245206, ext. 4; or through Bimot *6226.