"I got married when I was 13, I understood nothing…I jumped off the roof… I wandered for seven years, God didn't let me die, he let me run…with us, it wasn't about love, fathers decided" – these are the voices of women forced into marriage as young girls. Born into a community where gender equality is unheard of, and child marriage a culturally sanctioned accepted custom, their voices went unheard, despite their cries and protests. As they began to have children of their own, often working day and night to support a growing family and an aging husband, their suffering was silenced, a painful secret kept even from their own children – until now. In Child Mother, a documentary by Yael Kipper and Ronen Zaretzky, these women, now in their 80s or older, courageously reveal the story of a childhood brutally ended with what was, in effect, legally sanctioned rape. The film addresses this taboo subject with intelligence and sensitivity, giving voice to women whose voices were silenced for so long.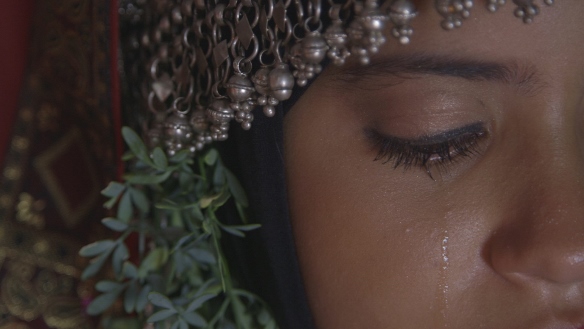 The film is based on interviews with hundreds of women in Israel who were forced into marriage as children. Four of these women – Esther, Hanna, Naomi and Shoshana – are the focal point of the film, their stories emerge in an intimate setting as they are interviewed by their children. The testimony of others appears in the film as short video interviews or audio segments of recorded interviews. To call up these memories is not an easy choice, as Shoshana says: "I want to forget." To remember the past is to relive it, to feel the anguish.
The vitality, honesty and courage of these women in their willingness to tell their story is inspiring. Under the most harrowing of circumstances, these women had the fortitude to go on with their lives, to raise the children they bore, to survive. To speak out and re-open the hidden wounds of the past is to risk fracturing the structure of their families, their lives.
In choosing to tell these women's stories through conversations with their children, the directors present an aspect of child marriage that is rarely discussed: the impact on the family as a whole, an open wound passed on to the next generation. For the children of these marriages, these were the only parents they knew, the only life they knew. The fathers were older, respected, often traditionally revered and feared as the voice of authority. Moreover, since many of these older men did not work (especially when families immigrated to Israel), the father was often at home and more available to the children than the mother. The children are caught in the underlying conflict: the man they know and love as their father is also the source of their mother's suffering. Their questions to their mothers are poignant, as they discover their mother's hidden past, seeking to understand, and perhaps hoping to find healing for her and for themselves.
Some, like 84-year-old Esther, who is first seen dancing in her kitchen, are remarkably resilient. Throughout the turmoil of her past, she never ceased to resist. One can see that her relationship with her daughters, while complex, is close and thriving. Others, like Naomi, who was married at age 5 and sent to live with her husband's family, exude a reluctant acceptance of fate, often sighing: "What can you do?" One of the film's most harrowing moments for me, was when Avi, still grieving for the father he lost when he was 6 years old, tells Hanna, his feisty, raging, mother, that he understands his father (in his mid-50s/60s when he married Hanna, who was about 14), who was only acting according to custom, saying: "I may have done the same thing if I lived in Morocco. Those were the rules there."
Much as one might want to cloak these stories in the comforting illusion that they happened "somewhere else" and "in the past" – they remain painfully relevant. In the film, Daniela and her mother Naomi watch a video made in 2013 of 11-year-old Nada Al Ahdal who ran away from home to escape a forced marriage. Child marriage is a human rights violation that still exists in many countries. According to the United Nations Population Fund (UNFPA), about 17.4 million girls under 18 are married every year, and in those countries where these marriages are prevalent, complications from pregnancy and childbirth are among the leading causes of death among adolescent girls aged 15 to 19.

Future screenings:
Saturday, October 15th on HOT Channel 8 at 20:30
Tel Aviv Cinematheque: October 17th at 15:00; October 18th at 13:00; October 22nd at 15:00; October 24th at 15:00; October 25th at 18:00; November 1st at 18:00; November 4th at 14:00.
Jerusalem Cinematheque: October 17th at 21:30; November 10th at 19:00; November 12th at 19:00.
Future screenings are also planned at the Haifa Cinematheque, check the website for dates/times.
Child Mother
Israel, 2016, 90 min, Hebrew, Moroccan and Yemenite, with Hebrew and English subtitles.
Director, Production & Script: Yael Kipper, Ronen Zaretzky; Production Company: Turtles Films; Editing: Tor Ben Mayor; Cinematography: Ronen Zaretzky; Additional Photography: Avigail Sperber; Research: Hagit Eiloz, Galit Milchan, Talia Salomon; Soundtrack: Aviv Aldema, Db Studios; Music: Shiran Karni, Adi Forti, Oren Rot
Awards Docaviv 2016
Doc Aviv/Israeli Competition Special Jury Mention
Jury's statement: "The film "Child Mother" delicately reveals the harsh story of women who, as young girls, were given to much older men and enslaved by them, in the name of tradition. The filmmakers, Yael Kipper and Ronen Zaretzky, succeed in portraying a complex, complicated and important story – through multiple layers of concealment, denial and shame. A story that echoes and has existed from ancient times to our own days."
Doc Aviv/Best Cinematography Award (Ronen Zaretzky)
Jury's statement: "For its unique understanding and proven ability of presenting the story trough stoic scenes. The winner displayed amazing use of available light, poetic composition, allowing the protagonists and their environment to possess the full frame and lead the film"