Deca'le is an exuberant mash-up of selections from Ohad Naharin's choreography, edited to suit all ages. I've seen, and enjoyed it many times (the young companions by my side super enthusiastic as well) – each edition is composed from a different selection of works. The works are performed by the Batsheva Young Ensemble, famous for their outrageous talents and phenomenal energy. Deca'le is set on the Ensemble and always acquires new colors in rehearsal, reflecting the individuality of the dancers, as well as the uniquely textured and detailed explosion of creativity that is Ohad Naharin's choreography.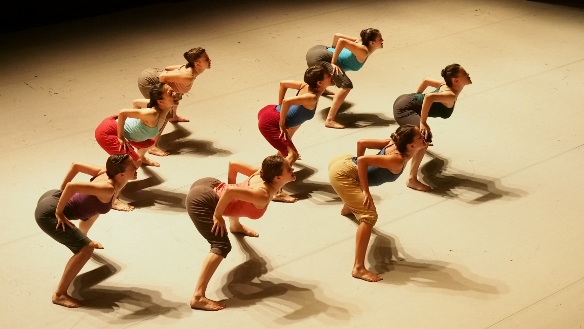 This edition of Deca'le is scheduled to include selections from: Max (2007), Seder (2007), George and Zalman (2006), Three (2005), Zachacha (1998), Anaphaza (1993), Mabul (1992), and Kyr (1990). Duration is 55 minutes, and the show is considered appropriate for ages 8 and up. Tickets are 100 – 110 NIS/90 NIS balcony, and may be ordered via the Batsheva Dance Company website, or call: 03-5171471, ext. 115.
Upcoming performances:
Wednesday, October 19th at 16:00 and 18:00
Thursday, October 20th at 14:00
Suzanne Dellal Centre

Deca'le by Ohad Naharin
Lighting Design for the original creations: Avi Yona Bueno (Bambi)
Costume Design for the original creations: Rakefet Levi, except of: 'Seder': Sharon Eyal
Music:
Recado Bossa Nova by Laurindo Almeida & The Bossa Nova All-Stars, Gopher Mambo by Yma Sumac, Choo Choo Cha Cha by Rinky Dinks, Blue Rhumba by Rolley Polley, Chihuahua by Luis Oliveira, Glow Worm Cha Cha Cha by Jackie Davis, It must be true by John Buzon trio Issa Nori by Maxim Waratt, Train by Goldfrapp, Fac ut arbeat by Vivaldi, Somewhere Over the Rainbow by Harold Arlen, adapted by Marusha; Hooray for Hollywood by Don Swan & His Orchestra, Sway by Dean Martin, Echad mi Yodea—traditional folk song arranged and performed by Ohad Naharin and The Tractor's
Revenge, Na tum jano na hum by Rajesh Roshan, Do by Chronomad, You're Welcome by Brian Willson—The Beach Boys.
Text: Ohad Naharin inspired by Charles Bukowski
Cast: Chen Agron, Etay Axelroad, Yotam Baruch, Korina Fraiman, Ido Gidron, Mai Golan, Ben Green, Lenny Hasin, Chiaki Horita, Chunwoong Kim, Ohad Mazor, Robin Lesley Nimanong, Evyatar Omessy, Igor Ptashenchuk, Hani Sirkis, Amalia Smith, Xanthe Van Opstal. Apprentices: Londiwe Khoza, Shir Levi, Opal Markus, Tomer Pistiner