The Wedding Plan (LaAvor et HaKir) is a romantic comedy with a difference, and not just because the protagonist is Ultra-Orthodox. Written and directed by Rama Burshtein (Fill the Void), the film satisfies the wacky requirements of the genre, with an abundance of rollicking humor, yet reaches beyond them too. Taking place between worlds – that of Ultra-Orthodox and secular society in Israel, The Wedding Plan shines in the details, the nuances of conversation. Clever, edgy, funny and even poetic at times, the dialogue carries the humor and the emotion of the film, much of it conveyed by its protagonist, Michal. Brilliantly portrayed by Noa Koler, Michal is a woman of words and actions, one of the most memorable characters in recent film history, worthy of an Anne Elliot.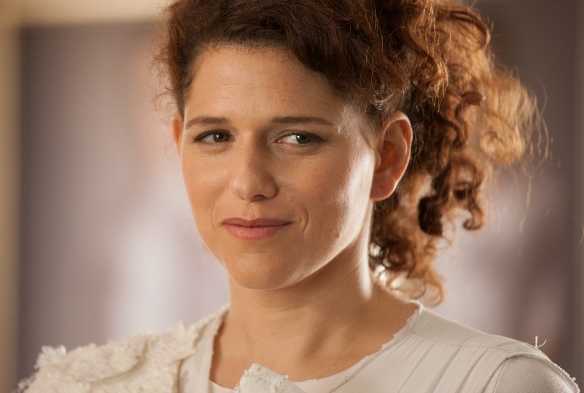 32-year-old Michal wants to get married, a sentiment not too unusual for a person in her early thirties, even in this day and age. Yet for Michal, who was brought up in a secular family and chose to become Ultra-Orthodox 12 years ago, marriage has a broader significance. The family plays a significant part in Jewish traditional life, with roles often defined by gender, as on Erev Shabbat, Friday night: the wife lights the candles and the husband recites Woman of Valor (Proverbs 31, 10 – 31). Marriage is a rite of passage that conveys one's membership as an adult in the tribe. It's about finding love, but it's also about feeling at home in the world, finding one's place.
Now, 32 is really, really, old to be single in the Ultra-Orthodox community, and in this realization, is some insight into Michal's character. She is eager to get married, desperate enough to endure the hilarious, superstitious ritual that takes place in the first few minutes of the film, yet obviously, not desperate enough to marry anyone willing, or else she would have already been married. Everything else in her life is pretty much set: her mother doesn't understand her, but loves her very much, she has good friends and an unconventional career that appears to bring her satisfaction as well as an income. All that's missing in her life is the appropriate frum man.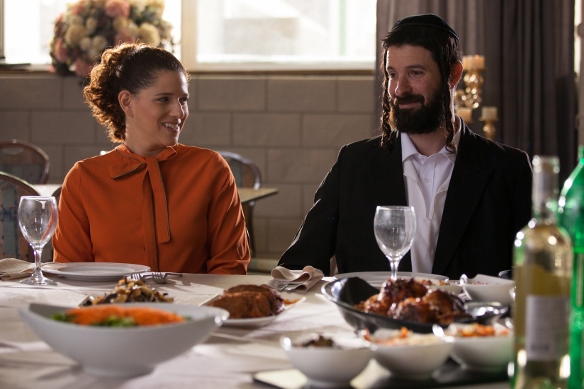 Now comes the wacky part. In the blink of an eye, Michal is engaged to be married to Gidi (Erez Drigues), and they're about to choose the menu for the wedding dinner. There's an odd tension between the couple, and Michal wants Gidi to tell her what's wrong. He holds back, taking a dig at her for 'digging,' but she insists and he confesses that he does not love her. It's a moment to notice. If Michal were the poster-woman for convention and tradition, for whom marriage is the only goal, she might have ignored Gidi's tense silences, or even tried to placate them, rather than seek out the truth. She is intelligent, perceptive, honest and direct, and she does not settle for anything less. But wait – where's the wacky humor? All this is so serious… So yes, here's where the fun begins. Fed up with everything, Michal decides to go for broke: she has the dress, there's a date – the 8th night of Hannukah, and a venue; surely the almighty can come up with a groom in time for the wedding?
It's a delightful premise, and the ensuing sequence of weird dates is very amusing, spiced up by the religious twist, as in the date with Ronen (Udi Persi), who has taken upon himself the stringency of not looking at women. There's even the requisite element of romantic fantasy in the form of rock star Yoss (Oz Zehavi). The 22-day deadline to the wedding adds zip to the pace, and a strong ensemble cast rounds out this enormously appealing film. Noa Koler's outstanding performance as Michal is the heart of this film, creating a character who is strong, opinionated, curious, intelligent and kind.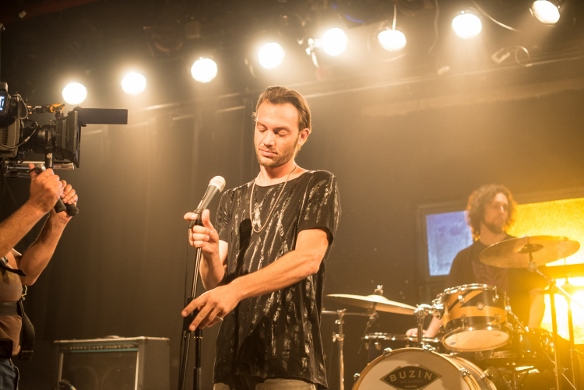 It's sadly unusual to see a strong female character in films, certainly not a main character, and on the rare occasion when there is a powerful woman, more often than not, she is, if not thoroughly malevolent, then profoundly dysfunctional. In other words, most strong female characters in films either hurt themselves or others, and often both. It is tremendously refreshing to follow the adventures of a character who is intriguingly twisted, driven and determined, aware, open and respectful of her feelings. As befits the genre, it would be accurate to say that the film privileges feeling over logic, yet (trying to avoid spoilers) having seen the film, when one looks back at the entire work, the structure is meticulous and hence, very sound. Michal adheres to a very strict tradition, and her quest for marriage is quite conventional, but she is far from passive, and she has 22 days to find a groom. Will she? Won't she? Is it an act of hubris to believe that God will find her a husband, an expression of faith, or is it just insane? Ultimately, The Wedding Plan is not so much about belief, as it is about the desire to believe – whether in God, or love, or just that things will work out well – and it is the exploration of that desire that strikes a chord of recognition, deep and resonant.
The Wedding Plan 
Written and directed by Rama Burshtein; Cinematography: Amit Yasour; Editor: Yael Hersonski; Cast: Noa Koler, Amos Tamam, Oz Zehavi, Irit Sheleg, Ronny Merhavi, Dafi Alpern, Oded Leopold, Udi Persi, Jonathan Rozen, Odelia Moreh-Matalon, Erez Drigues.
Through the Wall is showing in Israeli theatres from October 27, 2016