The poetic timing could not have been better, as contemporary troubadour David Broza gave an outstanding performance at the Piano Festival last night, November 9, 2016, with Omri Behr on piano, Salit Lahav on accordion, Gadi Seri on percussion, and special guests Jane Bordeaux. November 9th has a special significance for Broza, as his fans well know, and he did not disappoint, singing Sigaliot (Violets), the romantic tale of a woman with a secret admirer who sends her a bunch of violets, every year on November 9th.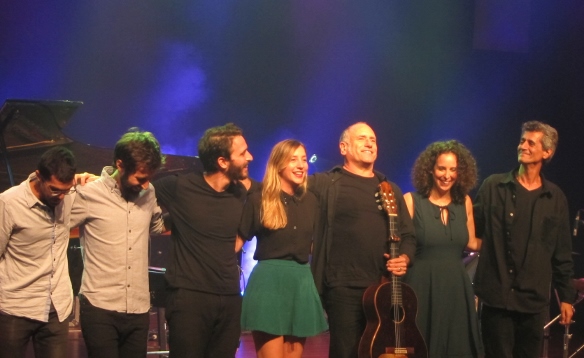 Broza is a singer-songwriter known and loved worldwide, playing folk-rock guitar with Spanish rhythms and passion. He is the kind of performer who knows how to make a venue of thousands feel like a meeting of friends, and that all-encompassing warmth filled the auditorium in the Tel Aviv Museum of Art. Last night's concert brought classical music, folk, rock, poetry, Hebrew, Spanish and English together, a diversity in which every aspect could be enjoyed in its fullness, the different elements reflecting and enhancing one another. Omri Behr opened with a piano solo, Ravel's Une Barque sur L'Ocean, setting a dreamy, meditative atmosphere. Then Broza joined him onstage, singing La Mujere Que Yo Quiero (The Woman By My Side) first in Spanish, then in Hebrew.  On the next song, Hello (from his album Third Language, with lyrics by Broza) Salit Lahav and Gadi Seri, on flute and percussion, respectively, augmented the Middle Eastern feel of the song, with a very jazzy piano solo from Behr. The rapport between Broza and the musicians was very lively and warm, and the evening's energy high.
Broza has collaborated with many poets, most notably Johnathan Geffen in Israel, and in this concert performed his composition to Geffen's Orange Blossoms. He has also composed music to poems by writers as diverse as Federico Garcia Lorca and Townes Van Zandt. On this night, he shared the story of his long-term connection with American poet Liam Rector, and how he came to compose the music for Rector's In Snow, in about 8 years and three minutes. Merging continents and genres, they opened the performance of this moving ache of a song with Behr playing a Prelude by Chopin. One of the poignant highlights of a concert that felt like one highlight after another, was Broza's performance of a song by another poet, Rachel – "And perhaps – these things never happened."
The collaboration with Israeli acoustic folk trio Jane Bordeaux (Doron Talmon – vocal & percussion, Amir Zeevi – guitar, ukulele & vocals, Mati Gilad – double bass & vocals) has a "meant-to-be" feel to it. They sound wonderful together, whether performing Jane Bordeaux songs (Eich Efshar, Whiskey), or the folk harmonies of Don't Think Twice. And of course, with perfect timing, Broza closed the concert with Sigaliot.
The Piano Festival will be continuing through Saturday, November 12, 2016, more details here. Come early to enjoy the festive atmosphere in the plaza between the Tel Aviv Museum of Art and the Tel Aviv Performing Arts Center, with free outdoor concerts beginning at 19:30, and a very friendly bar.