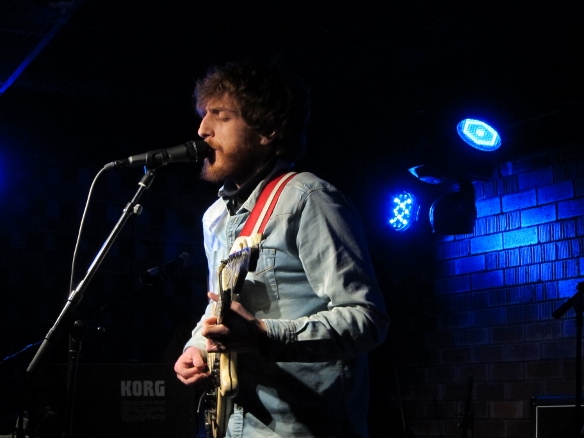 A Mediterranean winter – the rains that almost never come and then always catch me by surprise, unaware, unprepared, the layers of sweaters I pile on, after a serious search and recovery mission in the apartment, because I only use them a few times a year, and never remember where they are. The cold, wet, night made the perfect setting for Tomer Yeshayahu's launch concert for Boidem, his second solo album, at the Ozen Bar this past Saturday. Opening with Horef Shel Yam Tichon (A Mediterranean Winter), the instrumental intro situated the musical geography – something folk, something Greek, something electric and almost trance-like with its recurring motifs; while the lyrics lightly trace the ephemera of this place and time.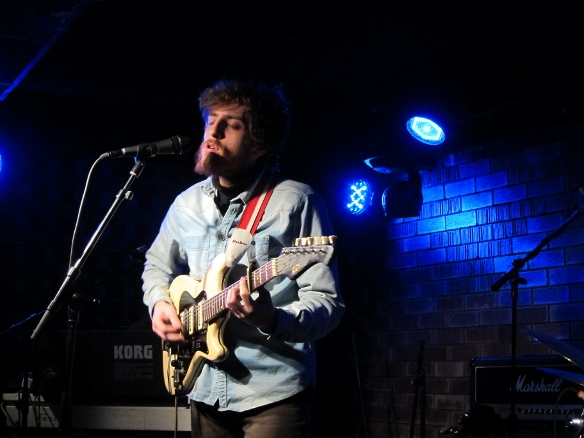 The scent of espresso, riding a bicycle on a sunny winter day, people on the street asking for money, daydreams and endless introspection; all to an intoxicating tune with a beguiling, textured arrangements. You can even dance to it. Singer-songwriter Tomer Yeshayahu is known as founder and leader of Isaiah, and while similar American and Greek folk influences can still be discerned in his solo work – Electric Bicycle (February 2016) and Boidem (December 2016), they are but one of many layers in a rich palimpsest of sound, the feel is very different, a more reflective, electronic dreamspace. And the lyrics are in Hebrew, which somehow makes a difference. Intimate prose poems infused with the small details of ordinary days, songs of love, dreams, and meanderings, there is something in this eclectic gathering of experiences that speaks of what it feels like to live in Tel Aviv these days. A strong sense of identification was palpable in the audience, many of whom sang along with Yeshayahu on several songs.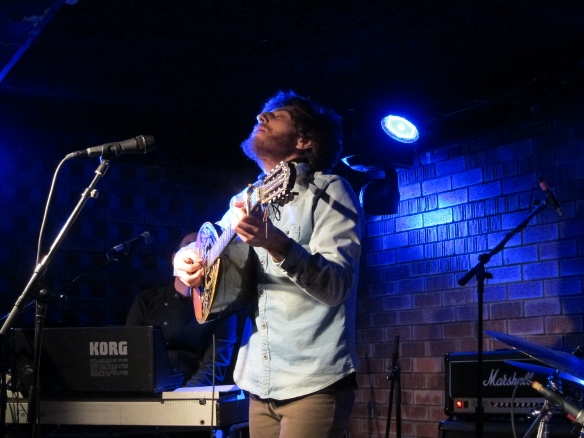 Even the album titles reflect this particular Israeli sensibility, on one hand, the ubiquitous electric bicycle, transportation of choice for many Telavivians and the dread of others, and on the other Boidem – a word with roots in the European Jewish past (from the Yiddish, it means attic, or more precisely the crawl-space under the ceiling found in many Israeli apartments. There is a Hebrew word for attic – aliyat gag, but boidem is commonly used). This tension between past and present is a thread that runs through the songs on both albums, with both music and lyrics creating an ambiance of nostalgia within the very contemporary environment. Officially the launch was for Boidem, but, as Yeshayahu explained, since there had not been a launch for Electric Bicycle (produced by Amir Lev), the concert featured songs from both albums, making for a rich, full, evening. Performing with Yeshayahu (who alternated between bouzouki and electric guitar) were Roy Hermon (who produced Boidem) on a complicated keyboard that among its other wonders brought some captivating flute tones, Shahar Haziza on drums and Amir Sadot on bass. The onstage rapport was warm and lively, all four were very connected and looked like they were having a lot of fun up there. Yeshayahu's casual demeanor works well with these songs, without many words or any fanfare, they just played song after song, in a very generous concert.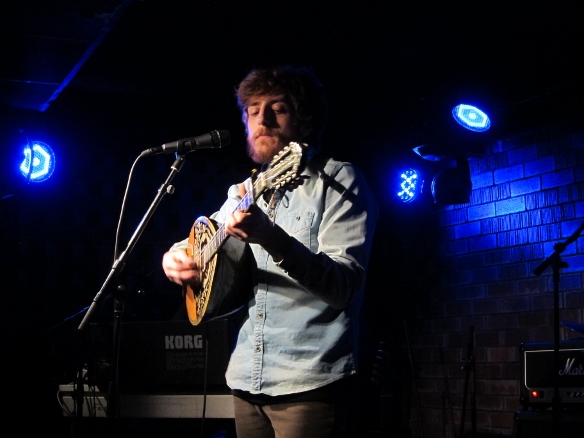 The album's emotional landscape is as diverse and complex as the music, the lyrics clever, precise, tender. Iron and Dust, Boidem's opening track is a surreal vision of a relationship's trajectory into an imagined future of adulthood, responsibility, real estate and diapers, with notes of the distant language of childhood – "the bus is very tired." Love blossoms amid the clatter of cups and plates in a restaurant, in You Came, while Sad Movie is a light-hearted yet wistful relationship narrative, walking along the beach with ice cream cones, talking about going to visit his parents – after the holidays, as one does in Israel; then there's the heat, grape juice, sensuality, mosquitos and love of Herd. Boidem and DJ Yuda are both fun instrumental tracks that showcase Yeshayahu as a musician, Forgot to Smile is written from the perspective of a boy with ADD, while Saba Lev is incantatory, mournful, and full of love.  Some of my favorites from this album are Two Weeks and Yom Kippur. Two Weeks has a compelling melodic motif, and a concise catalogue of Israeliana – just two weeks of cold weather (is it worth buying a coat?), workers from Eritrea, corruption, living with your parents, tradition, Iran, wearing a kippah for Kiddush, and "it's good that we have falafel/there is no god." Yom Kippur has a lovely, lush, melody, and conjures up the mélange of sounds, visions, and associations of the day in Tel Aviv – people dressed in white, walking everywhere, so many children on bicycles, the quiet, and the feeling of plenty of time, maybe even enough to read every book you ever wanted to read.
These are the kind of songs I can listen to over and over again, falling under their spell time and again. To make a beautiful evening even more marvelous, Yeshayahu closed with a new song, full of dreams and hopes… floating colorful balloons on the Gaza beach, Friday mornings, the scent of spices, love and laughter. Looking forward to the next album…
Links: Tomer Yeshayahu bandcamp; facebook page