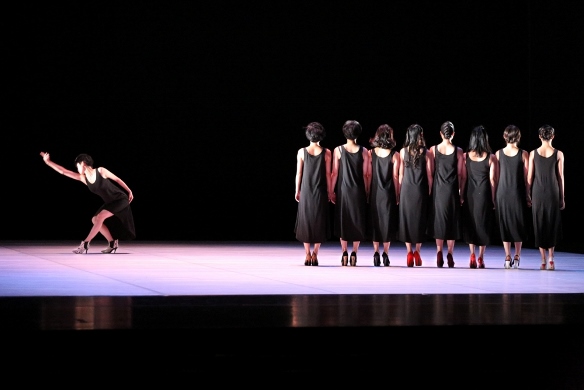 Dancer, choreographer, television celebrity and courageous individual Jin Xing, will be bringing her dance company to perform in Israel for the first time. The performances of the Jin Xing Dance Theatre will take place from February 9 – 17, 2017, as part of the Spring of Chinese Dance at the Suzanne Dellal Centre, and in celebration of 25 years of diplomatic relations between Israel and China.
Jin Xing was born a boy in China to Korean parents, and showing a talent for the stage, joined the People's Liberation Army as a child, receiving training in both dance and the standard military training. His talent for dance stood out, and he achieved the rank of colonel in the performance troupe. Jin Xing studied modern dance in New York for several years in the 1980s, and also lived in Europe before returning to China. Following sex reassignment surgery, she focused on choreography, founding her own dance company – China's first independent performance troupe –  in Shangahi in 1999. In addition to the achievements of her dance company, Jin Xing has become a celebrity as the host of her own talk show.
The Jin Xing Dance Theatre will present two works in Israel: Space 9 and Cage Birds.
Space 9 is described as a work for nine female dancers, with high heel shoes as a symbol of femininity in the work. Choreographed by Jin Xing, the dance is set to music from Almodovar's film Talk to Her.
Cage Birds is a work for 12 dancers, choreographed by Arthur Kuggeleyn, set to the music of Christian Meyer. As the title suggests, it is about birds who want to sing and fly, but cannot, because they are caged.
Performances:
Thursday, February 9th at 20:30; Friday, February 10th at 14:00; Saturday, February 11th at 20:30.
All performances will take place at the Suzanne Dellal Centre. Ticket prices are 190/220 NIS and may be ordered online, or call: 03-5105656.