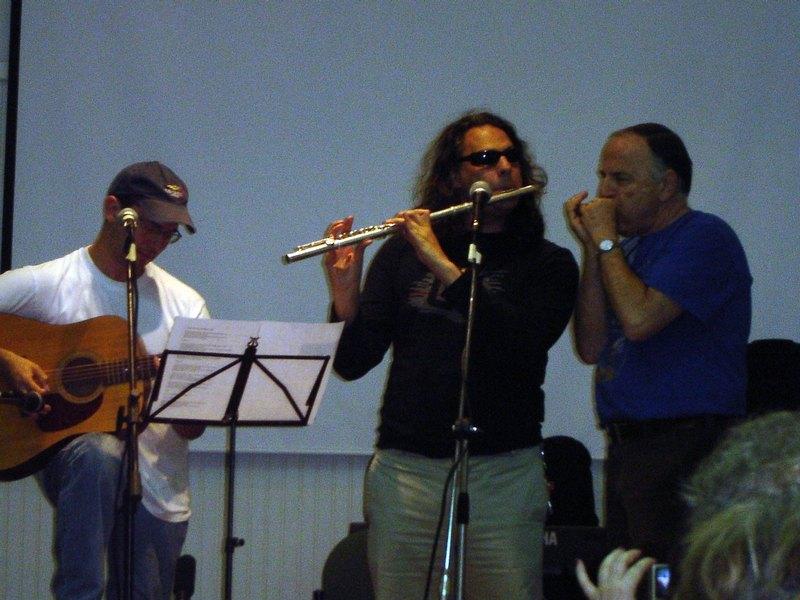 Bring your cake and eat it too as Singing@Zichrona celebrates 10 wonderful years of music! Harmonica Harold promises an amazing weekend of folk, country, blues, ethnic, international & original music – and a man whose first name is Harmonica can't be wrong about music. It all takes place March 12 & 13, at Beit Daniel in Zichron Yaakov, with workshops, talented performers, jam sessions and even some time to hang out and chill.
The Larry Gamliel Memorial Concert honors a warm, funny, talented musician who will always live in the hearts and memories of the folk community in Israel. The amazing concert will include: Larry & Mindy, Sunita, Cyrelle Forman-Soffer, Eli Marcus, Inbal & Roi Zultan, Liane Shalev, Leah Shalek, Larry Brandt, Betty Maoz,Dvir Cafri, Richard Levine, Gidi Ahronovich, Toby Shamir, The Big Larry Brass Band, TRIAD doing Beatles, Sarit Brosh, Paul Arberman, Paul & Marcie Forrest, Marilyn Glazier, Scott Fields, Ariela Orion, The Tannys, Harmonica Harold plus surprise guests and the midnight super jam session.
It is all about the music, but there are plenty of other activities as well, from early morning yoga to Cyrelle's New England Contra dance hoe-down. A visit to the Nisco Musem of mechanical music makers in Ein Hod is planned for Friday morning, and music workshops throughout the weekend – from spoon music with Ariela Orion to Blues and the Art of Zen with Dr. Blues Eli Marcus.
If you plan on coming (and you should) The Strategic Cake Command (SCC) asks you to plan your cake as follows: Creamy and delicate cakes should be out on Friday while the more hardy & sturdy cakes should be saved for Saturday so that there will be a constant supply. If you require refrigeration, discuss this with Anat when you check in.
Information and registration:
http://harmonicaharold.tripod. com/singingsaron a5/
harmonicaharold@yahoo.com
Singing@Zichrona on facebook