The Cameri Theatre International Festival returns this fall with a new concept: providing a platform for original productions helmed by promising Israeli directors. Now in its 10th edition, the festival will host two very intriguing international productions, Historia Yakuba from the Drama Theatre in Warsaw and a stage adaptation of Ágota Kristóf's The Notebook from the ZKM Theatre in Croatia. Inaugurating the festival's new direction will be the premieres of original Israeli productions. In a press meeting on Sunday, November 5, 2017, the program was presented by Cameri General Director Shmulik Ifrah, Artistic Director Omri Nitzan and members of the creative teams from the Israeli productions.
International Productions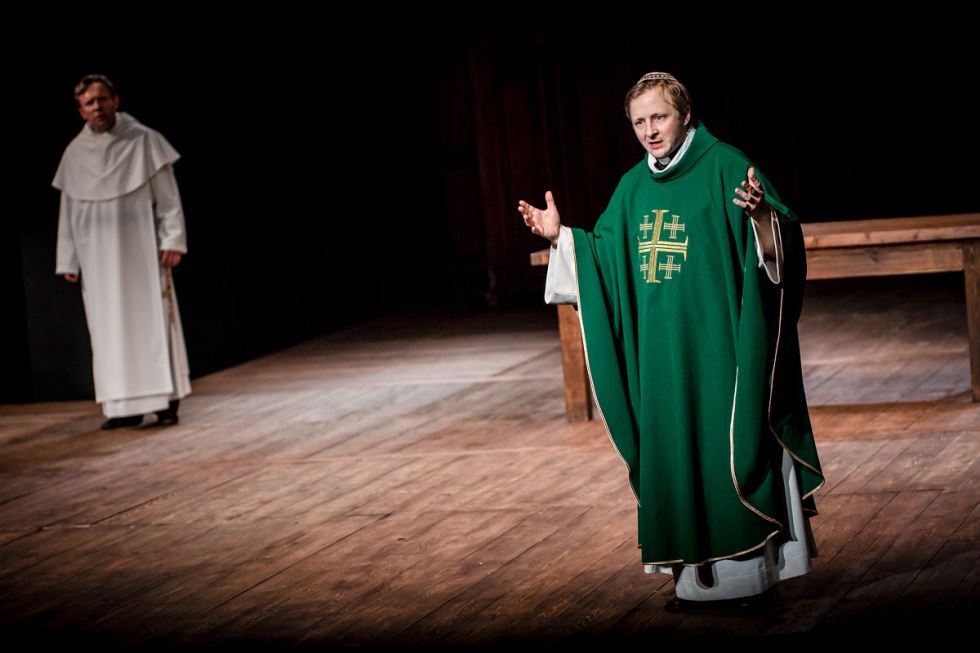 Historia Yakuba (The Story of Jacob), is directed by Ondrej Spišák, and was written by Tadeusz Słobodzianek, the writer of Our Class. Like Our Class, which was directed in Israel by Hanan Snir in a co-production of the Cameri and Habima Theatres, the current play draws on a true, contemporary story for its inspiration. The play recounts the story of a Catholic priest who discovers that he is Jewish, given to a Catholic Polish family as an infant during World War II by his Jewish biological mother as a way to save his life. Performances will be in Polish with Hebrew subtitles, and will take place on December 4th and 5th at 19:30 in Cameri I. Duration: Two hours and 40 minutes, including intermission.
The Notebook is a stage adaptation of Ágota Kristóf's novel, directed by Edvin Liverić. The deeply disturbing tale follows twin brothers living in the country with their grandmother during World War II. Confronted with a harsh reality, they desensitize themselves to pain, and do anything that needs to be done to survive, in a cold, amoral manner. Performances will be in Croatian with Hebrew subtitles, and will take place on December 4th and 5th at 20:30 in Cameri 2. Duration: One and a half hours, including intermission.
Original Productions
Shkulim, written by Joshua Sobol, directed by Alon Tiran.
The play describes the meeting of two sets of bereaved parents, on different sides of the conflict. Playwright Joshua Sobol spoke about the play and its development: "Alon [the director] came to me with idea of an encounter between Israeli and Palestinian bereaved families. At first it seemed impossible to write…this must be the most painful meeting imaginable in our reality." Sobol then described attending a meeting of The Parents Circle – Palestinian Israeli Bereaved Families for Peace, saying "it made a powerful impression on me. You see people who you would expect to be filled with a desire for revenge and hatred… and they can talk to one another and share their grief. And the play grew from that point. This space between the Mediterranean and the Jordan is full of wounds, and pain that is repressed. It was hard to open this up." Sobol further said that he turned to Aeschylus' The Persians, to seek inspiration in the work of a playwright entering imaginatively into the experiences of the other side, the enemy.
The play will be in Hebrew, and will take place on December 4th at 18:30 and 21:00 in Cameri 4. Duration: One hour and twenty minutes.
Ya'akobi & Leidental, written by Hanoch Levin, directed by Yonatan Esterkin.
Esterkin recently directed Enemy of the Public at the Cameri, a provocative and entertaining adaptation of Henrik Ibsen's Enemy of the People (read the full review on Midnight East). The play is one of Levin's earliest works, and although there have been revivals, this will be the first time someone other than Levin is creating a new staging for the play. Discussing his process, Esterkin said, "it was important to me to preserve the magic of Levin, the musicality, the intelligence, the compassion and humor that flow from his writing, but also to ask as a young or semi young person – what does this play have to say to us today? To a generation that has grown up on Levin… There's something about the mythology of Levin. We Israelis don't have a tradition of theatre. We don't have Shakespeare, Goethe, Moliere, hundreds of years of theatrical tradition. In a way Hanoch Levin became sort of mythological figure, there is a fear of tampering with his work. You ask yourself – how can I stage this differently? And that was what I wanted to explore." Esterkin also discussed the metatheatrical aspect of Levin's work, saying, "One of his recurring metaphors was that life is a play. Of course, he wasn't the first to think so, there was that English guy… But the idea that life is a never-ending play a rather sad comedy, ridiculous and a bit pathetic – but that's all there is, there is nothing else. Either you're on stage on the boards, or else you're sitting in the audience. Those are the options."
The play will be in Hebrew and will take place on December 4th and 5th at 21:00 in Cameri 3. Duration: One hour and twenty minutes.
Terror, written by Ferdinand von Schirach, directed by Sara von Schwarze.
Terror is a courtroom drama in which the audience is the jury, and determines the outcome. A terrorist threatened to blow up a plane over a football stadium, where there are 70,000 people. The defendant, acting against orders, shot down the plane, causing the death of its 164 passengers, and sparing the thousands in the stadium. The defendant is accused of murder in a play that examines issues of law, morals, and conscience. Von Schwarze, together with her mother, translated the play from the original German. She discussed the playwright's perspective, noting that "his grandfather was a Nazi and he has carried the burden of guilt throughout his life. He deals with the importance of the law and democracy in his writing and in his work as an attorney. He talks about the monster that lives within each of us, he doesn't absolve anyone of this, it is within us, and views the law as the only thing that can save us from ourselves."
Performances will be in Hebrew and will take place on December 6th at 18:30 and 21:00 in Cameri 4. Duration: One hour and 30 minutes.
Mitabel Lelo Ketz (The Perpetual Mourner), written by Hanoch Levin, directed by Yair Sherman.
Never before performed in a repertory theatre, the play was first produced at the Goodman School in the Negev, and the actors are graduates of the school. Sherman described the play, saying that it "begins with a King nursing his dying son, attended by two doctors, a nurse, miracle worker and apprentice, a spiritual expert and those who come to wrap the body in cerements. Hanoch Levin called it a comedy. In the course of the play something is revealed that transforms the entire play and blurs the lines between truth and lies, reality and imagination, theatre and life. The play deals with a play within a play…'all the world's a stage."
The play will be in Hebrew and will take place on December 8th at 21:00, December 9th at 17:30 in Cameri 4. Duration: One hour and 45 minutes.
On The Way to Tipaza, written by Gilad Evron, directed by Ella Nikolayevsky.
Ella Nikolayevsky described the play: "Tipaza is in Algiers, it's the birthplace of Albert Camus. The play is divided into 6 scenes, deals with the encounter between art and government, art and society – something which is very relevant for us. Gilad wrote in a very critical manner, but full of humor. Six scenes from six different places in the world, in different times during the 20th century. In the first scene Stalin meets with Mikhail Bulgakov, who requests permission to emigrate. In the second scene, Leni Riefenstahl meets with another Nazi officer who suggests a different perspective on her films. The third scene depicts the funeral of Albert Camus, with two men watching over his coffin." Regarding Camus, Nikolayevsky recalled the controversy (still raging 50 years after Camus' death) aroused by his stance on Algerian independence, as evoked by the memorable quote: "At this moment bombs are being planted in the trams in Algiers. My mother could be on one of those trams. If that is justice, I prefer my mother." The sixth scene, written a year before Evron died in 2016, brings the action home, and features Arna Mer (the mother of late actor Juliano Mer) in the children's theatre she founded in Jenin.
The play will be in Hebrew and will take place on December 12th at 18:30 and 21:00 in Cameri 4. Duration: One hour and 15 minutes.
I am Sisyphus – Three sketches by Harold Pinter, Sławomir Mrożek, and Daniel Botzer, directed by Maya Nitzan.
Avi Golomb, one of the performers, presented the overtly political work, saying, "These three plays deal with different aspects of the little man confronting the state. Not in the Kafkaesque sense of bureaucracy, and paperwork, but rather the struggles of the individual and what happens to him when the state makes decisions that might go against his choices. In Pinter's work (One for the Road) a family is interrogated, to find out why they committed a crime that they know nothing about. Mrożek's At Sea tells of three men lost at sea on a raft, who attempt to decide in a democratic manner, which of them will be eaten first so that the others may survive. Daniel Botzer's play deals with two soldiers, from different armies, who were killed in battle and rise up over their bodies and try to understand – why did we do this? We don't know one another, we never met, but we found one another and killed one another."
The play will be in Hebrew, and will take place on December 10th at 18:30 and 21:00 in Cameri 4.
Ticket information may be found on the Cameri Theatre website.