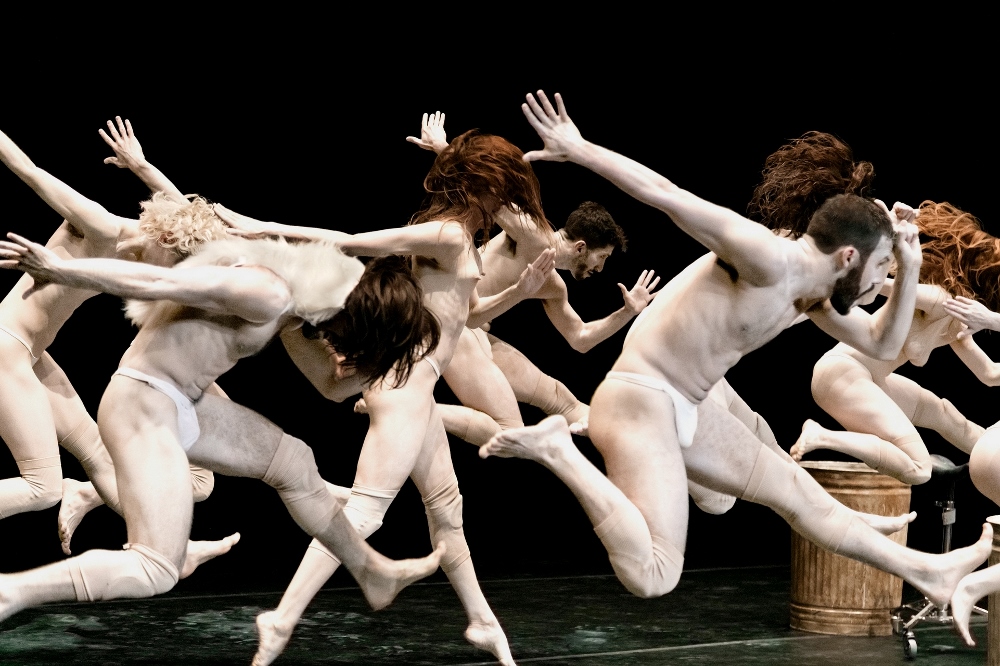 Sensual, surreal, and wildly imaginative, Marie Chouinard's Garden of Earthly Delights premiered last night at the Israeli Opera – with an emphasis on delight! Chouinard stands out as a choreographer whose vision is embodied in the physicality of the work in a detailed, articulate, and vibrant manner. In this case, her point of departure is a painting, Hieronymus Bosch's triptych The Garden of Earthly Delights, depicting (from right to left) Eden, Earthly pleasures, and Hell. Where many choreographers rely on costumes and props to express a theme, Chouinard possesses an uncanny ability to create an entire movement language that emerges, as if organically, from the concept. Bosch's images are transformed into movement, captivating, provocative, and exhilarating, interpreted by a powerful and expressive cast of dancers, and evocative original music by Louis Dufort.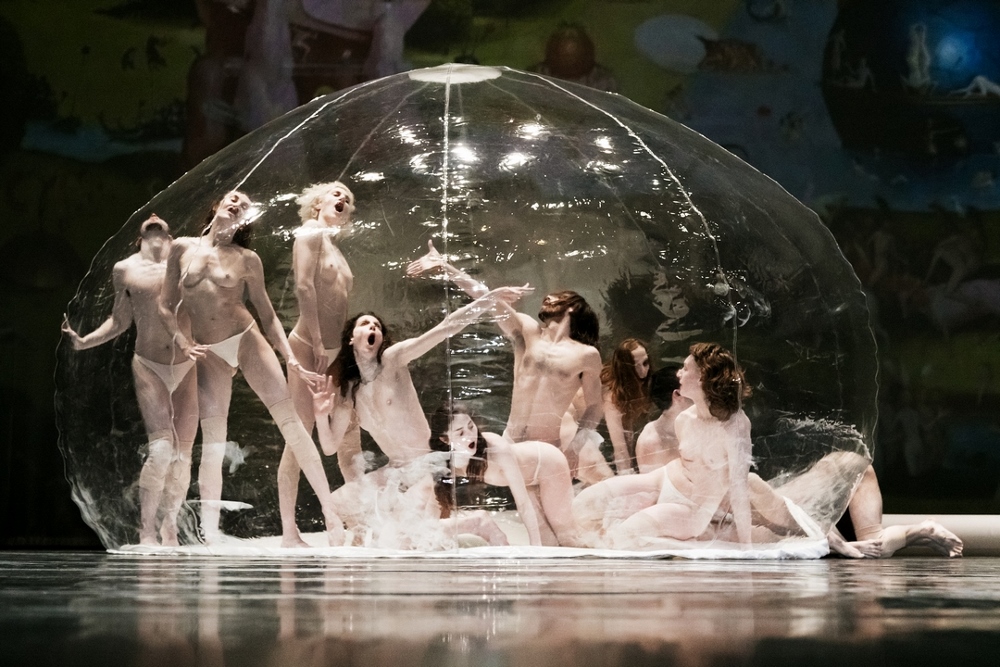 Immersion in Bosch's universe is a tantalizing, bewildering, and disturbing experience. Chouinard wisely chose to alter the sequence of images, where Bosch's triptych concludes with images of eternal damnation, the choreographer takes the viewer from the curious pleasures of life on Earth, through the bizarre dissonance of Hell, ultimately arriving in the spiritual realm of Paradise. Chouinard's Earth is a place of stylized, formalist, orgiastic pleasure, where white-powdered humanlike creatures cavort in endless experimentation. Her vision of Hell is seriously hard to take. Introduced by a roaring Amazonian Rockstar MC, it's a provocatively staged intimation of the cacophonous, cruel chaos awaiting all sinners. Where the presentation of the first two panels were accompanied by round-framed images from Bosch's painting, projected on both sides of the stage, Paradise is heralded by closed eyes, lids fringed with white lashes. The eyes open – enlightened, perhaps – one blue, one green; opening and closing, shifting from side to side or staring straight ahead, these eyes frame the dance throughout the third scene.  The movement flows, slow and meditative, accompanied by the sounds of birds and vocal chorus. Chouinard's Paradise suggests something beyond our reach, a serenity almost impossible to imagine.
Performances will take place at the Israeli Opera: Tuesday, November 7th at 20:00; Wednesday, November 8th at 20:00. Ticket prices range from 269 – 299 NIS, and may be ordered online from the Israeli Opera website.
Hieronymus Bosch: The Garden of Earthly Delights
Choreography, set design, lighting design, video director: Marie Chouinard; Original music: Louis Dufort; Video cinematography: Jean-François Gratton; Dancers: Charles Cardin-Bourbeau, Sébastien Cossette-Masse, Catherine Dagenais-Savard, Valeria Galluccio, Morgane Le Tiec, Scott McCabe, Sacha Ouellette-Deguire, Carol Prieur, Clémentine Schindler, Megan Walbaum.