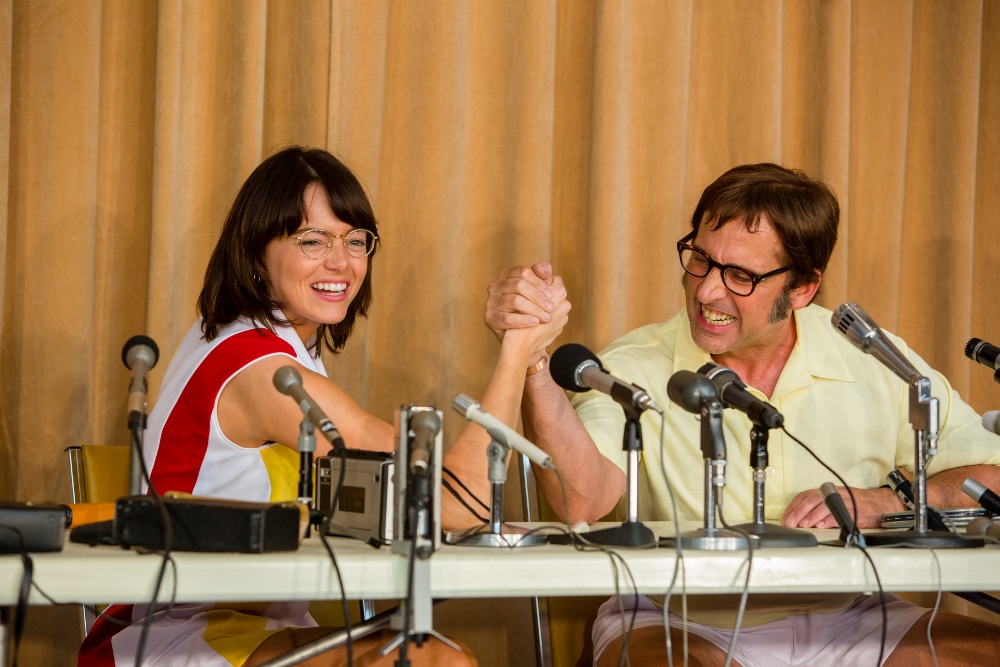 Fast-paced and entertaining, Battle of the Sexes, directed by Valerie Faris and Jonathan Dayton, the team that has consistently brought some fascinating and quirky characters to the screen (Little Miss Sunshine 2006, Ruby Sparks 2012), is based on events in the life of Billie Jean King, leading up to the much-publicized 1973 tennis match between King and Bobby Riggs. Tennis champion and advocate for gender equality in sports, Billie Jean King was one of the heroes of my youth, despite my being utterly indifferent to sports.  King swinging a tennis racket, powerful, focused, muscular, represented feminism: working hard to live your dreams, demanding and fighting for equality. Emma Stone's excellent performance captures the essence of King's intelligence, determination, and ebullient spirit.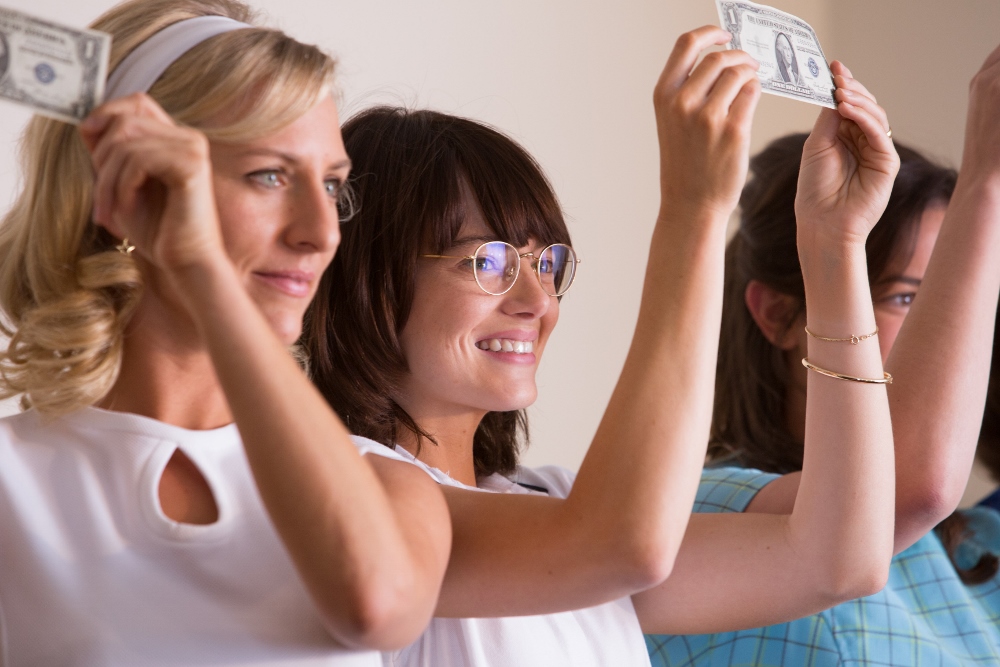 The film focuses on pivotal events in King's life and career, condensing the timeline, yet remaining faithful to the facts. Set in the early 1970s, the film features period costumes and an American culture comfortable with blatant misogyny and discrimination. At 29, King was at the peak of her game, and in 1971 became the first woman athlete to cross the $100,000 mark in annual earnings. At the time of their match Bobby Riggs (Steve Carell), was 55 years old, a former tennis champion, hustler, gambler, and self-described outspoken male chauvinist. The film bounces between King and Riggs, leading up to the moment when they meet across the net.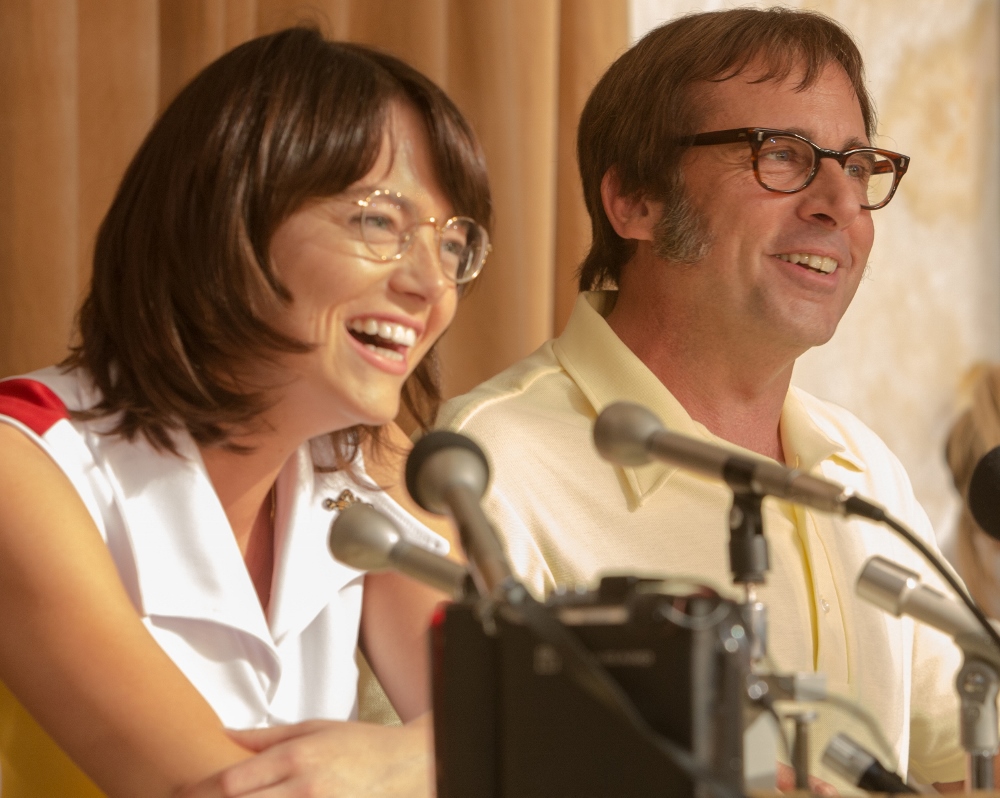 While in real life, Riggs may not have been one's favorite public figure, Carell makes the onscreen character quite endearing. Although his sexism is infuriating, his outrageous antics are fun to watch. Ultimately, he comes off as more of a clown than a bad guy. According to several sources, Riggs and King developed a friendship following their famous match. The real heavy here, and one who had more of an impact on women in sports, was tennis promoter Jack Kramer. Bill Pullman's genial, low key performance is wonderfully sinister, conveying the deeply ingrained sexism of the era. King's confrontations with Kramer provide some of the film's most exciting scenes as he confidently and consistently comes up with statements like "men are simply more exciting to watch."  King comes right back at him with actions that speak louder than words.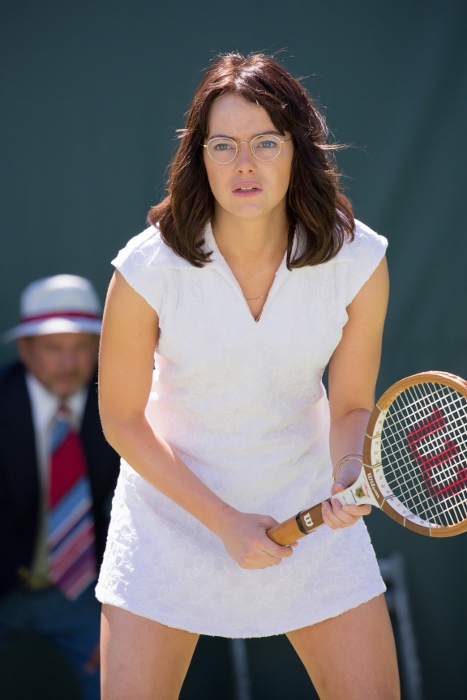 Susan Silverman is well cast as Gladys Heldman (who founded World Tennis Magazine in 1953), instrumental in promoting women's tennis and creating the separate women's circuit. Jessica McNamee is poisonously effective as Margaret Court, King's rival in tennis and, to this day, vehemently and vocally against LGBTQ rights. Natalie Morales brings a spark to her portrayal of Rosie Casales, and incredible and infuriating though it may be, the scene with sports journalist Howard Cosell really happened.
Battle of the Sexes is not a sports film. There are not many match or training scenes, although the brief pre-match vignettes of Riggs not really training are hilarious. King's life and personality are the central focus, with much attention given to King's relationship to Marilyn Barnett (Andrea Riseborough). In this respect, the film tries to pack too much into a two-hour film, and the romantic narrative is one of its weaker elements. Yet overall, the film is an exciting and entertaining portrayal of an inspiring individual. In its depiction of the sexism, inequality and discrimination of the early 1970s, the film not only reflects the changes in our culture, but is a critical reminder that there is still a long way to go.
Battle of the Sexes
Directors: Valerie Faris, Jonathan Dayton; Screenplay: Simon Beaufoy; Cinematography: Linus Sandgren; Editor: Pamela Martin; Music: Nicholas Britell; Cast: Emma Stone, Steve Carell, Andrew Riseborough, Natalie Morales, Sarah Silverman, Bill Pullman, Alan Cumming, Elisabeth Shue, Eric Christian Olsen, Fred Armisen, Jessica McNamee, Lewis Pullman.