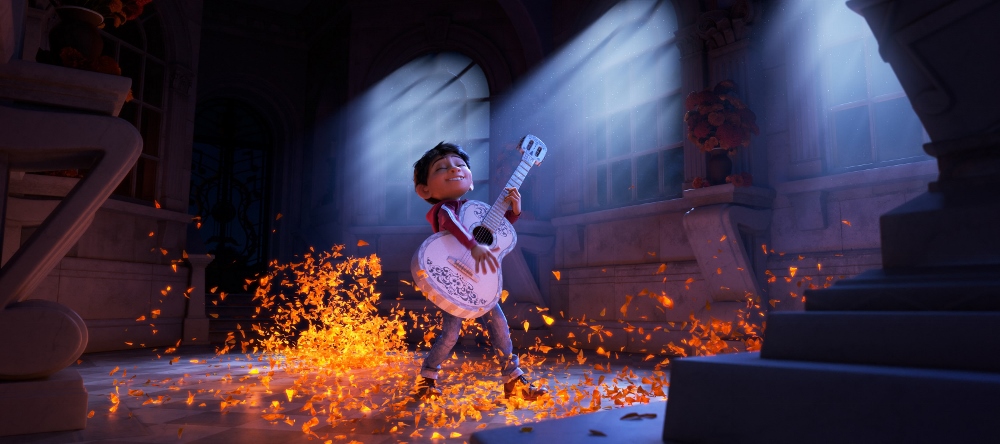 Coco is sheer pleasure! Directed by Lee Unkrich with co-director Adrian Molina, Disney-Pixar has come up with a vibrant, funny, heart-warming film that delights the senses, and evokes Mexican culture in its themes, visuals, music, and a primarily Latino voice cast. Much in the way that Inside Out provided sensitive insight to the role of sadness in our lives, Coco explores difficult themes such as the conflict between familial loyalty and finding one's dream, loss, aging, and death. All this in an enormously entertaining, upbeat film with a tightly-woven adventurous plot that had me suspenseful and smiling, if ultimately, a bit misty-eyed as well.
12-year-old Miguel Rivera (voiced by Anthony Gonzalez) wants to be a musician, just like his idol, the late Ernesto de la Cruz. Cruz (voiced by Benjamin Bratt) as drawn, resembles real-life musician Pedro Infante Cruz (popularly known as Pedro Infante) who died tragically in a plane crash when he was just 40, leaving behind a heritage of more than 60 film roles, and having recorded over 300 songs. Miguel's dreams will resonate with music lovers young and old, as he watches old films over and over again, looking at de la Cruz's hands to learn the chords to a song.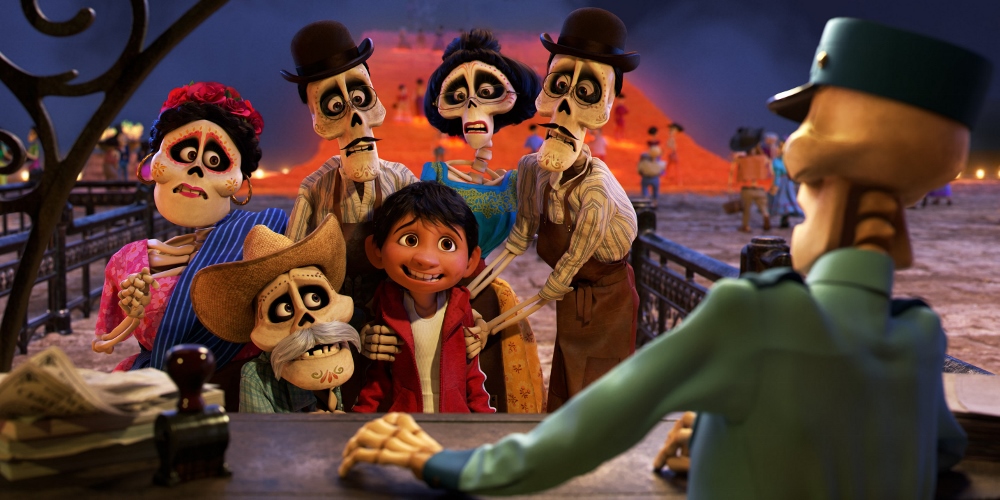 There's just one catch: in Miguel's family, music is forbidden. The conflict sets off an adventurous plot that is so much fun I really don't want to give away any spoilers. Let's talk about the art instead.
Mexican culture is celebrated in every aspect of the film, which is centered around Día de los Muertos (Day of the Dead) and its traditions. The family's backstory is conveyed in animated papel picado, a traditional folk art in which designs are cut into tissue paper, usually using a type of chisel, to create banners that decorate the streets for celebrations. The film's palette is bursting with bright colors, as in the orange marigold petals laid down to create a path for the ancestors to find their way home on the Day of the Dead. Once the action moves into the Land of the Dead, imagination rules and it looks like a gigantic, surreal carnival. Yet even here, the film is meticulous about adhering to accurate cultural references, with the neon-bright alebrijes (animal spirit guides) reminiscent of Mexican folk art sculptures.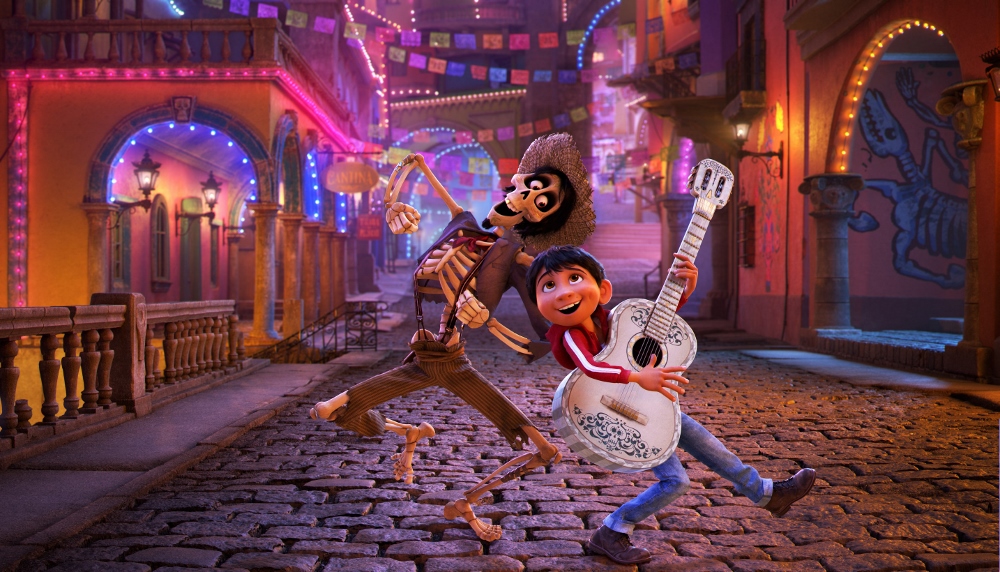 Music flows throughout, from the poignant theme song Remember Me, composed by songwriting team Kristen Anderson-Lopez and Robert Lopez (Frozen), to the funny Everyone Knows Juanita, and the upbeat Un Poco Loco. The cast flexes their singing muscles really well, from Benjamin Bratt to Anthony Gonzalez and Gael García Bernal, who voices happy-go-lucky con artist Hector. Customs, traditions, art and music were all well researched and the film has a very authentic look and feel, not only in the songs, but the soundscape of the streets and market place.
For those planning to see the film with young children or sensitive adults, it is important to note that although much of the action takes place in the Land of the Dead, populated by skeletons, the skeletons are not scary. They are drawn as individuals with character and feelings, many of them are very funny, and all are decorated in Mexican folk art style.
Coco
Director: Lee Unkrich; Co-director: Adrian Molina; Screenplay: Molina, Matthew Aldrich; Story: Unkrich, Molina, Aldrich, Jason Katz; Cinematography Danielle Feinberg; Editors: Steve Bloom, Unkrich; Music: Michael Giacchino; Cast: Anthony Gonzalez, Gael García Bernal, Benjamin Bratt, Alanna Ubach, Jaime Camil, Alfonso Arau, Sofía Espinosa, Selene Luna, Ana Ofelia Murguia, Renee Victor, Luis Valdez, Herbert Siguenza, Carla Medina, Edward James Olmos