André Schäfer and Jascha Hannover's documentary Never Be Boring: Billy Wilder, brings the clever, exacting, prolific, and fantastically funny writer/director/producer to vivid life. Interviews with actors who worked with Wilder such as Jack Lemmon, Mario Adorf, and Marthe Keller, Volker Schlondorff (The Tin Drum 1979, Billy Wilder How Did You Do It 1988), and Paul Diamond, the son of Wilder's longtime co-writer I.A.L. Diamond, combined with clips from films and archival footage, create the portrait of a fascinating individual. Fortunately, the famous director was often interviewed and filmed throughout his career, and these gems provide a wonderful sense of Wilder's presence in the film.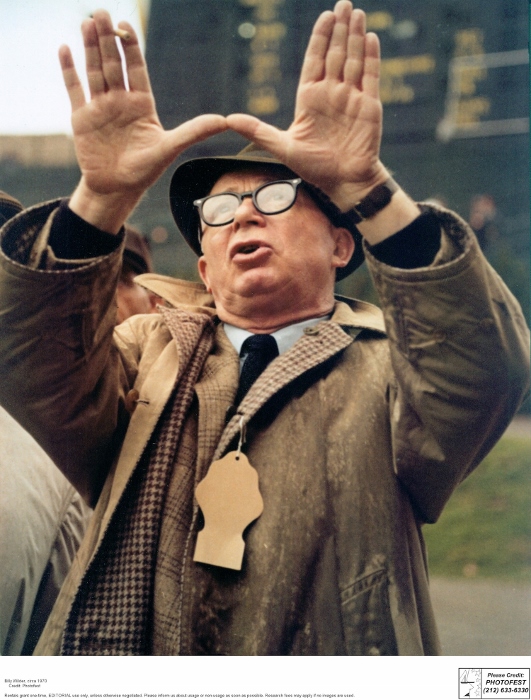 Looking at Wilder's filmography, it's astonishing to realize that one person is behind so many landmark films. He is considered to have made the first film noir with Double Indemnity (1944), and expanded the horizon of 'what can be made in Hollywood' in the era of the Production Code in The Lost Weekend (co-written with Raymond Chandler) and its focus on alcoholism. He also made some of the most memorable comedies: The Apartment, Some Like It Hot, and The Seven Year Itch. Samuel 'Billie' Wilder (1906 – 2002) was born in Poland and soon moved with his family to Vienna, where instead of entering the family business of railway station restaurants, he embarked on a writing career. Starting out as a journalist, after moving to Berlin, he soon turned his attention to film, yet always retained his commitment to writing. Story after story emphasizes his insistence on performance of the script as written, not always comfortable for the actors, but typically resulting in a phenomenally successful film.
Tough on actors, Wilder always strove for perfection, and – time and again, achieved it. Starting out as a screenwriter in Hollywood, during the days when writers worked on a quota of pages, as Wilder described it "like a great big assembly line." Although he turned to directing in order to realize his cinematic vision, making his debut in 1942 with The Major and the Minor, he continued to write his own screenplays. His 12-year writing collaboration with Charles Brackett was followed by a long collaboration with I.A.L. Diamond, and Paul Diamond's reminiscences and anecdotes contribute much to the film. Beginning with 1951's Ace in the Hole, Wilder also produced most of his films.
Many of the stories are very funny, such as the description of Wilder's work with Marilyn Monroe. There was one line that Monroe could not get right, saying "Where's the whiskey?" instead of "Where's the bouron?" Wilder, ever a stickler for script-perfect rendition, kept going for take after take, up to 64 takes. Considerate of the actor, he told her, "Don't worry, Marilyn." To which Marilyn replied, "Worry about what?" Other stories reveal the underlying tensions and stress. The film follows Wilder from birth, through the difficult years of WWII and its aftermath, offering some insight into filmmaking, as well as Wilder's life and character.
Never Be Boring: Billy Wilder
Directed by André Schäfer, Jascha Hannover. Germany/Netherlands 2017, 90 minutes, English and German with Hebrew subtitles.
The film will be shown as part of the "Great Jewish Minds" section of the Jerusalem Jewish Film Festival on Tuesday, December 19, 2017 at 18:30 in Cinematheque 1. There will be an opening lecture by Dr. Noah Benninga, the Hebrew University Jerusalem.