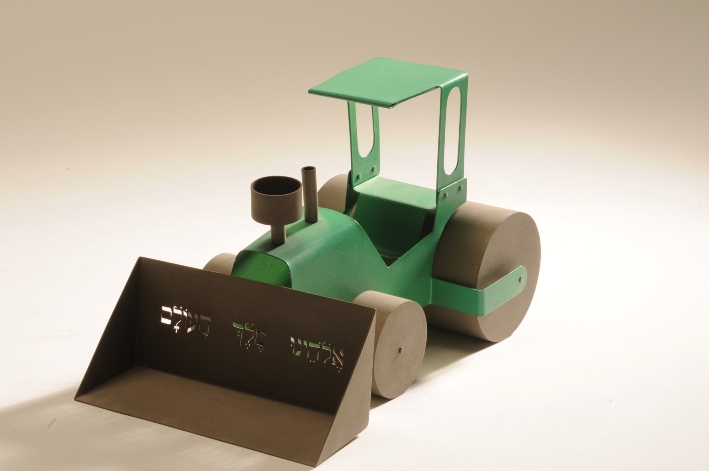 The somber setting of the exhibition Judaic Twist – Innovations in Judaica Design– a darkened room with many exhibits under glass – cannot dim its provocative character. In the past, a halo of sanctity surrounded objects created for ritual and ceremonial purpose but this aura has all but vanished in this show.
The majority of the 35 artists taking part in this show are not religious, but all of them are clearly familiar with religious traditions; the function of the objects they design being always preserved. It is in the area of materials, form and ornament that they have broken with the past. Their solutions, laced with humor, irony, or related to their everyday experience as Israelis, may be viewed as a kind of rebellion against Jewish traditions.
Take for example, Avi Biran's Tractor for removing leavened food prior to Passover.  It is exhibited alongside a feather, to remind the viewer that this is the implement that Jews are commanded to use when ferreting out chometz  by the light of a candle.  In Biran's painted iron and alpaca version the scoop performs the function of the feather, while the prayer appropriate to a chometz  search is etched out on the roller of the tractor. 
Another witty and clever offering is Skullcap Chess "Hevrutah U'Mitutah', a board game designed by Anat Stein and Hadas Kruk of Studio Armadillo. With red and green kipot representing chess pieces, their work makes a visual and conceptual comparison between a chess competition and hevruta (learning in small groups,) where pairs of yeshiva students challenge one another until a conclusion is hammered out. Since skullcaps are customarily knitted by girls during lessons in religious schools, the choice of kippot as pawns in a male-dominated game may also reflect the increasing influence of women, as leaders and educators, in the orthodox Jewish world.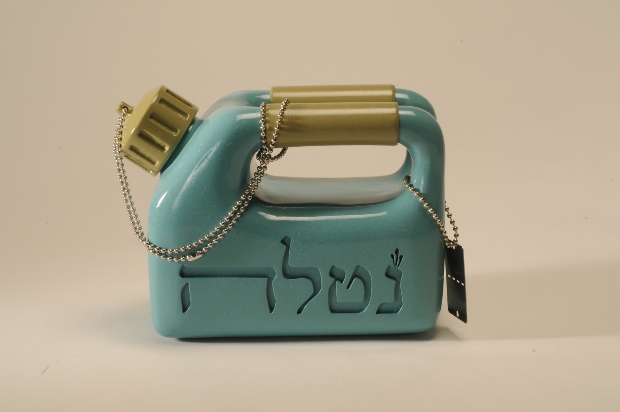 Several distinctive exhibits refer to the militaristic aspect of Israeli society. Mindful of the fact that observant Jews serving in the army require a water supply to fulfill certain commandants, Roie Elbaz has designed a portable container, based on the design of a jerry can. His model in colored polyurethane, with a soldier's dog tag looped around its handle.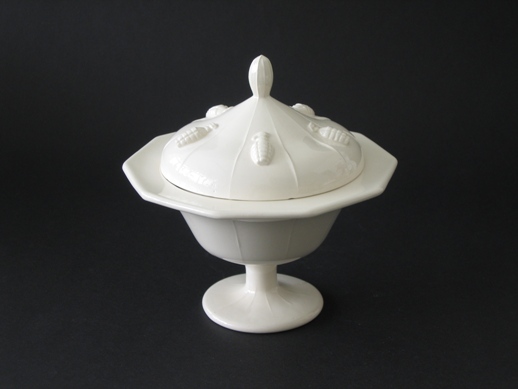 Orly Edlavitch's design for a box to house a citron fruit (etrog), a symbol of the Succot festival, is modeled on a white porcelain container from 18th century Europe. Fabricated from clay, molded and glazed, her piece is beautiful to look at, that is until one realizes that the surface ornament is a circle of hand grenades.
Shabbat or Chanukah candle holders are traditionally made from silver or brass. Many unusual alternatives are offered here.  Marit Meisler, for example, uses cast cement. Doron Sar-Shalom's 'infinite' menorah, an octet of flexible links, is constructed from iron sheeting, spring coils, nuts and bolts. Matches are substituted for candles in a design by Naama Steinbock and Idan Friedman of Reddish Studio, giving its owner the possibility of a short service.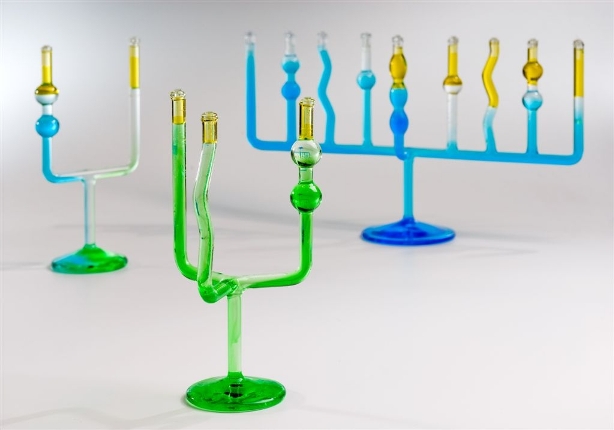 Studio Armadillo have come up with another outstanding design, this time for a glass Chanukah menorah; its appearance simulating laboratory apparatus, and its functioning dependent on the physical properties of liquid. Deemed ideally suitable as a gift for Prof. Ada Yonath, 2009 recipient of the Nobel Prize for Chemistry, this piece was presented to her earlier this year by Reuven Rivlin, Chairman of the Knesset.
Two exhibits stand out from the others; one for its offensive character, the other, for its spiritual quality.
The first is a set of 15 karat gold brooches by Zoya Cherkassky replicating the  yellow patches that Jews were forced to wear as a distinguishing mark during the Holocaust.  In the shape of the Star of David, they have the word Jude incorporated into their design. It is not surprising to learn that when Cherkassky's jewelry went on display in 2002 in the window of the Rosenfeld gallery, as part of her Collectio Judaica  exhibition, it elicited a hostile reaction from passers-by.
Visual Prayer, a video piece by Hagit Shimoni is projected onto three sides of an empty white booth.  As one stands at its entrance, the voice of a cantor is heard reciting prayers; simultaneously, the words he intones appear in black print on the central panel. When the congregation responds, their prayers, and the cadences of the voices, are shown as letters rising and falling on the two sides panels. This remarkable work containing all the reverence missing from most of the other works on display, is an expression of Shimoni's belief that "the power of Jewish prayer has no visual parallel but remains essentially an abstract verbal invocation." 
The exhibition, curated by Daniel Wajman and Hagai Segev, is at Beit Hatfutsot, Museum of the Jewish People, on the campus of Tel Aviv University, entrance through Matatia Gate 2. It is open until the end of April. For more information: 03-7457808
Image credit: Jacob Brill, Beit Hatfutsot, Museum of the Jewish People
ANGELA LEVINE