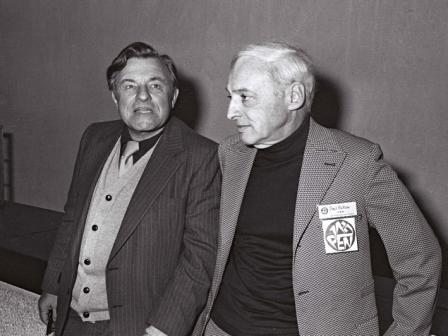 A literary evening in honor of Nobel Laureate Saul Bellow (1915 – 2005) will be held at Mishkenot Sha'ananim on Thursday, March 18.  The event commemorates 5 years since Bellow's passing and the 35th anniversary of his Pulitzer Prize winning book "To Jerusalem and Back," written during the author's stay at Mishkenot Sha'ananim in 1976. James Atlas, Bellow's biographer, will be the guest of honor.
Uri Dromi, Director of Mishkenot Sha'ananim will open the evening which will begin at 16:30, followed by Prof. Michael P. Kramer of Bar Ilan University.  James Atlas will discuss "Saul Bellow – the Man and his Work."    Liad Mudrik of Galei Zahal (IDF radio) will host the evening which will include video segments, filmed interviews and selected readings from Bellow's work performed by Zvi Salton.
"To Jerusalem and Back," will be the topic of discussion for the first session. The participants will be: Yossi Klein Halevi, Prof. Emily Budick and author Eyal Megged. The second session will focus on Bellow's relationship to Judaism and Israel. Dr. Ada Aharoni, author of The Inner Voice in the Work of Nobel Laureate Saul Bellow (Pardes 2007), Prof. Hannah Wirth-Nesher, and Eric Glassner will be the participants.
Saul Bellow was born in Canada and moved to Chicago with his family at the age of nine. Among his best-known works are: Henderson the Rain King (1959), Mr. Sammler's Planet (1970), Humboldt's Gift (1975), and More Die of Heartbreak (1987).  James Atlas, author of Bellow: A Biography (Modern Library 2002) studied at Harvard and Oxford and is the author of several books, including: Delmore Schwartz: The Life of An American Poet (1977), My Life in the Middle Ages: A Survivor's Tale (2005), and The Book Wars: What it Takes to be Educated in America (1992).
Prof. Michael P. Kramer is the Program Consultant for the event which will be held at the Gilbert de Botton Auditorium at the Konrad Adenauer Conference Centre, Mishkenot Sha'ananim with simultaneous translation in Hebrew and English provided. For further information: 02-6292212, prog@mishkenot.org.il, www.mishkenot.org.il