Blues & Booz are celebrating their 5th anniversary! The Sunday night tradition of a blues jam with originals, covers, so many really cool guests over the past 5 years, as well as lots of whiskey, means that there's a lot to celebrate! It's all happening at the Barby (52 Kibbutz Galuyot)  on Sunday (of course!), March 25, 2018!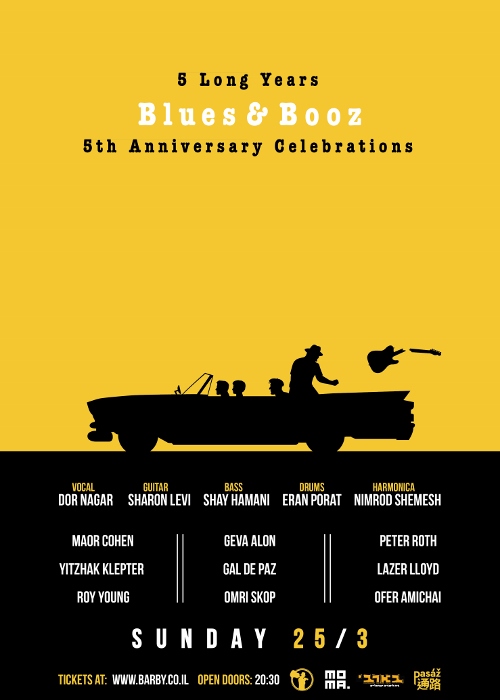 On stage will be the Blues & Booz house band: Dor Nagar – vocals, Sharon Levy – guitar, Shay Hamani – bass, Nimrod Shemesh – harmonica, Eran Porat – drums. There's an exciting lineup of special guests: Itzhak Klepter – founding member of The Churchills (1965 – 1967) and Kaveret (1973 – 1976), landmarks in Israeli rock history; Geva Alon – blues/folk/rock singer-songwriter; Maor Cohen –  soloist & founding member of Zikney Zfat; Gal de Paz – singer-songwriter, leader of The Paz Band & vocalist with Lucille; Peter Roth – member of Monica Sex, released a solo album & joint album with Arik Einstein; Lazer Lloyd – blues/rock guitar & original blues; Roy Young – rhythm & blues vocalist, has toured with Marvin Gaye, Al Green; Ofer Amichai – blues/folk/rock singer-songwriter, leader of Twin Tree Grove; Omri Skop – guitarist who's collaborated with many singers & bands.
Doors open at 20:30, show will begin an hour+ later.  Early bird tickets are 105 NIS, regular price 125 NIS in advance/145 NIS at the door, and may be ordered online via this link.  Check for updates on the facebook event.