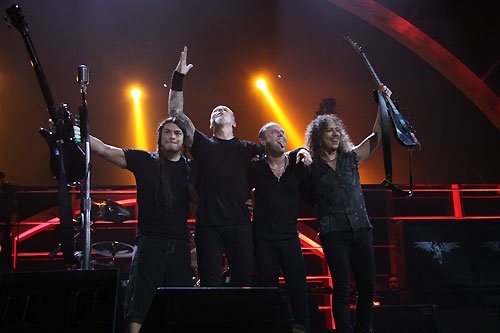 Welcome To Where Time Stands Still
 
After an eleven year absence, Metallica are finally coming back to Israel on May 22 at the Ramat Gan Stadium. The eternal bad boys of hard rock are still alive and kicking, and according to one attendee of a show on their recent tour [the band] "still knows how to have a good time while making the place quake with heavy metal intensity." It's good to know that these behemoths of metal are still enjoying themselves after nearly 30 years of making the ground rumble.
 
The official announcement of the concert, and the astronomical associated price tags, caused an uproar amongst Israeli fans. A facebook group was created, urging fans to boycott the show until tickets became more reasonably obtainable. The grassroots demand was met with understanding from the band, and a reduction in price was announced last week. The lowered tickets are only promised for a few more days, after which prices may go back up. Even with the discount, tickets are expensive by local standards (priced from 300-990 NIS), but price won't be keeping fans here from head-banging at the biggest metal show in recent memory. 
 
Dear Mother, Dear Father
 
Here's a familiar scenario: a teenager excitedly announces to his parents that one of his favorite bands is coming to town, and that he intends to go to his first rock concert. His excitement slowly freezes over as he receives a lecture on the dangers of "places like that. People there are all drunks. or high on illegal drugs. You're too young to go. It's too dangerous." Angry and defiant, he mutters something to the effect of "Why don't you understand me?" A few minutes later Metallica's 'Dyers Eve' can be heard blaring from his room.
29 years into their career, Metallica are a formidable force in the lives of many today. Any new anouncment from them is immediately met with much speculation and debate amongst fans.
Metallica's most recent album is 2008's Death Magnetic, their first release in five years. Death Magnetic is something of a return to roots for Metallica, with a sharp thrash edge and lightning guitar solos making a strong comeback. Even the overall mix of the album is reminiscent of their earlier garage playing days. At the same time, the overly-compressed sound has been criticized for being too distorted, resulting in fans petitioning the band to issue a remix.
 
Do You Know What I Know?
 
For the uninitiated, Metallica's legacy spans several decades and is a must before a Metalli-show.
 
Let's get you up to speed:
Singer/guitarist James Hetfield and drummer Lars Ulrich formed Metallica in 1981. Bassist Cliff Burton was recruited into the fold after the band relocated to the San Francisco Bay. The band initially included Dave Mustaine as lead guitarist, who was subsequently replaced by Kirk Hammett. Mustaine went on to do great things, forming the band Megadeth, who in the history of metal are just as important as Metallica. And thus the initial "fab four" of metal were born.
 
Their first album, Kill'em All, was released in 1983. The album punches an infectious energy, especially with such anthems as "Seek and Destroy" and "Hit the Lights." This was followed a year later by Ride the Lightning, which showcases more mature songwriting, featuring thematic elements, such as the exodus of the Sons of Israel from Egypt. It also includes a tribute to early 20th century horror master H.P. Lovecraft, in the form of the closing 9 minute instrumental "The Call of Ktulu".
 
Metallica's 1986 release, Master of Puppets, is adored by a majority of their fans and often placed at the top of any "Best of" lists. The songs are complex and continue in the direction set by Ride the Lightning. Almost every song on this record is pure gold. The title song is one of Metallica's most recognizable, even though it spans 8 minutes.
 
Master was followed by an ominous shift for Metallica: in 1986 while on tour in Sweden a freak bus accident caused the premature death of bassist Cliff Burton.
This tragic event proved to be the closing of the first chapter in Metallica's history.
 
Unforgiven II
 
Jason Newsted became the new Bassist shortly after Cliff's death. His first album with the band was 1989's …And Justice For All'. Still heavily shaken by Cliff's death, the songs are angry and heavier than anything Metallica had ever done, before or after. 'Dyers Eve' deals with anger towards parents, while the title song deals with perversion of the justice system.  In 'To Live Is To Die' some of Cliff's last written lyrics are recited: "Cannot the kingdom of salvation take me home".
 
The Black Album (officially named Metallica, it is universally referred to as the Black Album, similar to the Beatles' White Album), marks their first huge commercial breakthrough. Gone are the 10 minute songs of their earlier years. From this album onwards, Metallica's focus has been on shorter and tighter songwriting. The album still receives more radio airplay today than any other Metallica record.
 
After The Black Album, Metallica released two relatively mellow CD's dubbed Load and Reload. These were released by a much more mature Metallica and feature explorations into the unknown territory of country music.
 
In 1999, Composer Michael Kamen collaborated with Metallica on the seminal S&M. Aside from Sadomasochism, S&M here stands for the more tame Symphony & Metallica. Kamen was known during his lifetime mainly for his film music work ('Robin Hood: Prince of Thieves', 'The Iron Giant'), and here provides Metallica's music with some fresh perspective. S&M has the distinction of being one of the few rock-orchestra collaborations that actually holds water.
S&M was followed by a long break for Metallica, during which Jason Newsted left the band. Their future was uncertain as each band member was dealing with personal issues. The band eventually persevered and released one of their most unique albums in 2003 – St. Anger. The album recieved mixed reviews, with many fans resenting the departure from previous styles. Others found the passion and energy of the album to be refreshing. St. Anger is easily Metallica's least popular album amongst fans and songs from it are rarely performed at live shows. Shortly after releasing the album, Robert Trujillo (Ozzy Osbourne) was announced as the new bassist.
Blackened Is The End
Even amidst past controversy over illegal internet file sharing and accusations by some fans of "selling out", Metallica are responsible for breaking many barriers between metal and the general public. For better or for worse, they forged the way for metal to be popular. For a style of music built on loud overdriven guitars and aggressive lyrics, that's no small feat.
 
The show is set for May 22 at the Ramat Gan stadium.
Tickets are on sale now at the Leaan ticket agency (Dizengoff 101, Tel Aviv) 03-5247373, and at their website www.leaan.co.il 
ASHER KRIM