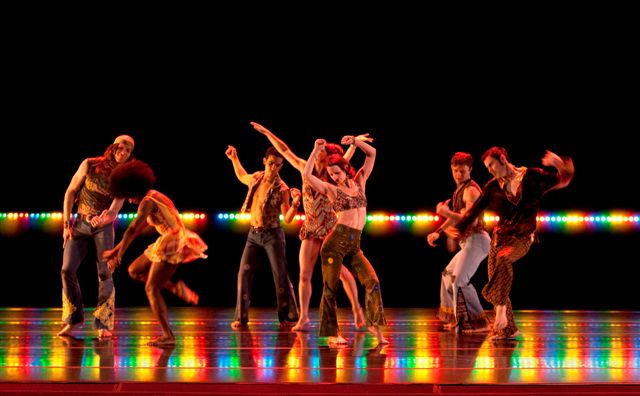 The Paul Taylor Dance Company will perform in Israel for the first time in 20 years – April 27 – May 4th. The diverse program will include "Changes" with songs sung by the 60s group The Mamas and the Papas, "Piazzolla Caldera" choreographed to the music of Argentinian composer Astor Piazzolla, and Promethean Fire choreographed to the music of Johann Sebastian Bach.
Taylor, who will turn 80 on July 29, 2010, began his career as a soloist in the Martha Graham Dance Company, where he performed in a number of pieces, including "Clytemnestra" (1958), "Alcestis" (1960) and "Phaedra" (1962). Graham's style tended toward the dramatic, as can be seen in this clip from "Clytemnestra":

When Taylor founded his own dance company in 1954, his abrupt departure into avant-garde forms led Graham to call him the "naughty boy" of dance. In "Duet," created in 1957, Taylor walked onto the stage with his pianist, and stood motionless for the duration of the piece, set to John Cage's "non-score." Critic Louis Horst responded by reviewing the piece with blank space in Dance Observer.
Taylor's experimentation has led him in different directions, including collaborations with artists Robert Rauschenberg, Jasper Johns, Alex Katz and others. "Aureole" created in 1962 is known as the first modern dance set to Baroque music (Handel), a combination considered shocking at the time. Mr. His dances continue to encompass a wide range of music – Ragtime, Reggae and Rock, Tango, Tin Pan Alley and Barbershop Quartets; works by baroque masters Bach, Boyce and Handel and iconoclasts Feldman, Ligeti and Varése. The themes covered in his dancers have an equally broad range. His perspective on soldiers in battle (Company B 1991) prompted The New York Times to say in 2009 that he "ranks among the great war poets."
Taylor brought the movement, rhythm and attitude of the street onto the stage, inspired by the scenes of everyday life. A clip from Dancemaker, a 1998 documentary on Taylor, directed and produced by Matthew Diamond gives a sense of the spontaneity and creative spirit that infuses his work:

Performances: 27.4.10 Petah Tikva Performance Hall, 03-9125222 28.4.10 Haifa Auditorium, 04-8418411 29.4.10 Jerusalem Theatre, 02-6237000 1.5 – 4.5 Israeli Opera, 03-6927777
AYELET DEKEL