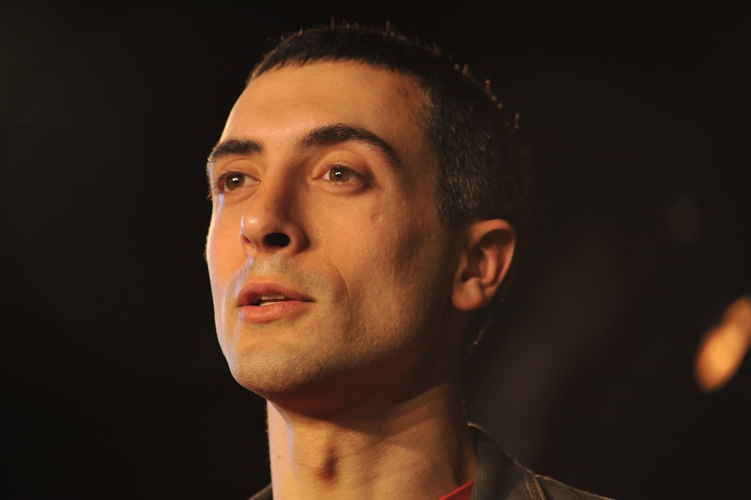 The 20th annual Teatroneto Festival will take place in Jaffa, April 1 – 3. 9 monodramas will compete in the festival, a single actor onstage embarking on an intimate journey with the audience. Continuing the tradition begun last year, children's theatre joins the festive roster of events beyond the competition, including a Hyde Park style performance on the theme of refugees by students of the Kibbutz Seminar, a photo exhibit and free activities for children at the Jaffa Port. Sharing the joy of the 20th anniversary with everyone, tickets for the plays are only 10 NIS!
Shimon Israeli returns to the stage for the opening night event, "Just An Ordinary Day," celebrating 60 years of performance with songs that have become landmarks of Israeli music: Just an Ordinary Day, Tfila, Emek Dotan, My Home Facing Golan and more. He will be accompanied by his daughter, Irit Israeli, a musician who resides in the Golan.
Photographs documenting the lives of refugees from Africa in Tel Aviv by Karin Margonivsky will be on display at Jaffa Port. Free activities for children celebrating multiculturalism will take place at the port, including: dancers from Sudan, African musical ensembles, a Filipino gospel chorus, traditional Indian dance, Ethiopian dance and body drumming from Guinea. Outdoor theatre performances for children include: Treasure Island, A commedia dell'arte performance of The Orange Shoe, and The Baby – a vaudeville version of Little Red Riding Hood. Storytelling will take place in warehouse 2 at the port, with actor/storyteller Shay Shwartz telling tales for children of all ages and multicultural stories from Limor.
The plays in the festival competition are:
1. Abadi by Amikam Levi and Ruti Dikes, directed by Ruti Dikes and performed by Amikam Levi. A comedy about loneliness, death and a small chick. Can the love of a mother and five sisters compensate for the lack of a father?
2. Seek Justice by Yosefa Even-Shushan, directed by Lihi Beckerman, and performed by Shay Zviv. Avram, a settler from Gush Etzion who becomes close with the Bedouin tribe of Al Azama in the Judean desert. His son Yitzhak develops ties with the Bedouins as well, which lead him to feel sympathy for the Palestinian cause. The resulting drama leads to a crucial dilemma for Avram.
3. The Stranger by Albert Camus, translated by Ilana Hammerman. Adapted and directed by Yaakov Amsalem, and performed by Amos Levi. Merseault's story takes place in Algiers of the 1950s, where his feelings of estrangement and refusal to "play the game" are described through a series of encounters leading to his inevitable destiny.
4. The Confessions of a Political Whore by Afif  Shalyot, adapted and directed by Arye Yass, and performed by Afif Shalyot. The political leader of Arab Israelis hopes achieve the impossible and become Prime Minister. In a political meeting he decides to speak out honestly, confessing that politics is a manipulative business. Although as an Arab Israeli he does not always identify with the state, still he feels that it is his and he would like to make it a better place. The theatre audience will participate as the voters.
5. Zorba the Greek, by Nikos Kazandakis, translated by Amir Zuckerman, adapted by Shay Schubert and Tomer Heldstein, directed by Shay Schubert and performed by Tomer Heldstein. Zorba is a working man who has fought and loved, now, at a turning point in his life, he reviews the past, peeling away the layers to reveal the one simple remaining truth.
6. Herpot veGidufim (Shame and Curses), by Emily Nothomb, translated by Yehoshua Kenaz, adapted and directed by Issi Mamanov, and performed by Miguel Orbach. Emil, the typical anti-hero, retires and moves to his dream house in the forest with his beloved wife Juliet. Their peaceful existence is threatened by the neighbor, who sits in their parlor every day from four to six, without speaking. In trying to release himself from this burden, Emil is forced to re-examine his own identity.
7. Elvis on the Corner of Trumpeldor, by Ran Gil, directed by Dvir Ben Shlush, and performed by Albert Iloz. Elvis is a shell-shocked homeless person in Tel Aviv, eking out a living as an Elvis impersonator in bars. He sleeps in a parking lot and has a hallucinatory relationship with the national hero Trumpeldor.
8. The Exodus from Egypt, by Hagit Bodenkin, directed by Vidi Bilu and performed by Osnat Zivil. 10 year old Nurit, living in a village in the north at the time of the Yom Kippur war, wakes up one morning to learn that her father is missing in action. Coming of age in a time of chaos, her father missing and her mother scouring the country to find a trace, she is left alone with her fears and Elvis on a 33 LP record. The play is based on the autobiographical story of the director and actress, who are sisters.
9. Murder on the Highway, written and directed by Roni Feldman, performed by Eyal Schechter. In the late 1970s, David, a doctor, volunteers for military service out of a personal death wish, and returns a decorated hero. Raped at the age of nine, he explains to a jury how he became a serial killer in the attempt to save other children from the trauma he endured. His confession reveals the human side of the murderer, blurring the distinctions between victim and killer.
Special performances include an evening of lawyers' monologues that will take place at Andromeda House on April 2 at 20:00. Participating lawyers are: Amnon Zichroni, Dov Weisglass and Gilad Sher, the play Laura, written and performed by Moshe Privas and Shakespeare – The Whole Truth, written and performed by Nimrod Bergman of the Herzliya Ensemble. Bergman probes the greatest mystery of all – the Bard, through encounters with characters from the plays.
The festival will take place in several Jaffa venues: The Arab-Hebrew Theatre, Hasimta Theatre, Andromeda House and The Jaffa Museum of Antiquities. This year, the festival will also tour the rest of Israel, with performances in Haifa, Kiryat Shmona, Yeruham, Rishon LeZion, Jerusalem, Ashdod and Tiberias. Tickets can be purchased online at: http://www.run-art.co.il/
AYELET DEKEL