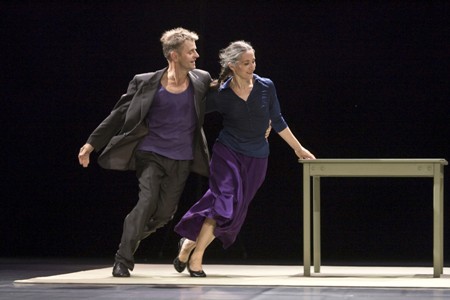 Mikhail Baryshnikov, the dancer who stirred the imagination of the world, will arrive in Israel for the first time in June, for three performances with dancer/choreographer Ana Laguna. The Suzanne Dellal Centre, recent recipient of the Israel Prize, will host the virtuoso dancers on June 26 and they will perform at the Herzliya Performing Arts Center on June 28 & 29. The exciting evening of dance, "Three Solos and a Duet" will feature the works of contemporary choreographers Mats Ek, Alexei Ratmansky and Benjamin Millepied:
Valse-Fantasie, Music by Glinka, Choreographed by Alexei Ratmansky
Solo for Two, Music by Arvo Part, Choreographed by Mats Ek
Years later, Music by Philip Glass, Choreographed by Benjamin Millepied
Place, Music by Flaskkvartetten, Choreography by Mats Ek
Baryshnikov, founder and artistic director of the Baryshnikov Arts Center in NY, will perform in all four dances. Cited as one of the outstanding ballet dancers of the 20th century, Soviet born Baryshnikov's 1974 defection to Canada turned the hearts and minds of the world to the question of individual freedom, and to ballet. Once in the west, the artist's choices continued to be daring and innovative. The virtuoso classical dancer has been a strong advocate of modern dance, and from 1990 to 2002 was the artistic director of the White Oak Dance Project, co-founded with Mark Morris, which placed an emphasis on working with mature dancers.
Ana Laguna, known as the "muse" of choreographer Mats Ek, a star dancer of the Swedish Cullberg Ballet until leaving the company in 1993, appearing in: "Giselle", "Carmen", "Swan Lake", and "The House of Bernarda Alba".
Video can never do justice to dance, but the youtube clip can provide a fleeting sense of the thrill of seeing this pair together:

At Baryshnikov's request, 50 dance students from Israel will receive complimentary tickets to the performance, and tickets for the general public will be 280 – 375 NIS. Tickets will be on sale at the performing venues beginning April 9th.
Suzanne Dellal Centre: 03-5105656, www.suzannedellal.org.il
Herzliya Centre for the Performing Arts: 1-700702929, kuppa@netvision.net.il
AYELET DEKEL