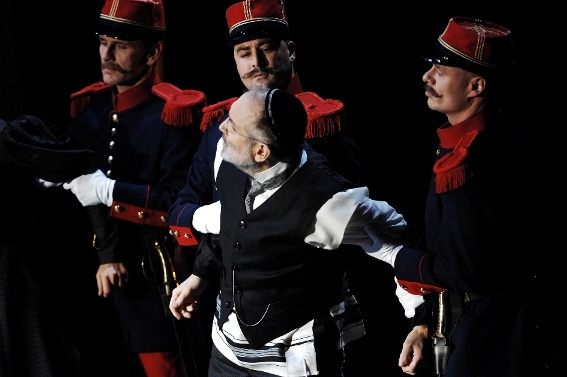 As part of its 25th anniversary season The Israeli Opera presents La Juive, from April 13 – 30. Composed by Jacques Fromental Halévy (1799 – 1862), with a libretto by Eugene Scribe, this production is directed by David Pountney and will be conducted by Daniel Oren.
A grand opera in five acts, first performed in France in 1835, La Juive is considered Halévy's most successful work. Combining Jewish and universal themes, in a dramatic story of forbidden love, faith, hidden identities and prejudice, the narrative takes place in the city of Constance in the year 1414. Eleazar, a Jew whose sons were murdered by Cardinal Brogni, has raised Rachel (the Cardinal's daughter rescued as an infant) as his own. Rachel is wooed by Prince Leopold, who is not only Christian but already married to Princess Eudoxie, who disguises himself as a Jew in order to court her. It is not a story that can possibly end well, yet it bears a message far greater than that of individual tragedy, conveying a universal plea for tolerance.
The elaborate extravagance of this style of opera in conjunction with its theme of persecution of the Jews is problematic. Pountney addresses this issue by making the "prettiness… part of the horror." Utilizing the lavish large-scale design associated with grand opera to emphasize the contrast between appearances and the intolerance that seethes beneath the surface, Pountney has set the opera at the time of the Dreyfus Affair in France – late 1880s. In his comments on the opera (complete text on the Israeli Opera site), Pountney says, "The Dreyfus affair therefore plays itself out in a visual context of prettified fashion and decorative surroundings that chimes perfectly with the insouciant innocence and banality of much of the music of La Juive. This combination of jaunty musical content and horrific persecution was of course to reach its apogee on the ramp at Auschwitz."
The role of Eleazar will be performed by tenor Neil Shicoff (complete text on the Israeli Opera site), who speaks eloquently of his relationship to the role: "This aria has an awful lot of images for me. I had grandparents that have lost family in the Holocaust and I know how they lived afterwards and how their life continued and I have an extensive library of books, DVDs, about that period and these images are very real for me. And when I walk on stage and I do that aria, I feel like… It is just beyond what I do, because at the end of my performance I die and it's the end of it, but the period when I am there, and in that moment, I feel that there are voices that need to speak through my voice. I surrender to that feeling and these images come true in that aria. It's more than my own personal statement, it is the statement of many, many voices. I believe that, and it's not to be understood that I am artistic about that. I am anything but, I am open to give something that's bigger than that."
La Juive, The Israeli Opera, 19 Shaul Hamelech Blvd., Tel Aviv Tickets: 03-692-7777
The opera will be sung in French, with supertitles in English and Hebrew.