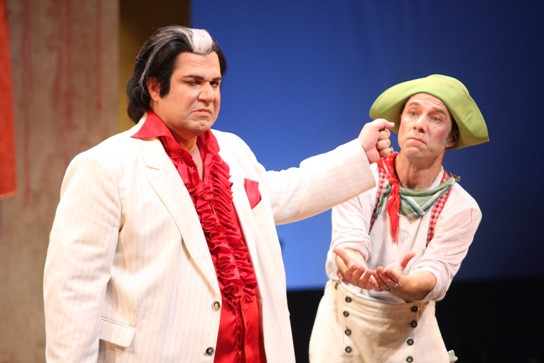 What's a girl to do when her lover kills her brother in a fight? Sing about it, obviously, but only after she (Beatrice) has disguised herself in her dead brother's (Federico) clothes and left town in the dead of night to seek out her lover (Florindo) who has (understandably) fled the scene. No worries about spoiling the suspense – this is where Carlo Goldoni's Servant of Two Masters begins. The popular multi-layered comedy takes on relationships, class differences, the status of women in society, and the conventions of the theatre, but if you think you've seen it all before – think again, as director Moni Moshonov has given the play a brilliantly funny new look.
Moshonov's concept gives new meaning to the phrase "less is more." From the moment the servant girl Smeraldina walks onstage struggling under the weight of an invisible tray of dishes, and starts putting invisible items away with a clang, ping and occasional crash, while crunching invisible potato chips, this show will have you laughing in your seat. The convoluted plot plays out its tale of confusion, schemes and secrets against a soundtrack created by Ran Bagno that takes a starring role in this production. All props are replaced or enhanced by sound effects complemented by Zahi Patish's choreography. It's a wonderfully comic dance, a feast for the eyes and ears flawlessly executed by the talented ensemble of actors – but there is even more to enjoy.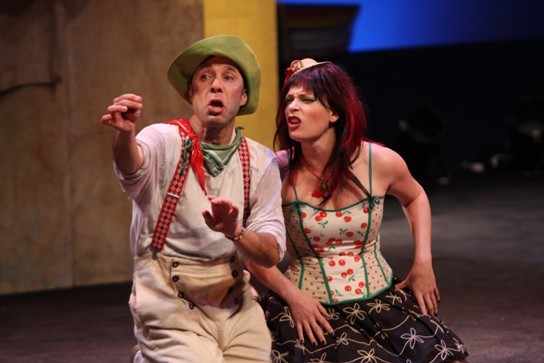 Nissim Aloni's lively translation brings Goldoni to life and the current adaptation adds a new dimension to the fun with the use of contemporary Israeli slang and references to popular culture. The anachronism of a "Motel" sign indicating the 18th century inn becomes even more of an in-joke as Truffaldino, the illiterate ever-hungry servant, turns it into the Yiddish "Mottel." Silvio, who loves Clarice, who has been promised to Federico (whom the audience knows is really Beatrice), sings out his grief in a medley of Israeli popular songs, including Shlomi Shabbat and Uzi Hitman's "Without You I am Half a Man" (Biladayich Ani Hatzi Ben Adam). The distance and dissonance between the 18th century setting and contemporary Israeli popular culture, mirrors the comic distance between the upper and servant classes at the heart of the genre.
Commedia dell'arte as a form relies on stock characters whose persona moves the plot along: Pantalone, the rich, miserly, greedy old man, the lovers and of course, the servants. These characters are traditionally played with masks; Goldoni took off the masks and let his characters develop beyond the conventional form. Dror Keren brings an endearing sensitivity to his portrayal of Truffaldino. Truffaldino describes himself in the play as "gamish ve ragish" (Hebrew: flexible and sensitive) – and so he is. He regales the audience with his outrageous antics, impeccable comic timing and physical humor.
Servant of Two Masters by Carlo Goldoni, translated by Nissim Aloni
Director: Moni Moshonov
Cameri Theatre, 19 Shaul HaMelech Blvd.
May Performance Dates: 6 – 9, 11, 12 & 29. For future dates: www.cameri.co.il
Tickets: 03-6060960
Photos from the play may be viewed on the Midnight East flickr page, as well as photos from the premiere.