Dance your way to the Spring Festival at the Rishon Le Zion Performing Arts Center next week! The International Spring Festival, now in its 11th year, will take place from May 1 – 8, with music, dance and theatre performances by popular Israeli and international artists. This year, for the first time, the Choreographer's Society will host an evening of dance, with two different programs, under the artistic direction of Ido Tadmor. It's an excellent opportunity to become acquainted with the rich variety of Israeli contemporary dance.
The first program, "Between Two Worlds" will take place on Monday, May 3 at 19:30. A selection of works by different choreographers that are between the disciplines of dance and theatre: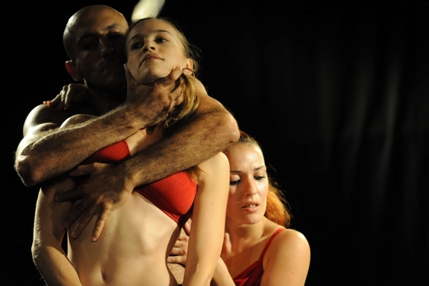 Subtext by Nimrod Freed. The balance of power in relationships performed to live music.
Performers: Miriam Angel, Itzik Gabai, Elinor Chertok.
Talk to Me by Alice Dor-Cohen. Communication in relationships at different stages of awareness. Text inspired by the Godard film "Vivre sa Vie" (1962).
Performers: Alice Dor-Cohen and Amnon Damti.
Everything by Hillel Kogan. A creative kinetic look at 60+ years of Israeli history – wild, cyical and funny.
Here's a preview of "Everything" from youtube:

The program is 55 minutes long, without an intermission.
The second program, "Noah's Ark" will take place May 3 at 21:00. A selection of duets exploring relationships, onstage and off:
Arnica by Noa Dar. In her unique movment language, Dar explores the dialogue between the inner, personal world and the external world.
Performers: Coralie Ladame, Noa Dar.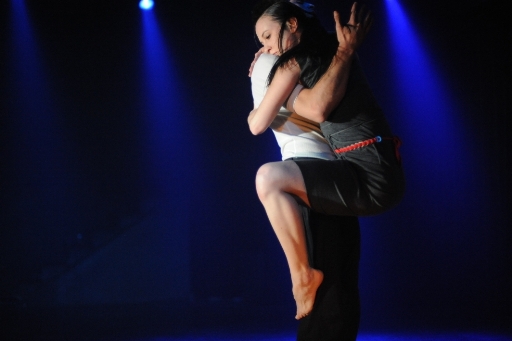 A duet from Fellowship by Michal Herman. Touch, compassion, dependence, passion, distance, happiness, tenderness, control, intimacy, pain, need, struggle. A look at the power balance within a relationship. A romantic duet.
Performers: Mor Nardimon, Zachi Cohen.
Selections from Duets by Niv Sheinfeld and Oren Laor. "Interlude" – encounters between an actor and dancer, the funny side of an unsuccessful attempt to woo a young woman. Performers: Noga Golan, Oren Laor.
"Co-Variance" – a lyric duet between a couple that explores the many complex colorful facets of a relationship, from the lively courtship to the different sort of consciousness that comes with routine and habit. An intense and tender encounter.
Performers: Sivan Gotholtz, Niv Sheinfeld.
"Slave of Love" (temporary name) by Yonatan Suthi. A relationship that describes a warm, safe place – home, and the feeling of love and belonging associated with it – how does all this become a lethal weapon?
Performers: Tom Appelbaum, Yaniv Hadad/Igal Mashinsky.
The program is 72 minutes long, without an intermission.
Rishon leZion Performing Arts Center, 16 Jabotinsky Street, Rishon Le Zion
Tickets: 03-9488688