Wes Anderson's Isle of Dogs is sheer pleasure, a love song to dogs in stop-motion animation, infused with the enigmatic choices of its director, and an outstanding cast of voice actors. The film held its world premiere at the 2018 Berlin International Film Festival, where Anderson won the Silver Bear for Best Director. The art of this film is spectacular! One of Anderson's great strengths and predilections is world-building, and in an animated film, where by definition one creates an entire world and its creatures, Anderson simply soars.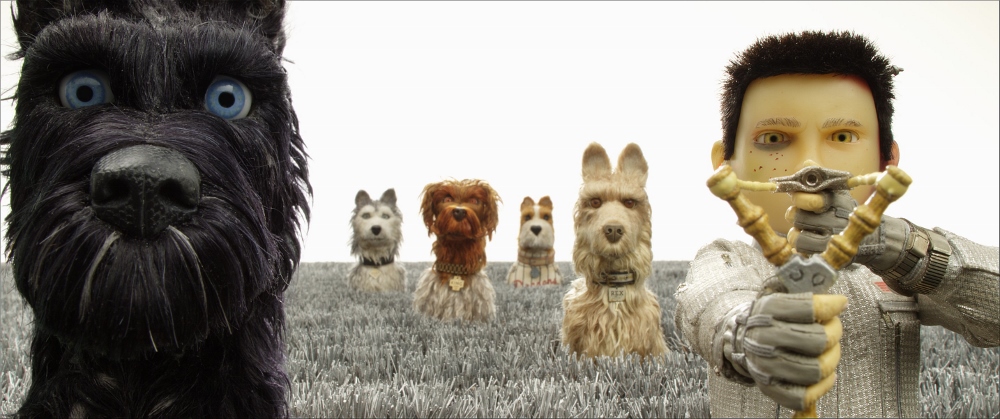 In some respects, this is one of Anderson's most accessible films, with themes that will appeal to all but the most impenetrable hearts: a wicked plot by those in power to vanquish the underdogs (literally); an orphaned boy and his unswerving devotion to his dog Spots. Yet, set in Japan, with much of the dialogue in Japanese and only some of it translated to English, it seems to create a deliberate distance between the viewer and the film. Once the initial surprise and strangeness subsides, one soon realizes that given the visual richness of the film, and the fact that the dog's barks are rendered in English, language is neither a barrier to understanding nor enjoyment.
The film's premise is fairly straightforward: set in a future dystopian Japan, in the fictional Megasaki City, Mayor Kobayashi (Kunichi Nomura) decrees that since there has been an outbreak of "dog flu," all dogs must be exiled to Trash Island to avoid an epidemic and protect the human population. Kobayashi's intentions are somewhat suspect, as the scientist Professor Watanabe (Akira Ito) announces that he is close to finding a cure. Sadly, it is Spots (Liev Schreiber), the dog belonging to Koyabashi's ward, the orphaned 12-year-old Atari (Koyu Rankin), who is the first to be banished. The focus then shifts to the dogs on Trash Island, and they are quite a quirky crew, exquisitely crafted, and voiced by an impressive cast: Chief (Bryan Cranston), Rex (Edward Norton), King (Bob Balaban), Boss (Bill Murray), Duke (Jeff Goldblum), Jupiter (F. Murray Abraham), Oracle (Tilda Swinton), and Nutmeg (Scarlett Johansson). They look amazing! Wes Anderson worked closely with Andy Gent (Miss Peregrine's Home for Peculiar Children, Grand Budapest Hotel, Coraline), head of the puppet department in creating the look of the dogs; inspired by the traits of real dogs, yet not identical to any particular breed. The lead dogs were developed with the look and voice of the actors in mind, with sculptures modeled in clay to try out the dog's look before creating the puppets used in the film. Anderson also made a cool cast interview video for the dogs:
There's so much happening visually in this densely textured, intricately aesthetic film that you may want to see it twice. Anderson is a master of detail, notorious for his appreciation of an eclectic array of imagery, meticulously designed and precisely placed. There has been much conversation on the choice to set the film in Japan, and present the Japanese dialogue, for the most part, untranslated. One comes away with the feeling that Wes Anderson has a crush on the imagery of Japanese culture, and who can blame him for that? It's a rich, beautiful culture with deep layers of tradition, aesthetics and history, that is treated with respect in the film. Artists are inevitably inspired by the world around them, incorporating elements into their own work; some relating more deeply to the environment and culture that they know well, others drawn to what is distant, and more mysterious. Kunichi Nomura, a writer, editor, and designer in Tokyo, was a consultant for the film to ensure accuracy on all issues related to Japanese culture and language.
Isle of Dogs is not only visually enticing, it's a fun film infused with Wes Anderson's idiosyncratic humor, as well as a celebration of dogs. All set to a soundtrack featuring dramatic Taiko drums, original music by Alexandre Desplat, and the lovely "I Won't Hurt You" by West Coast Pop Art Experimental Band:
Isle of Dogs
Director: Wes Anderson; Screenplay: Anderson, Roman Coppola, Jason Schwartzman, Kunichi Nomura; Cinematography: Tristan Oliver; Animation Director: Mark Waring; Editors: Andrew Weisblum, Ralph Foster, Edward Bursch; Music: Alexandre Desplat; Cast: Bryan Cranston, Koyu Rankin, Edward Norton, Scarlett Johansson, Bill Murray, Liev Schreiber, Jeff Goldblum, Bob Balaban, Koyu Rankin, Greta Gerwig, Tilda Swinton, F. Murray Abraham, Kunichi Nomura, Frances McDormand, Yoko Ono, Akira Takayama, Akira Ito, Harvey Keitel, Ken Watanabe, Fisher Stevens, Mari Natsuki, Nijiro Murakami, Courtney B. Vance.