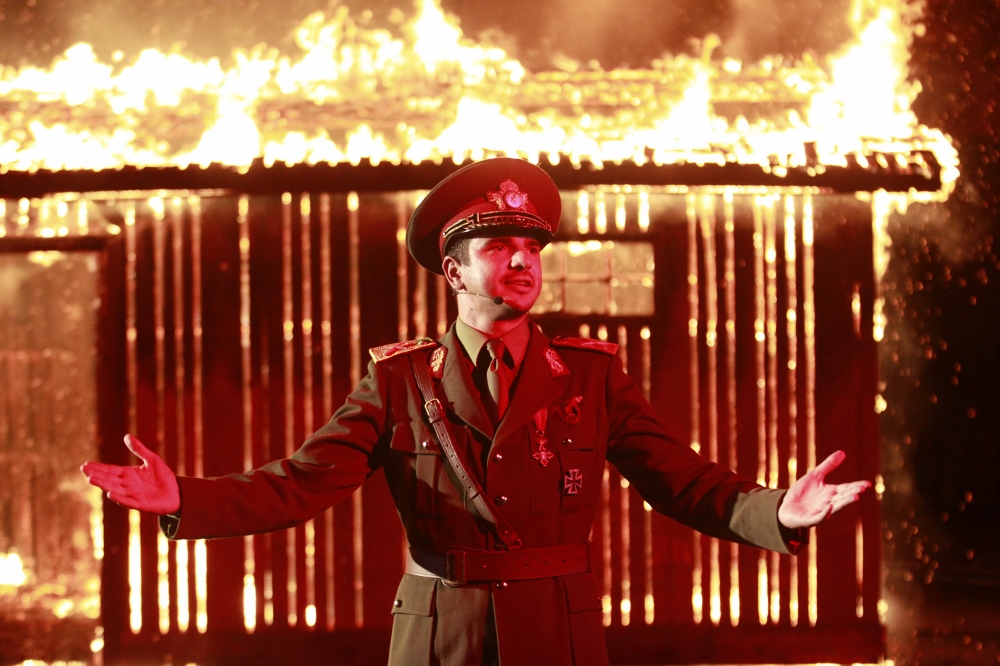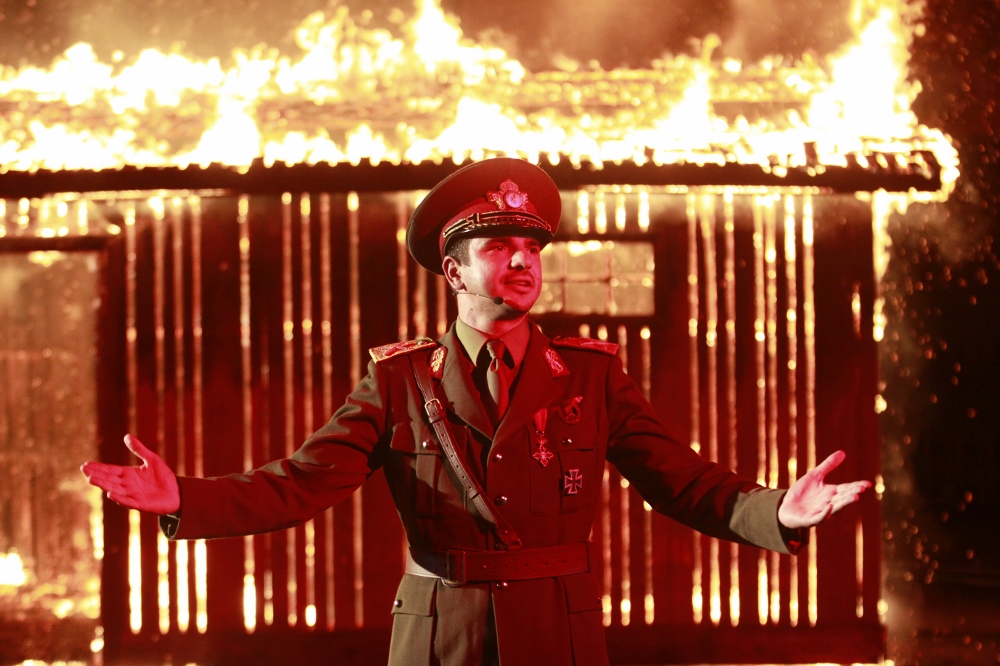 Searing humor, vivacious intellectual jousting, and unsparing critique mark Radu Jude's I Do Not Care If We Go Down in History as Barbarians. A penetrating look at Romania's part in World War II, with unsettling contemporary relevance, it's a provocative, entertaining film with powerful impact. Much of its ironic force derives from the tension between reality, its perception, interpretation, and representation. Easily hefting the weight of this ambitious film is Iona Jacob, who creates a bold and spirited character with her captivating performance.
The film opens with an archival news reel reporting Romania's victory in Odessa, then cuts to a camera crew in a military museum, surrounded by guns and uniforms, Iona Jacob introduces herself, then explains that she will be portraying Mariana Marin, a theatre director, who will be staging a historical re-enactment in the public square. She then begins to recount the names and roles of the rest of the cast, but wanders out of the frame and into her role. It's an intentionally jarring opening, that in the intellectual ambiance of the film, is reminiscent of Hamlet's play within a play, performance as truth-telling.
While city officials who granted permission for the pageant might have expected an admiring tribute to Romanian history, Mariana has something else in mind. She plans to stage a re-enactment of the Odessa Massacre of 1941. Marshal Ion Antonescu (who was later convicted and executed for war crimes) ordered the killing of tens of thousands of Jews, as retaliation for the bombing of the Romanian headquarters on October 22, 1941. Although the bomb had been planted by the Russian army before the city was taken by the Germans and Romanians, Antonescu blamed the Jews and Communists. The revenge exacted was horrifying: Jews were rounded up and shot, with many of them herded into barracks that were then machine-gunned and set on fire. Suffice to say this is not the type of event that governments like to remember.
The film follows Mariana as she auditions actors, selects costumes and props and encounters a variety of bumps along the road. Some of the scenes are simply hilarious, like the brass band playing on in the pouring rain, some with disturbing political overtones, as when some of the actors object to working with Romani people. While navigating the practical and political difficulties of staging this grand spectacle, Mariana spends her nights researching, and on several occasions reads passages aloud, a rare occurrence in film. But not in this film, which references so many sources, historical and philosophical – Isaac Babel, Hannah Arendt, Jean Ancel's History of the Holocaust in Romania, as well as passing mentions of Wittgenstein, Saul Kripke, Richard Rorty and Thomas Kuhn. Mariana does not limit herself to cerebral activities, there's a slender side plot with her, rather insensitive, lover, who doesn't understand her "obsession," saying "I'm sick of all the Jews whining." Yet some of the most engaging scenes are her verbal bouts with Movilă (Alexandru Dabija), the official who tries to persuade her to choose a different theme, or at least tone down the presentation. Will Mariana bend, or will she persevere? And how will the audience respond?
I Do Not Care If We Go Down in History as Barbarians will participate in the Carmel Competition for International Film at the Haifa International Film Festival, with screenings on September 24th and 27th. Tickets may be ordered via the festival website.
I Do Not Care If We Go Down in History as Barbarians
Romania-Czech Republic-France-Bulgaria-Germany, 2018, 140 min, Romanian with Hebrew and English Subtitles
Written and Directed by Radu Jude; Cinematography: Marius Panduru; Editor: Cătălin Cristuțiu; Cast: Ioana Iacob, Alexandru Dabija, Alex Bogdan, Ilinca Manolache, Serban Pavlu, Ion Rizea, Claudia Ieremia.