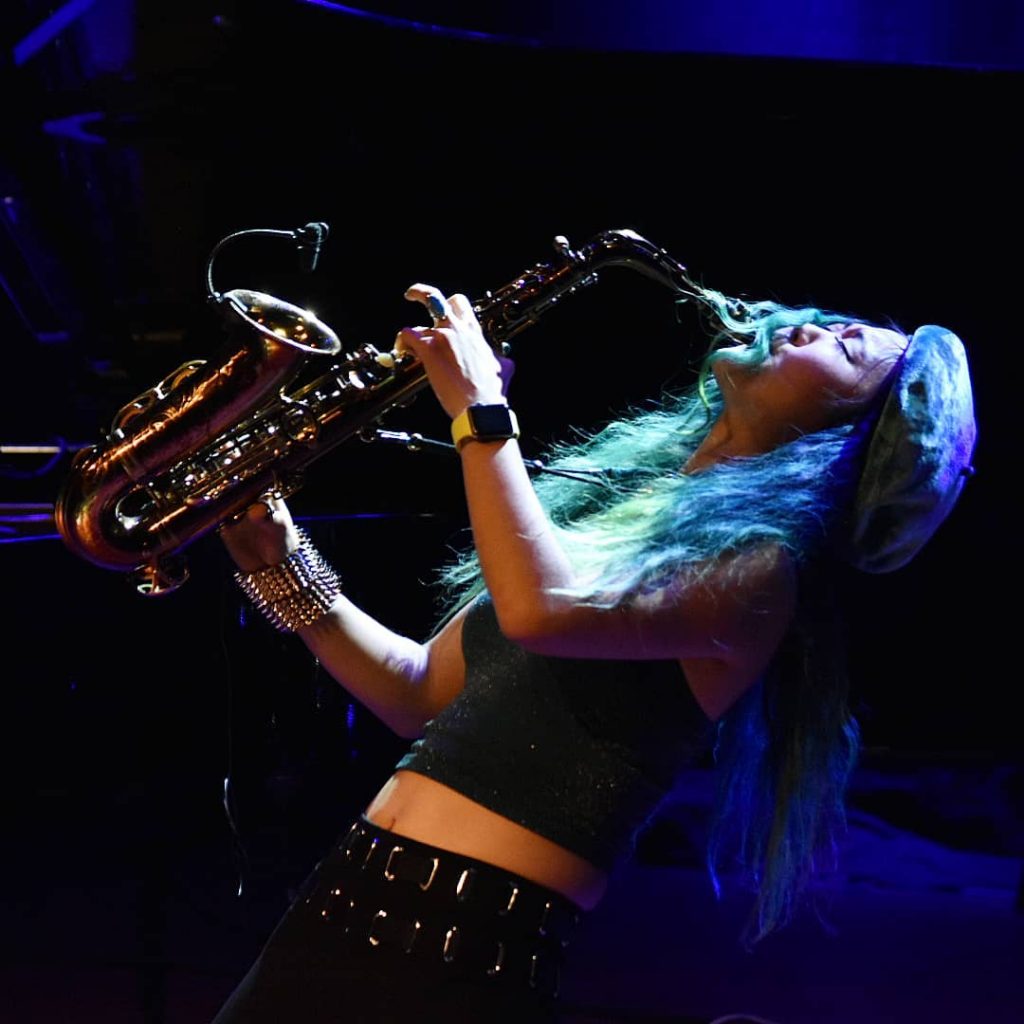 Grace Kelly is a blazing wonder, jet-surfing on the night, powered by music; singing, dancing, and playing her saxophone in an exuberant explosion of creativity and brilliance. Her original compositions and interpretations of jazz classics and rock songs are all marked with a scintillating sense of spontaneity, deep feelings, and tremendous freedom. The concert last night at the Tel Aviv Jazz Festival, with Kyle Hawkins (keyboards) and Philip Lam (drums), was her first ever performance in Israel, hopefully, the first of many to come in future years. She lights up the stage with her vivacious presence, igniting a bright warmth that resonates throughout the concert hall. Grace Kelly's show is called a "Joy Party" – and if you were there last night, you know why.
Green hair flying, dancing in her red boots, Grace Kelly opened with a cover of Unchain My Heart that was a joyful paean to freedom as she sang in her clear, high voice or played sax with body and soul, dancing, jumping, swinging. She is the queen of head-banging sax!
Her connection to the audience was immediate, and tight, as she chatted easily about her pleasure at visiting Tel Aviv for the first time before launching into Duke Ellington's It Don't Mean a Thing (If It Ain't Got That Swing), with an appreciative reference to Nina Simone. Grace Kelly's interpretation is marked by distinctive phrasing, a wonderful expressive range that easily moves between a light, bubbly swing, to a deep, primal growl, and sometimes just lets loose and soars way out there. Mid-song she gracefully riffed on Tel Aviv with its "beautiful beach life, gorgeous sunset…and it makes you feel so alive…how come we're only here for 30 hours?"
Taking the audience on a fantastic ride, Grace Kelly then played Count on Me, a soulful composition inspired by Bill Wither's Lean on Me, followed by a "gracified" jazzed up version of the Rolling Stone's Miss You, that imbued the song with a sense of mystery and electronic, dreamy feel. Then she accompanied herself on the piano, with Kyle Hawkins on guitar, for an original inspired by her mother: Trying to Figure it Out, a beautiful, bluesy song. Next up was Thelonius Monk's Green Chimneys – a cool conversation between Grace Kelly on her small sax and Philip Lam on drums, that heated up to a vibrant intensity that made me want to get up and dance! Everyone there felt it, and Grace Kelly expressed the in-the-moment spirit of jazz saying, "We never know how it's going to go, and we will never play that version again."
It was an amazing set, rising from one peak to another, flying high. The very well-named Wonder Woman is a bright piece, flowing with cool confidence, an air of intrigue, and great vibes. Listening one could easily visualize Grace Kelly's description of imagining women superheroes flying through the sky, holding musical instruments. What could possibly follow that? A very moving, intense version of Johnny Nash's I Can See Clearly Now, with an ethereal, mystical feel. Grace Kelly closed the concert with two original songs: Feels Like Home and Lemons Make Lemonade. Feels Like Home captures the buoyant excitement of love, that floating feeling, in a song infused with a trace of country. Lemons Make Lemonade was inspired by musician and bandleader Jon Batiste, in whose band Grace Kelly performed on the Late Show with Stephen Colbert. Batiste was featured on the album recording (Trying to Figure it Out, 2016) of this song. It's a celebration, a marvelous, swinging, joyous song that had the audience swaying and clapping along right from the start. Hearing it live was an incredible experience as Grace Kelly danced right off the stage, along the front row and up the isles, singing to everyone she met along the way. Onstage again, she led the audience in singing along with her, saying: "Nobody warned me… nobody warned me you had voices like angels." Music flows from this artist like waves of love and light, in every mood, rhythm and hue, touching everyone with the wonder of it all.
Image credit: Yuval Erel, website https://yuvalerel.com