Is it magical? That is, perhaps, the only relevant question to ask about Mary Poppins Returns, directed by Rob Marshall, starring Emily Blunt. Is Mary Poppins Returns the kind of movie that puts a sparkle in your eyes, a skip in your step and makes you giddy with delight? Is it magical? Yes.
Yet, as with any sequel, comparisons are inevitable. Julie Andrews, with her demure English rose manner and crystalline voice, set the bar ever so high in Walt Disney's 1964 Mary Poppins, as did the songwriting duo of the Sherman Brothers (Robert B. Sherman and Richard M. Sherman). That Disney's Mary was not exactly like the nanny described in P. L. Travers' books, did not appear to trouble anyone other than the author whose books inspired the film. No one really minded that Julie Andrews was softer, sweeter, and far more beautiful than the character as written (and as drawn by Mary Shepard in the novels). For generations of children Julie Andrews was Mary Poppins. How then does one approach a sequel?
Mary Poppins Returns is wisely set 30 years after the events of the 1964 film, the distance allowing for more creative freedom, and the ability to view the film in its own right. As a stand-alone piece, it's a fun, fantasy-filled, visually appealing film with a wonderful cast. Michael (Ben Whishaw) is a widower with three children: the twins John (Nathanael Saleh) and Annabel (Pixie Davies), and young Georgie (Joel Dawson). An artist, he has been forced to take a job as a teller in the same bank where his father once worked, in order to make ends meet. Yet he still is behind on his loan payments and therefore in danger of losing the family home. Jane (Emily Mortimer) is a lively labor organizer who lives in a flat of her own in London, and is a frequent visitor to 17 Cherry Tree Lane. With a grieving, artsy father, the young Banks children are all too mature and self-sufficient for their age. Cue the magic of Mary Poppins (Emily Blunt).
Emily Blunt is a sharper, edgier Mary Poppins, and as such, perhaps a bit truer to P. L. Travers' written character. Descending from the clouds on the string of a kite, her arrival is momentous, and beneath the slightly rigid exterior are layers of mystery, imagination, and a spark of mischief that reveal themselves in some wonderfully orchestrated scenes of music, dance, and animation. Whereas Bert (Dick Van Dyke) was an implied potential suitor of the 1964 nanny, this Mary is an utterly independent character, somewhat removed and elevated from the other characters, this aspect of the character also feels more in tune with the books. Lin-Manuel Miranda brings a radiant charm to the character of Jack the lamplighter, or leerie (a Scottish word, dating perhaps from the early 19th century, and immortalized in the poem The Lamplighter by Robert Louis Stevenson). Ben Wishaw's Michael is wistful, lost, and generally not coping very well; reverting to an unfeeling sternness reminiscent of the 1964 film Mr. Banks. Emily Mortimer brings the grown-up Jane to life in a vivacious, spirited performance, Julie Walters is a bright, blustery and ever-loyal Ellen the housekeeper, Meryl Streep dazzles as the bizarre Topsy, and Colin Firth brings distinction to the role of the eerily amiable banker. But the true show-stealer is a cameo that took my breath away, and just in case you haven't read about it already, I won't say another word.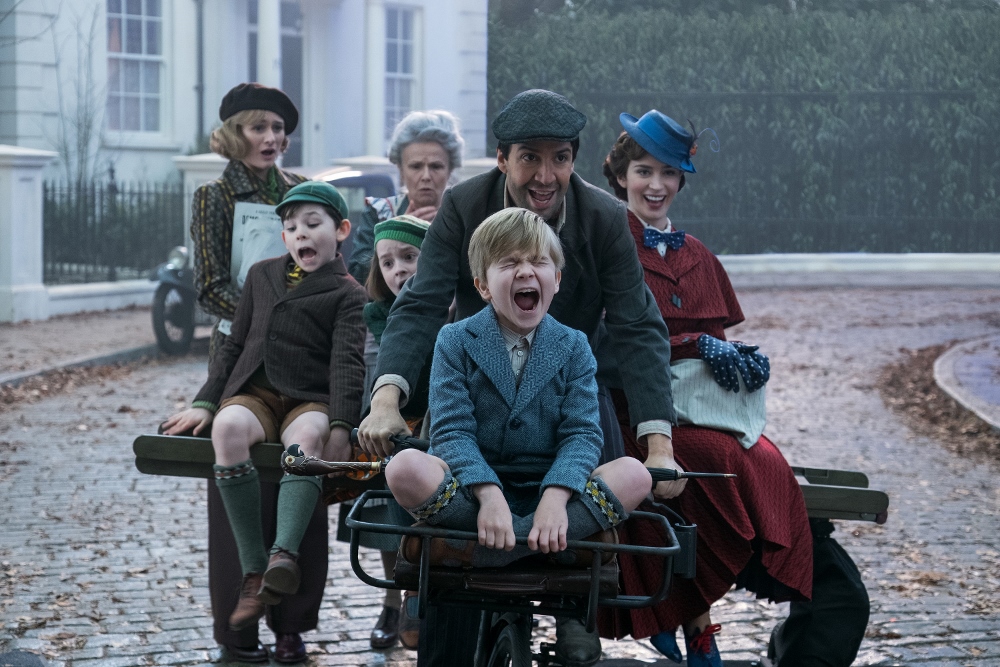 The childrens' imaginative escapades with Mary are a delight, especially their sojourn in the Royal Doulton bowl. Yet where this film doesn't quite live up to the glory of its predecessor is in the songs. They're fun, they're fine, but unfortunately the tunes penned by lyricist Scott Wittman and composer Marc Shaiman (Hairspray) do not have the same eternal appeal as Supercalifragilisticexpialidocious or Let's Go Fly a Kite. That said, The Place Where Lost Things Go is poignant and lovely, and has made the Academy of Motion Picture Arts and Sciences short list for the 91st Oscars, as well as Trip a Little Light Fantastic. One of my favorite moments was when Mary and Jack took the stage for a rather rowdy music hall number – A Cover is Not a Book – with Mary figuratively letting her hair down and cutting loose, and Lin-Manuel Miranda delivering a cool rap sequence. Mary Poppins Returns recognizes the legendary status of the 1964 film, and there are musical tributes to savor along the way, as the score quotes fragments of familiar song.
Mary Poppins Returns offers Mary Poppins the best homage a sequel can deliver, whatever its differences or lacks, it takes the viewer back to the wonder of childhood, and the wonder of that mysterious, magical nanny, Mary Poppins.
Mary Poppins
Director: Rob Marshall; Screenplay: David Magee; Cinematography: Dion Beebe; Editor: Wyatt Smith; Music: Marc Shaiman with lyrics by Shaiman and Scott Wittman; Cast: Emily Blunt, Lin-Manuel Miranda, Ben Whishaw, Emily Mortimer, Pixie Davies, Nathanael Salah, Joel Dawson, Colin Firth, Meryl Streep, Julie Walters