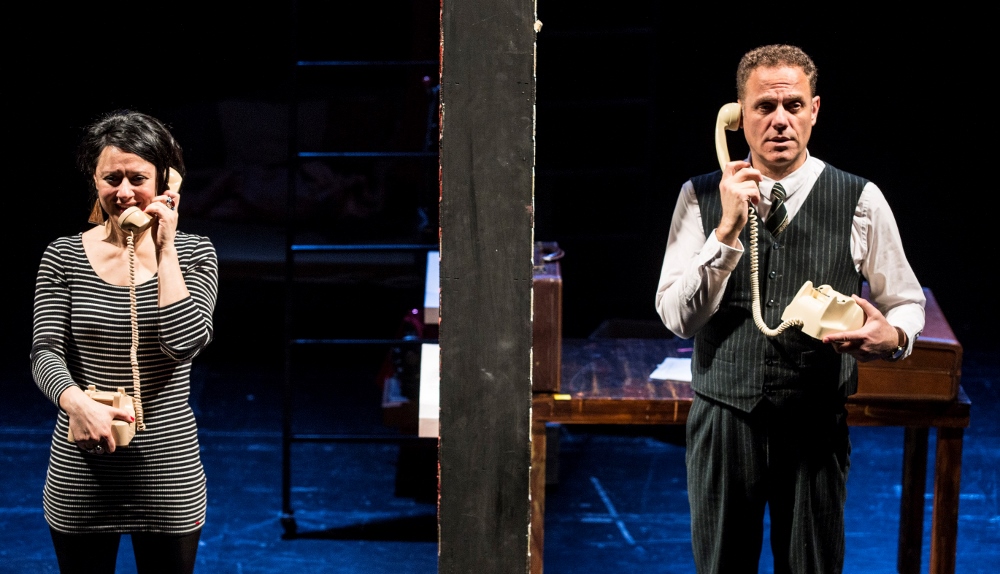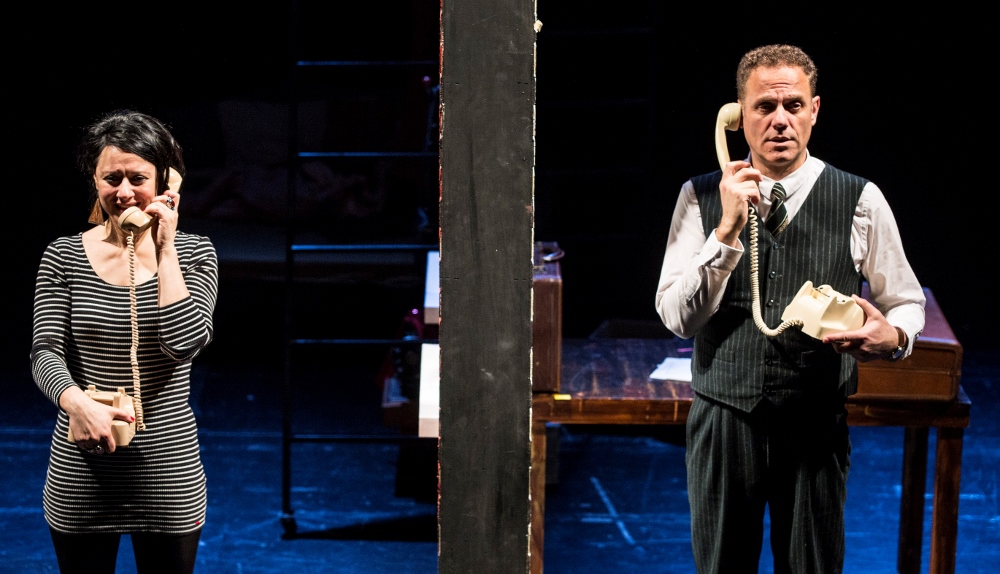 On the intimate stage of Cameri 4, Ola Schur Selektar and Micha Selektar's adaptation of William Gibson's Two for the Seesaw, beautifully translated by Rivka Meshulah, captures the allure and vicissitudes of life and love in New York City of the 1960s. The city is where dreams come true, a place of grandiose hopes and crushing disappointments. Somewhere among the anonymous multitude is Gittel Mosca (Ola Schur Selektar), née Moscovitch, is a dancer, sewing costumes for a living until the right project comes along. She meets a man at a party, he gets her number from a friend, and so it begins… Jerry (Micha Selektar) is new in town and lonely. He's a lawyer from Nebraska, still in the midst of a painful divorce from his wife Tess. Dramatically different, these characters are irresistibly drawn to one another. Ola Schur Selektar and Micha Selektar imbue the trajectory of Gittel and Jerry's relationship with sparkling chemistry, vivacious banter, and uncompromising candor, creating a nuanced, compassionate, poignant portrait of love.
Every aspect of the production works to set the mood and enhance its underlying themes, from the set and costumes by Polina Adamov, to the music and soundtrack. As the play opens to the sound of city traffic with car horns blaring, a lone horn sings its plaintive song, then disappears amid the commotion. The set is simple and effective: a wall with two windows that can be turned, with a bed on one side and a table set up on the other. The exposed brick wall and fire escape ladder instantly conjure New York City life, while the design enables Gittel and Jerry to be visible yet occupying different spaces (literally and figuratively) during their lively phone conversations. Dividing the stage in two, the physical presence of the wall emphasizes the difference and distance between the two, which is reinforced by the costumes. Jerry wears a brown pin-striped three-piece suit, the emblem of a mainstream conservative, while Gittel is outfitted in eclectic style, first appearing in a seafoam green tulle skirt topped by a striped T and huge sunglasses, then later in 60s mod black and white, with more costume changes to come.
Micha Selektar embodies Jerry with a solid, strong, presence, looming over the diminutive Gittel, making declarative statements in his resonant, deep, voice. Ola Schur Selektar's Gittel moves fast and fluent, in both speech and gesture, with cat-like speed and luxuriant sensuality, sparked by playful wit. Yet as much as the play emphasizes the differences between the two, it also pushes beyond archetypes and the binary oppositions of woman/man, truth/lie, right/wrong, weak/strong. This theme is expressed in an enchanting moment that steps out of time and the narrative arc, with the poem "Emet Beini LeBeincha" (rough translation – truth between you and me – an original addition by Ola Schur-Selektar to Gibson's text), inviting the viewer to look beyond.
Micha conveys Jerry's tension and vulnerability, the confusion of a man whose foundations have been shaken to the core. An established professional in his hometown, he asserts a superiority over the slapdash and defiantly independent Gittel who is clearly barely eking out an existence, yet he is utterly confounded by her honesty and generosity. Ola Schur Selektar gracefully conveys Gittel's warmth and flirtatious charm, revealing the inner life of this complex character in the piercing moment of a glance, and delicate shifts in tone. Touching and turbulent, their intimate and intense performance is captivating, as one follows Gittel and Jerry through all their ups and downs.
Two for the Seesaw by William Gibson
Translated by Rivka Meshulah; Adapted and directed by Ola Schur Selektar and Micha Selektar; Set and costumes: Polina Adamov; Lighting design: Rotem Elroi; Original music: Josef Bardanashvili; Poem "Emet Benei LeBeincha" (rough translation: truth between you and me): Ola Schur Selektar; Music editing: Micha Selektar; Assistant Director: Natan Berger; Cast: Micha Selektar, Ola Schur Selektar; Voice of Tess – Limor Goldstein